With shelter-in-place orders in full swing across the US, many parents are racking their brains to find activities that are fun, easy, and safe for their children. But with parks and playdates temporarily cancelled, at-home activities are potentially the only options for entertainment (and you can only watch Frozen 2 so many times!)
With an upbeat attitude and a few household products, you can quickly transform a boring afternoon into a kid-friendly art adventure. Plus, it'll occupy short attention spans for a long time, helping give parents back a little sanity.
Discover the Power of Hand Soap
The topic of community-spread illness can be a tricky subject. This fun and educational activity, however, quickly teaches your children the power of washing their hands through a visual lesson on water surface tension. Even better? There's very little clean up involved!
Here's what you'll need:
Biodegradable glitter, poppy seeds, or black pepper (you can refer to these as "germs")
Plate
Paper towels
Water
Instructions:
Fill your plate with water.
Next, sprinkle your "germs" over the top of the water. Don't mix them: Let them float on the surface.
With your finger bare, dip it into the "germy" water. What happened?
Now coat your finger with soap and dip it in the water. What did you see happen?
This activity is fun because it shows how hand soap protects you from things like germs and viruses. And because your little ones' hands are extra gentle, Puracy natural hand soaps are perfect to use repeatedly throughout the day.
Soap Sensory Play
Bubbles and color can combine to make a delightful, sensory-rich experience for your little ones. With this sensory play, children will use touch, sight, sound, and smell to interact with the world around them. With the refreshing smell of soap, texture of bubbles, colorful foam, and the sounds of suds, this crowd favorite will keep your little adventurers occupied all afternoon.
Here's what you'll need:
Instructions:
Add ½ TBSP of Puracy Natural Baby Bubble Bath to ¼ cup of water.
Next, add in your desired amount of food coloring (Remember: A few drops go a long way!)
With your hand mixer, beat the mixture until thick and foamy.
Begin layering your sensory foam into the large bin. We added green, red, and blue separately to avoid mixing the colors.
Repeat with any other colors you'd like to use – this is a great time to teach about primary and secondary color combinations.
Pro tip: Because food coloring is involved in this project, we'd recommend playing somewhere where stains won't be an issue (e.g. on a tablecloth, in the backyard, in the garage).
Get the best tips from the cleaning obsessed.
Puracy crafts cleaning & care items that work really well. Our obsession with natural cleaning performance is our profession, and we're here to share it with you.
Rainbow Slime
Who didn't love making slime when they were a kid? This easy, safe, and fun activity is great for all children (and even adults who are young-at heart).
Here's what you'll need:
¼ tsp Borax Powder
½ cup clear/white washable PVA school glue
1 cup of water, divided into ½ cups
Food coloring, biodegradable glitter, confetti, essential oil (optional)
2 metal bowls
Spoon
Instructions:
Into one bowl, add your borax powder into 1/2 cup of warm water. Stir to combine.
In the second bowl, measure out about 1/2 cup of clear glue and mix with 1/2 cup of water until thoroughly combined.
Pour the borax mixture into glue mixture and stir it up! You will see it come together immediately. It will appear stringy and/or clumpy, but that's ok! Keep stirring!
Add in your food coloring, glitter, confetti, and even a few drops of your favorite essential oil.
Repeat the process as many times as you want – for a kaleidoscope of color!
Consider pretending that the slime is one big germ: It's sticky and it moves from one hand to the other. Use this opportunity to teach your little ones why frequent handwashing is so important.
Shop this article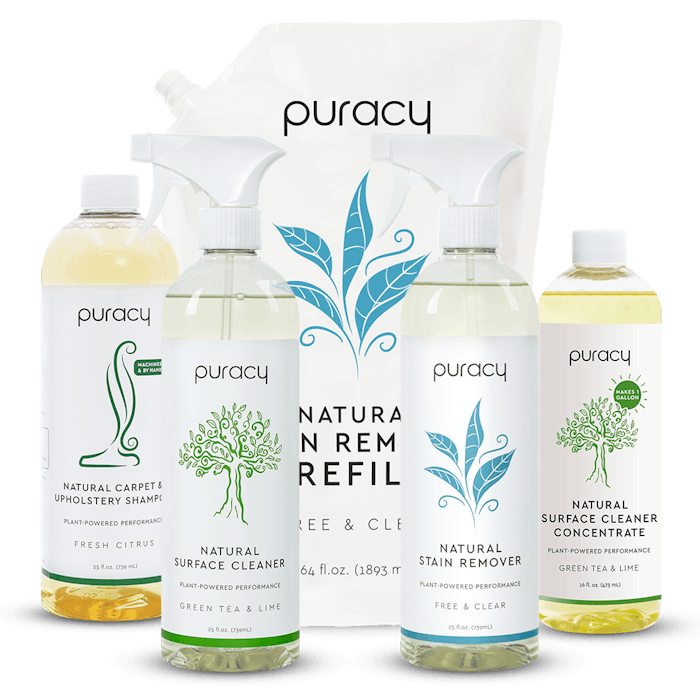 Home Cleaning Box
This is everything you need to transform a house into a clean, safe, and pure home.
Shop now