Written by Stacey Kelleher.
---
An eco friendly housewarming gift is the perfect way to celebrate someone finding the perfect home. But until you've seen the interior, choosing an ideal present can be tricky. 
That's why we've compiled this list of housewarming gift ideas: They work for nearly every space – and are perfect gifts for environmentalists and trendsetters alike! 
1. Live Plants
Beyond their aesthetic appeal, flowers and houseplants can improve a person's mood, encourage feelings of relaxation, and add vitality to every room. In other words, they're one of the best eco friendly gifts you can give!
For an added touch of thoughtfulness, place them in a unique container: Make some DIY planter boxes from reclaimed wood, choose hand-thrown pots from local artisans, or even find flower pots from thrift stores. 
Which Plants Are Easiest to Care For?  
If your gift recipient doesn't have much of a green thumb, succulents are easy to care for and come in a seemingly endless variety of shades and shapes. We love them because they only occasionally need water and a few hours of sunlight per day (though some can thrive in shade). 
We also love: 
African Violet
Aloe
Asparagus Fern
Jade Plant 
Peace Lily
Snake Plant
Spider Plant
Choose Pet-Safe Plants 
If you're giving a plant to someone with pets, be sure they're non-toxic to animals. Our favorite low-maintenance, pet-safe plants include:
2. Compost Bin
While they're not necessarily the sexiest gift, compost bins are fantastic, eco-friendly housewarming gifts for gardening enthusiasts. 
Not only does composting dramatically reduce trash waste, but the nutrient-rich organic material helps plants grow. 
Get the best tips from the cleaning obsessed.
Puracy crafts cleaning & care items that work really well. Our obsession with natural cleaning performance is our profession, and we're here to share it with you.
For families with young children, worm composting is an excellent activity to witness red worms break down plant fibers, leaving plant-friendly nutrients behind. Due to its compact size, this convenient composting system is a great choice for any home.
3. Personal Art 
We love the idea of giving homeowners a one-of-a-kind piece of art that they'll cherish for years. If your recipient is a transplant to the area, prints of their new home state or city are a great way to make them feel welcome. Ask friends and community members whether they know any local artists, or seek out art at local fairs and farmer's markets. 
Most rentals prohibit anything beyond cosmetic changes. So if someone is moving into a new apartment, an original piece of art is an excellent housewarming gift idea.
Tips on Buying Art for Someone Else 
It's not easy to choose art for a home you've never seen. To get a better idea of the resident's taste, sneak a peek of the home on a Zoom call or ask for a video tour of their new place. 
Is there personal style conservative, eclectic, or classic? What did their last home or their office look like? Do they all fit a similar aesthetic? When in doubt, choose a simple, small piece that can work in just about any room or space.
4. Coffee and Tea
If your friend loves coffee or tea, pair a plastic-free French press with an assortment of organic, fair-trade coffees and herbal teas. If they're espresso drinkers, an Aeropress is an excellent option.
To avoid the pricey coffee shop trips and disposable cups, add a pair of reusable coffee mugs. The Yeti insulated 24 oz. mug is great for hot and cold drinks, comes in a ton of fun colors, and is dishwasher-safe for easy care. 
5. Organic Essential Oils & Diffuser
Many commercial air-freshening sprays, plug-ins, and candles contain synthetic chemicals like phthalates. Sure, they may smell nice, but manufacturers aren't legally required to disclose ingredients that could be harmful to humans, pets, or the planet. Synthetic perfumes can also cause allergic reactions (e.g. headaches, sniffing, sneezing, irritated skin) in individuals with fragrance sensitivity. 
Organic essential oils are a safer way to scent a home. Pair essential oils with a pretty ceramic diffuser to create an eco friendly housewarming gift that's sure to get hours of use.
Our Favorite Essential Oil Combinations 
Relax: peppermint + lavender + lemon
Elevate: bergamot + orange
Calm: bergamot + lemongrass + lavender
Energize: patchouli + orange + ylang ylang
Sleep: lavender + cedarwood + chamomile
6. Bathroom Essentials 
A collection of bathroom essentials isn't just a practical housewarming gift – it also saves people from shopping trips during a hectic move. Some of our favorite gift ideas include: 
Pro Tip: Instead of wrapping individual items, arrange them in a woven basket or hamper that can be repurposed later.
7. Sustainable Kitchen Tools
If your friend or family member loves to cook, consider eco-friendly kitchen gifts. Arrange bamboo mixing bowls and bamboo utensils in a basket with some gourmet oils and spices. 
If you live nearby, consider putting homemade soups or curries in reusable mason jars to save new residents time during a stressful move. Copy some of your favorite recipes and compile them into a handmade album for a more personal touch. 
8. Local CSA Subscription
For healthy eaters who love to support local farmers and producers, subscriptions to community-supported agriculture (CSA) programs are great organic housewarming gifts. CSAs deliver local goodies weekly, bi-weekly, or monthly – and usually at very affordable prices. To find one in your area, visit Local Harvest.
9. Eco-Friendly Pet Gifts
Help Fido feel right at home with an assortment of green pet products. We love Dapper Dog Box gift sets because their hand-selected products are made in the USA, healthy for pets, and sold by brands that give back to their communities. 
For felines, this scratching pad – made from recycled cardboard – is an excellent way for cats to sharpen their claws without damaging the furniture. 
Pet Accidents Happen – Make Them Disappear
Like humans, pets need time to adjust to a new space, and that adjustment period may come with accidents. Puracy Natural Pet Stain & Odor Remover uses plant-based enzymes to keep furniture and rugs looking (and smelling) their best. 
10. Charitable Donations
If the person making the move already has a well-stocked home – or you're just not sure what to buy – consider donating to a worthy cause in their honor:
The Ocean Cleanup
The Ocean Cleanup has a mission to remove 90% of ocean plastic. To do so, they use innovative floating systems stationed near the world's largest floating "garbage patches." 
Rainforest Foundation
The Rainforest Foundation and its global affiliates partner with indigenous and traditional peoples' efforts to preserve natural resources, prevent deforestation, and protect human rights. 
World Wildlife Fund, Inc.
The WWF is the world's leading conservation organization. Operating in nearly 100 nations, this non-profit helps to protect wildlife and the environment that sustains them. 
11. Time Together
Sometimes, the best gift is making new memories. But in the midst of a pandemic, opportunities for family outings are understandably limited. Think outside the box and plan a night for the couple or family to enjoy some downtime after a hectic move:
Movie Night
Put together a basket of organic popcorn, sweet treats, and a gift card to a streaming service for a fun night in.
Picnic at a Park
Though many places are off-limits right now, most community parks are still open to the public (with social distancing restrictions in place). Fill a basket with a blanket, reusable cups and plates, snacks, and games for a perfect day.
Camp-In
If the weather isn't ideal for a night under the stars, consider gifting a night of "glamping" in the great indoors. Provide snacks and cozy blankets for an adventure that's close to home. 
12. Gift Cards
Sometimes, the best housewarming gift is letting people shop for exactly what they want. We recommend checking out the following earth-friendly retailers: 
Well Earth Goods
Family-owned Well Earth Goods offers incredible gifts for environmentalists. We especially like their Coconut Dish Scour Pads and Zero Waste Toothpaste Tablets. To ensure a fully-stocked home, Well Earth Goods also offers subscriptions for automatic ordering. 
EarthHero
Earth Hero is an online marketplace for eco-friendly, sustainable brands. Think of it as a cyber shopping mall for all things "green", from clothing to make up, home goods, and even tech supplies.
13. Natural Cleaning Products
Whenever you move to a new home, you need to clean from top to bottom. Ensure a "green clean" by gifting a basket of effective, natural cleaning products. 
Make it even easier for new residents by providing them with eco-friendly refill packs of  a plant-based stain remover and an all-purpose surface spray. Throw in a few edgeless microfiber towels and infinity glass bottles and they'll have everything they need to tackle gunk, grime, or stains.  
Puracy Products Make a House a Home 
Our natural cleaners and personal care products are formulated with plant-based, cruelty-free ingredients. Meticulously developed to be tough on messes and safe for families, we believe these products are gifts worth giving.
Shop this article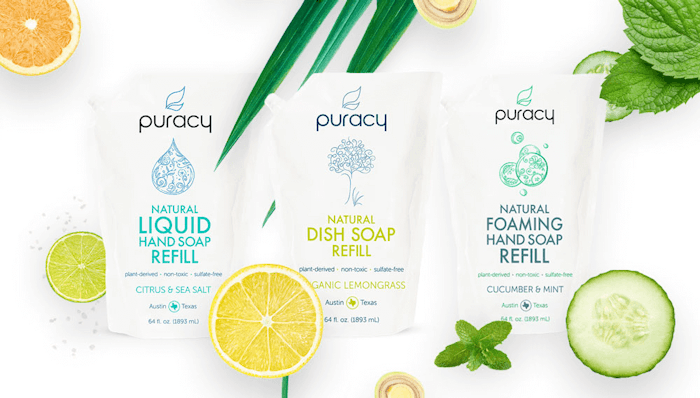 Eco-friendly Refills At Huge Savings
Puracy refills help you save over 20% per ounce, plus they save 90% more plastic, water, and energy compared to bottles.
Shop now