Written by Stacey Kelleher.
---
If you have a family member, friend, or colleague who's moving to a new home, it's always a kind gesture to send a housewarming gift. This is the ideal time to enhance a new space with something thoughtful. 
Here are some of our favorite unique housewarming gifts for the person who prefers a green lifestyle.  
1. Live Plants
Houseplants add vitality to every space. Beyond their aesthetic appeal, flowers and ornamental plants are proven to improve a person's mood and encourage feelings of relaxation. What's more, they help to clean the air and normalize humidity during dry months. 
If your gift recipient doesn't have much of a green thumb, try easy-to-care-for succulents. In shades of blues and greens (and every shape imaginable), they're beautiful in their low-maintenance simplicity: They only need a bit of water occasionally, as well as a few hours of sunlight per day. 
2. Art with a Personal Touch
We love the idea of giving homeowners a one-of-a-kind piece of art that they'll cherish for years.  If your recipient is a transplant to the area, check Etsy for prints of their new home state – these are a great way to say "welcome!" Support local artists by asking for recommendations from friends and neighbors in your community, or start browsing at local art fairs or farmer's markets.

Above is a piece of one-of-a-kind art by our local Puracy Artist, Katie Ramsey.


3. Coffee and Tea
If your friend loves coffee or tea, pair a plastic-free French press with an assortment of organic, fair-trade coffees and herbal teas. Include a set of double-walled glass coffee mugs that are 100% lead-free and perfect for both hot and cold drinks. 
Get the best tips from the cleaning obsessed.
Puracy crafts cleaning & care items that work really well. Our obsession with natural cleaning performance is our profession, and we're here to share it with you.
For joe-on-the go (without pricey coffee shop trips and disposable cups), add a pair of reusable coffee mugs. We like the
Yeti insulated 24 oz. mug
. It's great for hot and cold drinks and comes in a ton of fun colors. 
4. Organic Essential Oils & a Diffuser
Many commercial air-freshening sprays, plug-ins, and candles contain synthetic chemicals. Sure, they may smell nice, but because fragrances are considered a "trade secret," manufacturers aren't legally required to disclose ingredients that could be harmful to humans, pets, or the planet. 
Organic essential oils are a safe, non-toxic way to scent a home. Pair essential oils like calming lavender and bergamot with a
pretty ceramic diffuser
to create an eco-friendly housewarming gift that will surely get hours of use.
5. Sustainable Kitchen Tools
The kitchen is the heart of the home, and if your recipient loves to cook, consider reusable gifts for the kitchen. We like these
stainless steel food storage containers
,
BPA-free mixing bowls
, and
bamboo utensils
that are beautifully arranged in a basket with some gourmet oils and spices. You can also copy some of your favorite family recipes and compile them into a handmade album for a more personal touch. 
6. Local CSA Subscription
If they are moving to an apartment or condo without outdoor space, subscriptions to local community-supported agriculture (CSA) programs are a great gift idea. 
CSAs deliver local goodies weekly, bi-weekly, or monthly, and usually at very affordable prices. It's a good way to make sure you're getting your leafy greens while supporting local farmers. To find one in your area, visit
Local Harvest.
7. Eco-Friendly Pet Gifts
Help Fido feel right at home with an assortment full of green pet products. We love Dapper Dog Box gift sets because they hand-select products that are made in the USA, healthy for pups, and sold by brands that give back to their communities. 
And don't worry, we didn't forget about your friend's favorite feline. This scratching pad – made from recycled cardboard – is a good way for kitty to sharpen her claws without damaging the furniture. 
Like humans, pets need time to adjust to a new space. Unfortunately, that adjustment period may come with accidents.
Puracy Natural Pet Stain & Odor Remover
is another great way to keep furniture and rugs in a new home looking (and smelling) their best. 
8. Cleaning Caddy
One of the first things your friend or family member will likely do in their new home is clean it from top to bottom. A portable cleaning caddy full of natural cleaning products makes a practical housewarming gift. Our curated housewarming gift bundle contains the essentials, including:
Add a set of our 5-star rated, super-absorbent
edgeless microfiber towels
and
infinity glass bottles
to help reduce waste while getting a "green" clean!
Puracy Products Make a House a Home 
Whether you're giving eco-friendly housewarming gifts to a college student moving into their first apartment or a colleague relocating for work, gifts with a personal touch and natural, sustainable products from Puracy are perfect for every home. Full of plant-based, cruelty-free ingredients, you never have to worry about "gifting" harsh chemicals or irritating formulas. Every Puracy product is designed to be safe for people, pets, and the planet. 
For more eco-friendly gift ideas, check out these earlier posts: 
Eco-Friendly College Care Packages for the Modern Student
Shop this article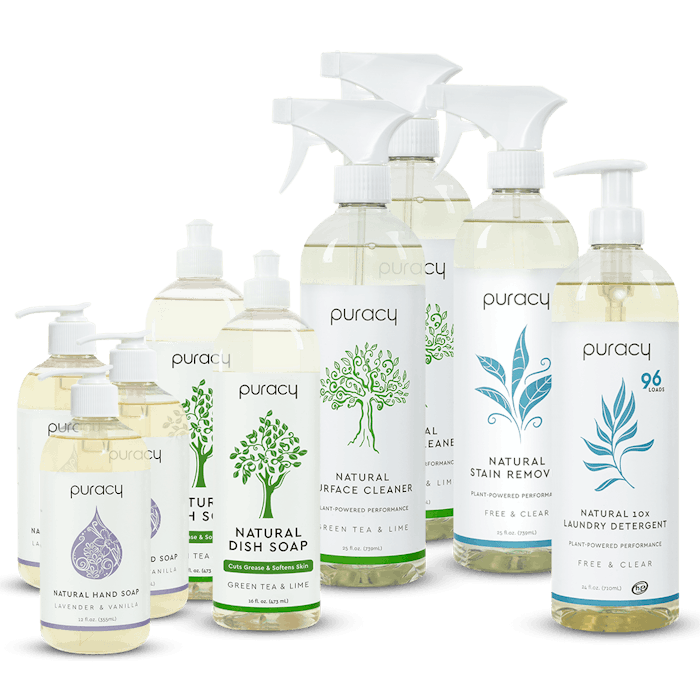 Natural Housewarming Set
Be the thoughtful friend who helps turn a new house into a safe, natural home.
Shop now