Written by Tenley Haraldson. Reviewed by Sean Busch.
---
We've always known that we wanted to add a natural deodorant to the Puracy line, but we also knew that we couldn't rush perfection. To meet our strict standards, the research and development process alone took more than a year – longer than any of our other products. 
Why Was Creating Aluminum-Free Deodorant Important?
Aluminum is often used in antiperspirants and "dual" (deodorant-antiperspirant) products to reduce wetness by blocking sweat glands while restricting the odor-causing bacteria. 
On the other hand, natural deodorant simply deodorizes sweat to help combat smells. Unlike their counterparts, natural deodorants don't contain aluminum (or any harsh chemicals like parabens or petroleum-based ingredients).
For the past few years, there's been a massive shift towards aluminum-free deodorants and antiperspirants, mainly due to potential toxicity. While these fears have mostly been proven to be unfounded, Puracy doesn't believe in taking unnecessary health risks. That's why we always choose natural, gentle, and effective ingredients. 
Our Starting Place: Researching the Competition
We looked at thousands (maybe hundreds of thousands) of reviews for our competitors' natural deodorants. And we kept coming back to the same pros and cons:
Though Puracy might be a little late to the natural deodorant game, we don't view our entrance as a hindrance. This extra time allowed our R&D team to determine where our competition was lacking. From there, our highly-trained (classically and practically) chemistry staff worked to develop a product that solved the biggest issues: creating a clear, solid gel stick that lasted a long time while gliding on smoothly and uniformly. 
The Thin White Line: Residue
Most deodorants are either a clear gel stick or a white waxy solid stick. More people opt for a white, waxy deodorants because they tend to last a bit longer than their gel counterparts – but we're all familiar with embarrassing white residue clumping underarms or rubbing off on clothing. The white waxy sticks also tend to have much higher friction so they can pull on skin and underarm hair. 
The bulk of ingredients in stick deodorants aren't necessarily deodorizers but are instead carriers that glide along the skin – and cling to sweat glands – to last a certain amount of time. To do this effectively, most non-natural deodorants utilize
dimethicone
or silicone, but you'll never find these
ingredients in any Puracy products
.
Odor Protection That Lasts 
We knew that essential oil deodorant was possible, and our two scents of Citrus & Sea Salt and Coconut & Vanilla received excellent reviews from Puracy staff (as well as our families and friends). They are also our top sellers in our Natural Body Wash line. But they were only 100% effective for 4 hours and then the product would evaporate. 
The carrier simply wasn't strong enough to last on skin for a substantial amount of time – something that most natural deodorants struggled with. That's when we reached out to Itaconix. 
Partnering with Itaconix
Itaconix is a small R&D center focused on developing plant-derived and plant-based ingredients in personal care and home products. They'd already helped us during the reformulation process of our Natural Shampoo and Conditioner, and their company's recently-launched ingredient, LexFeel N5, was precisely what was missing in our natural hair care products. 
Itaconix also understood our struggle with finding a long-lasting, 100% plant-based solution that extended the life of our deodorant. They recommended sodium zinc polyitaconate, a natural odor blocker that's highly efficacious, clinically-proven to be effective, and safe for sensitive skin. 
Get the best tips from the cleaning obsessed.
Puracy crafts cleaning & care items that work really well. Our obsession with natural cleaning performance is our profession, and we're here to share it with you.
After thoroughly reviewing their clinical data, we knew we needed to test it in our prototype. 
How Long Does Puracy Natural Deodorant Last? 
Almost as soon as we incorporated sodium zinc polyitaconate into our deodorant formula, we realized that we went from 4 to 10 hours of efficacy. That's right: Three simple swipes and at least 10 hours of protection. After dozens of trails with our trusted product testers, many were able to achieve up to 14 hours of odor-free protection.
Silky-Smooth Application 
When we read customer feedback regarding underarm hair being pulled out due to friction, we knew that we could – and had to – do better. That's why our incredibly smooth blend of botanicals, emollients, and plant-based propanediol were designed to glide along the skin without clumping or pulling.
With an N-pattern application ("up, down, up"), every customer gets the perfect super-light coat of all-day odor protection. No stains, no residue, no clumping, no pulling, no build-up – just the perfect amount applied evenly and smoothly, every time.
Since Puracy is a 100% cruelty-free company, we were sure to test this on ourselves first. We knew we were ready when all of our testers asked for more samples before it hit the market
We've Created the Ultimate Natural Deodorant
Since founding Puracy in 2013, our goal has always been to create the safest, most effective natural products for every room in the home – and every member of the family. We firmly believe that our Natural Deodorant does everything you expect a deodorant to do, though we recommend using this product for at least two weeks. 
We're confident that we've created the best natural deodorant on the market. With our 100% Pure Love guarantee, what have you got to lose?
Pure Love Guarantee
In the unlikely chance you're not a fan, we'll give you your money back: No returns necessary, zero hassles, and no questions asked.
Shop this article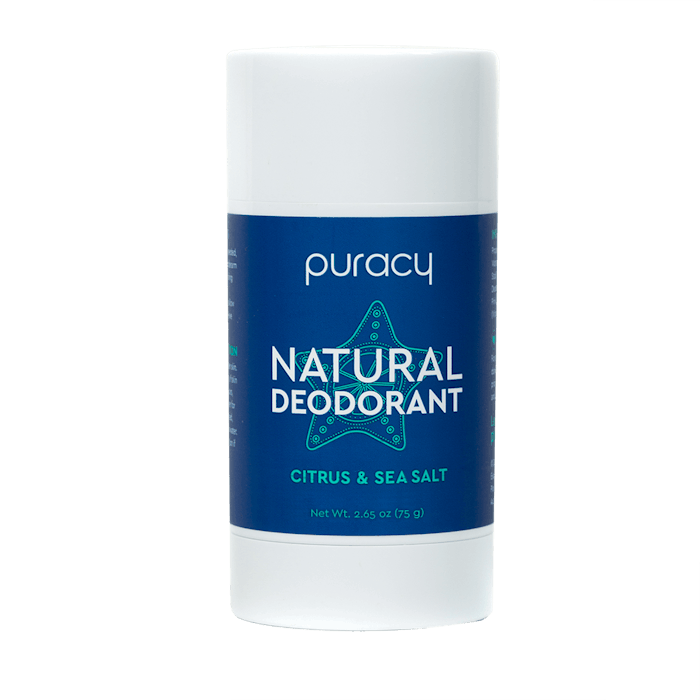 Natural Deodorant
No BO, no BS (bad stuff). Free from aluminum & parabens with all-day protection. A natural deodorant that doesn't stink.
Shop now