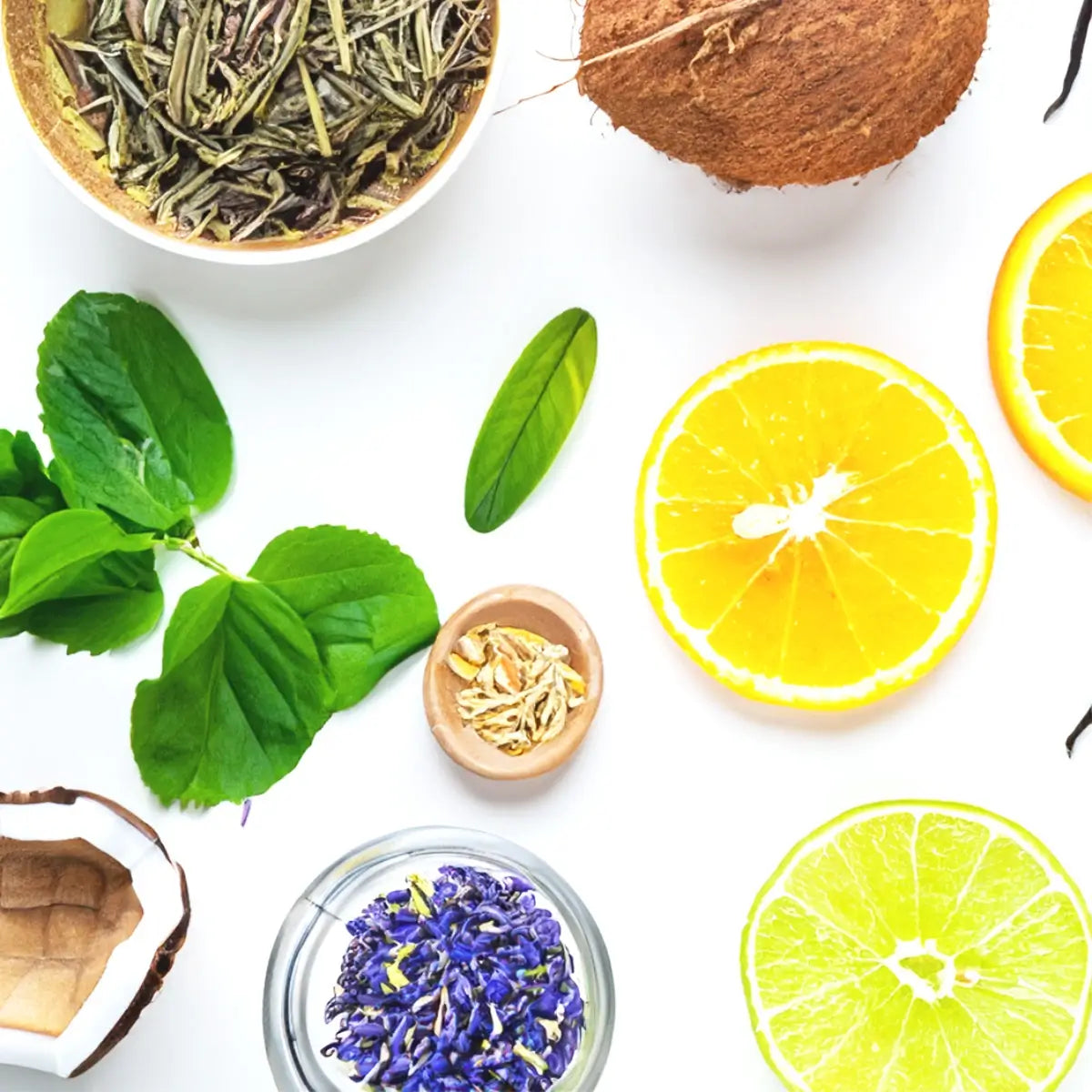 Our ingredients
Clean formulas made from pure ingredients
We're committed to using only the purest ingredients available and every Puracy formula is at least 98.5% natural and vegan friendly for the sake of everyone in your little world. When you choose a Puracy product, know that each ingredient has been scrutinized by our co-founder, chemists, doctors, and 3rd party experts for an ideal blend of safety and efficacy. When it comes to ingredients, we do not cut corners. If you ever want to learn more than you see on our website, email feedback@puracy.com to connect with our co-founder and product development team.
Naturally Clean & Soft Laundry
Laundry Day, Simplified
01
Measuring made easy
Unlike conventional laundry detergents, our detergent features an easy-to-use pump that delivers the exact amount you need for one load of dirty laundry: 2 pumps for HE loads or 4 pumps for Standard loads. Gone are the days of filling caps to the top and needlessly wasting detergent (and plastic).
02
A formula you can trust
We've created a stain cleaning formula that tackles stubborn stains and odors using only natural, plant-powered enzymes (all 6 of them!) that work in both hot or cold water. Take on everything from spit-up and blowouts to berries and milk with a formula that is both tough on stains and rinses completely from fabrics.
03
Scents that make sense
Unlike conventional detergents, laundry pods, or laundry powder, with Puracy, you'll never find harsh, synthetic fragrances or nasty ingredients in our formulas. Instead, you'll be left with unscented laundry straight from the wash. Cotton that smells like cotton, not "cotton fragrance."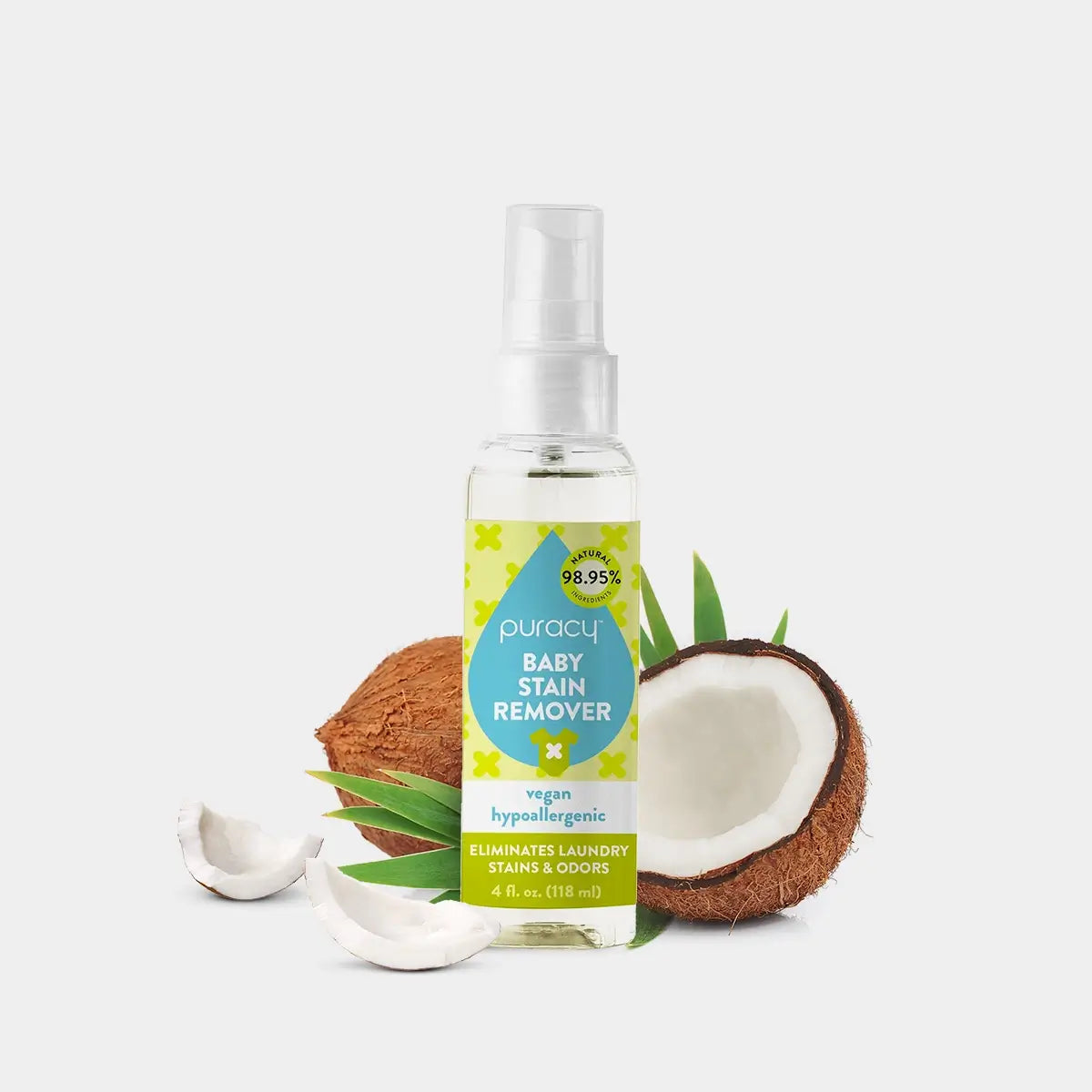 Baby-Friendly Cleaning Made Easy
Hypoallergenic, Worry-Free Formulas for Your Entire Household
If you're running a hectic household, you don't have time to worry about harmful ingredients such as sulfates, ammonia, petrochemicals, or bleach. That's why our vegan Baby Stain Remover is guaranteed to eliminate all laundry and fabric stains with plant-powered ingredients that can take on tough stains easily. Simply spray, wait overnight, and launder as usual.
Have a question? We're here to help!
Our Baby Stain Remover is an effective cleaner on its own, but for even better stain fighting power, you can use it with a laundry stain brush to agitate tougher, set-in or particularly heavy looking stains. If you don't have one handy, an old paintbrush, toothbrush, or makeup brush can also work just as well. You'll also need your washing machine to help with the final step of dislodging stains and odors.
FOR STAINS LESS THAN 24 HOURS OLD: Spray the affected area and wait at least 15 minutes before laundering.
FOR STAINS MORE THAN 24 HOURS OLD: Spray then massage the affected area with a soft brush. Wait at least 8 hours (can be left on for days), then launder with the warmest water the fabric care instructions allow. Opt for the "Extra Rinse" cycle. Some stains may require two treatments.
FABRICS YOU CANNOT PUT IN THE WASHING MACHINE: Use exactly as "LESS THAN 24 HOURS OLD" states. To rinse, fill a bowl with warm water, saturate a clean cloth with the water. Gently wring, then press into the stain, moving back and forth with light pressure. This will pull the natural stain remover from the surface and replace it with fresh water, mimicking a rinsing effect. Rinse cloth and repeat the same steps until the stain remover is "rinsed" from the surface.
Always test for colorfastness on an inconspicuous area first.
Do not leave on silk or wool for more than one hour.

No use crying over spilled milk! The enzyme called protease will be the key ingredient needed to unlock milk stains from your baby's clothes. The good thing is that both our stain remover and laundry detergent contain it.

If it's an older stain, pretreat with our Baby Stain Remover, wait overnight, and launder as normal.
No, our Baby Stain Remover will easily take care of baby formula, no matter the brand or protein base. Simply saturate the stain with Baby Stain Remover, wait overnight, and launder as normal.
You've come to the right place. Our business was built by mirroring messes our two co-founders (both dads of young, growing families) faced on a daily basis. Naturally, blowouts are a way of life if you are a parent of a child under 2. First, rinse as much of the blowout off the clothing as possible. Then saturate the stain with our enzyme-packed Baby Stain Remover, wait overnight, and launder as normal (opt for the Extra Rinse cycle).

Kids and baby toys are frequent targets of spills and stains, so you can definitely use our Baby Stain Remover on your little one's favorite teddy bear. When it comes to washing them, most stuffed animals are washing machine friendly. Just look at the label's care instructions to be sure to avoid any unwanted damage. You can also place them in a garment bag to keep them extra safe during the spin cycle.