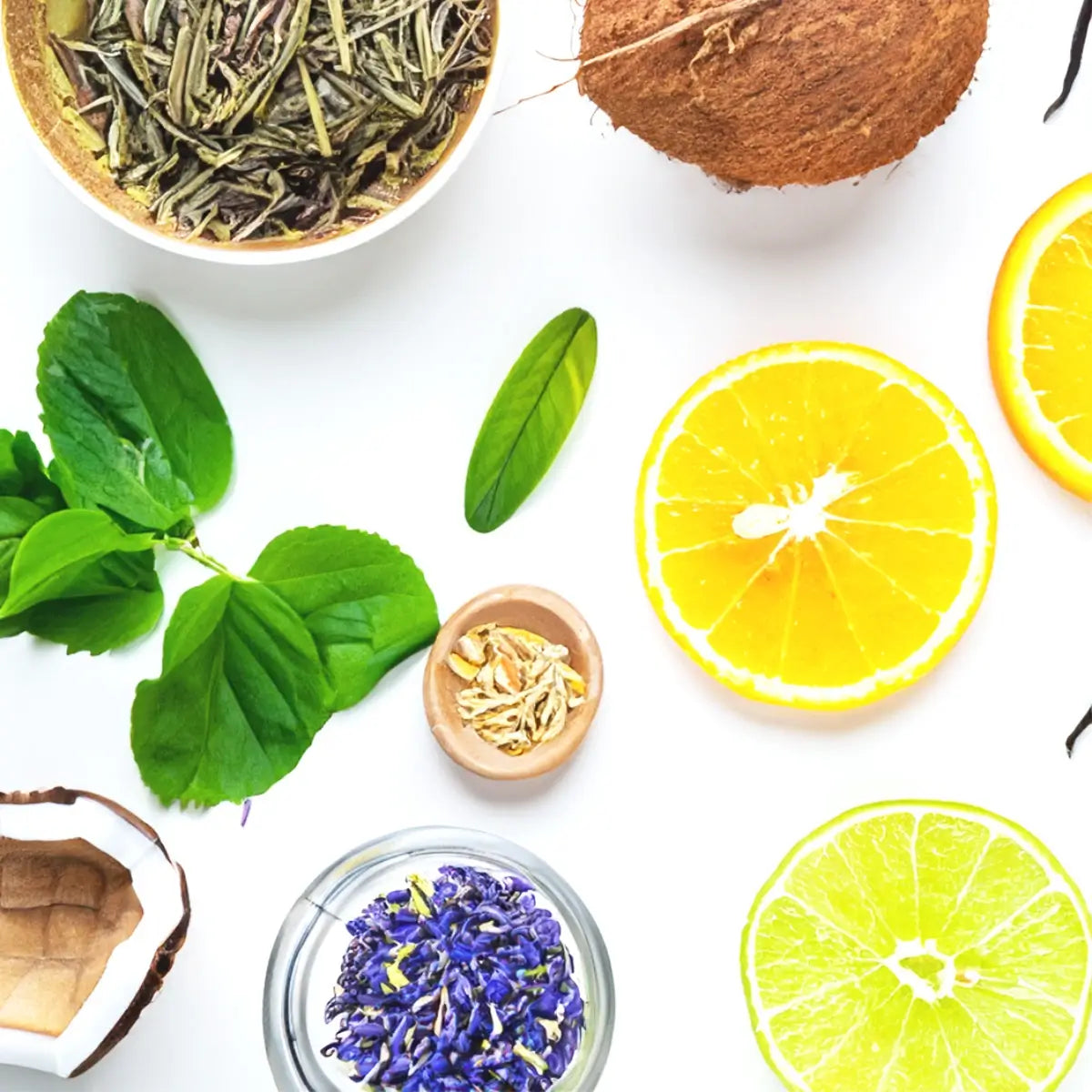 Our ingredients
Clean formulas made from pure ingredients
We're committed to using only the purest ingredients available and every Puracy formula is at least 98.5% natural and vegan friendly for the sake of everyone in your little world. When you choose a Puracy product, know that each ingredient has been scrutinized by our co-founder, chemists, doctors, and 3rd party experts for an ideal blend of safety and efficacy. When it comes to ingredients, we do not cut corners. If you ever want to learn more than you see on our website, email feedback@puracy.com to connect with our co-founder and product development team.
Skin-Friendly Clean Up
It's time to crush dish duty
01
Skip the Pre-Rinse
Thanks to the powerful plant-derived enzymes in our Natural Dishwasher Detergent Packs, you don't need to pre-soak or pre-rinse dishes. These enzymes target foods and stains, allowing them to completely break down and eliminate bacteria and even the most stubbornly caked-on foods. Simply scrape or wipe food off and load you dishwasher.
02
A Spot-Free Clean
Mineral-based water softeners such as sodium bicarbonate mean your glassware comes out completely free of streaks, smudges, and water spots. It's equally effective in hard water and is friendly to both gray water and septic systems.
03
Less Is More
Sustainability is our mission, and a little of our products goes a long way. One bottle of our Dish Soap can take on 160 sinks of dirty dishes, while a pouch of Dishwasher Detergent Packs can tackle 50 dishwasher loads, without the need for prerinsing.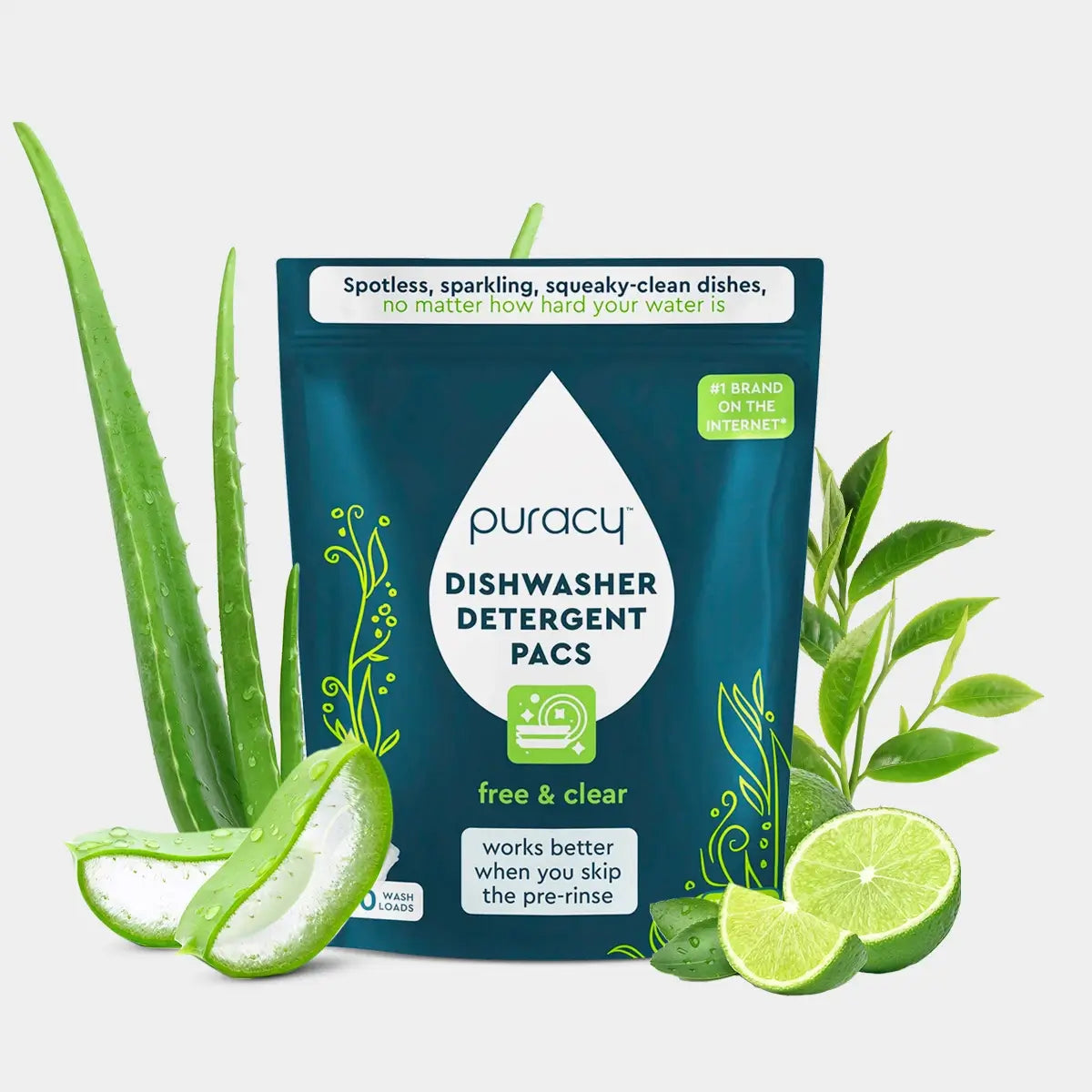 Versatile, Natural Cleaners
Dish Soap That Goes Beyond Dishes
We've perfected our Dish Soap's septic-safe formula when it comes to spot-free glassware and a super concentrated formula that can handle a sink full of dishes with just a single teaspoon. But our hypoallergenic, premium soap also works well when cleaning everything from toys, jewelry, patio furniture, and your car.

And lastly, our dish soap protects your dishes – and you. That means it's packed with plant-powered moisturizers and gentle cleansers that leave skin soft and hydrated (and smelling great thanks to its gentle, fresh scent), no matter how many dishes are hand washed. This is all thanks to the best dish soap featuring a formula free from harmful chemicals and synthetic fragrances.
Have a question? We're here to help!
We worked with a team of biochemists, doctors, and cleaning experts to make sure a little soap goes a long way. There's a reason we're the best natural dish soap for your entire household! You only need a small amount of our Dish Soap applied to a sponge or brush to tackle dish duty. Massage the soap onto the dish's surface to create a rich lather, and follow that up by rinsing clean with fresh water. If you're tackling bigger stains or stuck-on food, soak the dish to loosen up particles. Create a solution of 1 ounce of soap per 3 gallons of water for your dishes to soak in, and then once soaked, clean the dishes as normal.
When it comes to loading your dishes into the dishwasher, simply scrape food from a plate's surface -- there's no need to pre-rinse. Once loaded, make sure the dishes are not touching to ensure they are all thoroughly washed. Make sure your hands are dry before inserting a dishwasher pack into your machine's soap dispenser. You only need one pack per dishwashing load. Don't forget to keep your Dishwasher Detergent Packs fresh by always sealing the pouch after each use.
If you're dealing with a burnt pan or dried casserole dish, you can create a pre-soak solution using our Natural Dish Soap in either a large dishpan or directly in your plugged sink. Fill it up with hot water, and create the solution using 1 ounce of Dish Soap per 3 gallons of water. Allow the dishes to soak in the solution for up to 30 minutes.
Our Natural Dish Soap features a super concentrated formula. That means you don't need a ton of soap to get a load of sparkling dishes. In fact, you usually only need one teaspoon for a full sink of dirty dishes. We wanted to make sure a little soap went a long way, and one bottle of our Dish Soap can take on up to 160 loads of dishes.
When we created our Dish Soap's formula to ensure a streak-free finish, we wanted the soap to "sheet" water, so that there were fewer water droplets to dry off once the dishes were clean. This also reduces hard water stains and deposits when you hand wash dishes.
We recommend only running a full load in your dishwasher, so go ahead and leave those dishes overnight. Our plant-based enzymes target and eliminate the toughest food messes, mineral deposits, mineral buildup, and stains, so those bits of food residue will be effectively cleaned. In fact, they actually help them function better!

Also, we want to reduce waste as much as possible. When you run a dishwasher that's only half-full, you end up wasting both water and active dishwasher cleaner. Do make the sustainable choice and wait for the dishwasher to be completely full before running it.
Many common kitchen items need to be washed by hand due to their delicate surfaces, and luckily, our gentle yet effective Natural Dish Soap is the perfect cleaning solution thanks to its formula free of sulfates and harsh chemicals. Most dish soaps feature harsh sulfates that dry out skin and damage kitchen ware, but with our Natural Dish Soap, you can hand wash a variety of delicate glasses and pans. High water temperatures can stain aluminum and insulated drinkware, so be sure to hand wash these instead of loading them in the dishwasher. The same goes for cast iron, Teflon, plastic, and crystal. Be sure to also hand wash sharp knives and wooden items, such as mixing spoons and cutting boards.
If you notice that your dishes aren't coming out quite as spotless after the dishwasher, it may be time to clean your dishwasher and its many hard-to-clean areas. First, remove the dishwasher filter. Take a few drops of our Natural Dish Soap and warm water, and scrub the filter using a soft brush or old toothbrush. Focus on any stuck-on food particles. Then take a cup of white vinegar to the dishwasher's top rack. Run the empty dishwasher for one cycle. Follow this up by sprinkling baking soda along the bottom of the machine, and then run another cycle with hot water. Be sure to run a complete drying cycle, too.
At Puracy, your family's safety and human health is of the utmost importance to us. We know that it's become all too common to be accidentally poisoned from consuming dishwasher pods, dishwashing liquid, or regular dish soap, so we took this into account when creating a safe, plant-powered formula for our Dishwasher Detergent. If your child happens to bite into one of our Detergent Pods, just flush their mouths out with fresh water. There's no need to induce vomiting. Our mission to only use safe, natural ingredients means our Dishwasher Detergent is not harmful for the smallest members of our family.
Yes! Before you start, be sure to thoroughly wash your hands. Then take a small basin and fill it with hot water. Add enough of our Natural Dish Soap so that a thick foam forms. Separate each part of the bottle, including nipples, caps, and rings, and then rinse each item with clean water. Submerge the bottle parts in the soapy solution and brush them inside and out until they're clean. Rinse each item in clean water. For best results, dry each item upside down and make sure they're protected from dirt and dust as they do so.

Again, yes! First, make sure your bottles are made of glass or from plastic that is safe to be washed in a dishwasher. Separate each part of the bottle and place them in the dishwasher's internal basket to ensure that they are not loose during the cleaning cycle. You can clip bottle nipples upright to fully secure them. Load your dishwasher using our Natural Detergent Packs, and then select the hot water option and run the dishwasher using the heated drying cycle.