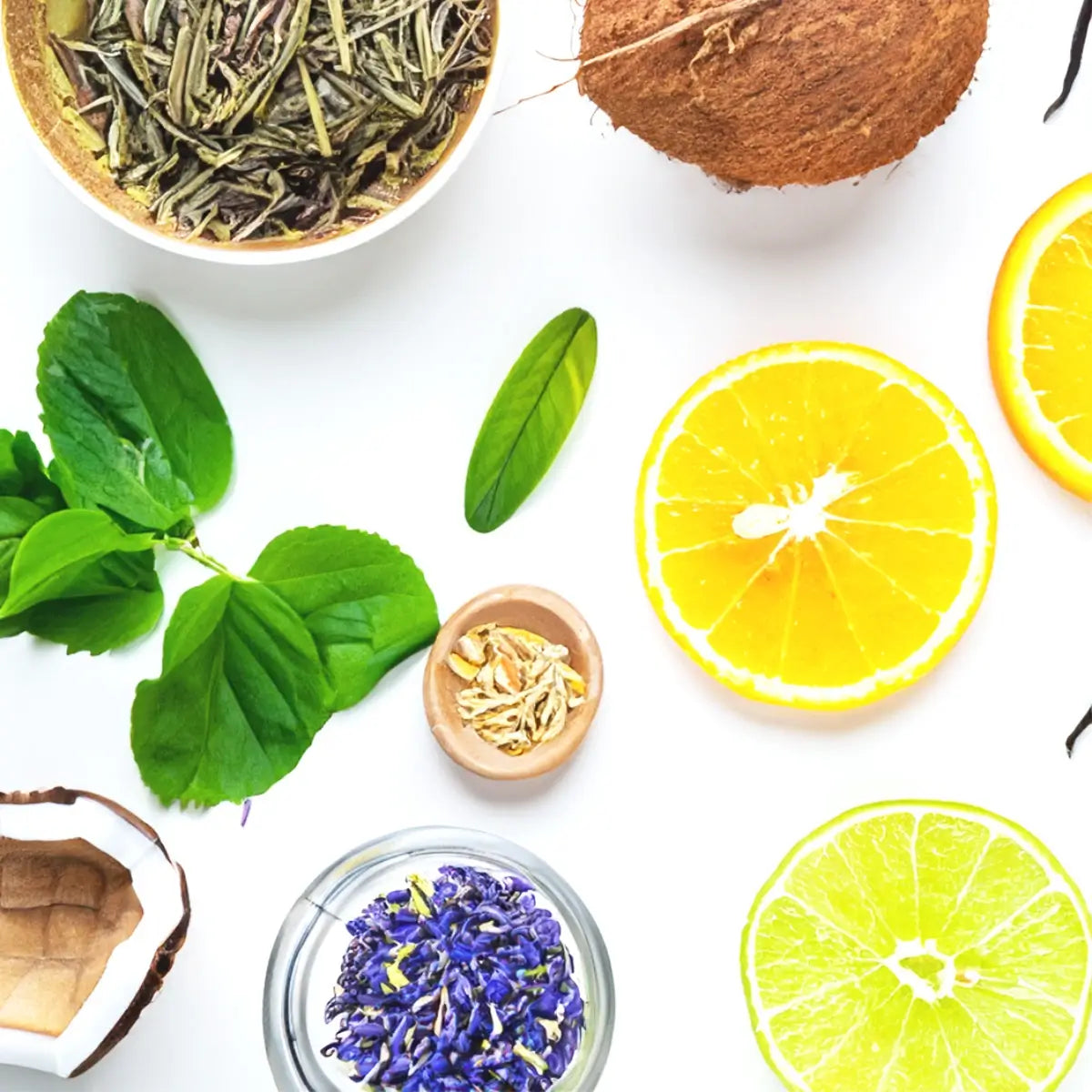 Our ingredients
Clean formulas made from pure ingredients
We're committed to using only the purest ingredients available and every Puracy formula is at least 98.5% natural and vegan friendly for the sake of everyone in your little world. When you choose a Puracy product, know that each ingredient has been scrutinized by our co-founder, chemists, doctors, and 3rd party experts for an ideal blend of safety and efficacy. When it comes to ingredients, we do not cut corners. If you ever want to learn more than you see on our website, email feedback@puracy.com to connect with our co-founder and product development team.
Clean your world
Clean your world... and everything that's thrown at it
01
Ease
We're always pushing the boundaries of products that work better with less effort. While we aim for a lower waste solution, we will not sacrifice on efficacy and ease. Our co-founder personally develops and signs off on every product to ensure it passes the challeng`es his busy, messy family puts in front it.
02
Purity
Puracy loosely translates to "the state of pure." Our manufacturing facilities and ingredient suppliers have strict quality control standards in place. Everyone at Puracy uses our products exclusively, and wouldn't trust them around their families unless they knew how much effort went into ensuring a clean formula.
03
Simplicity
We are all too busy to fuss with complicated concentrates, time-consuming tablet cleaning systems, and intimidating hair care products. We designed our products to be straight-forward, easy to understand, simple to use, and able to produce repeatable results for everyone and every surface in your household.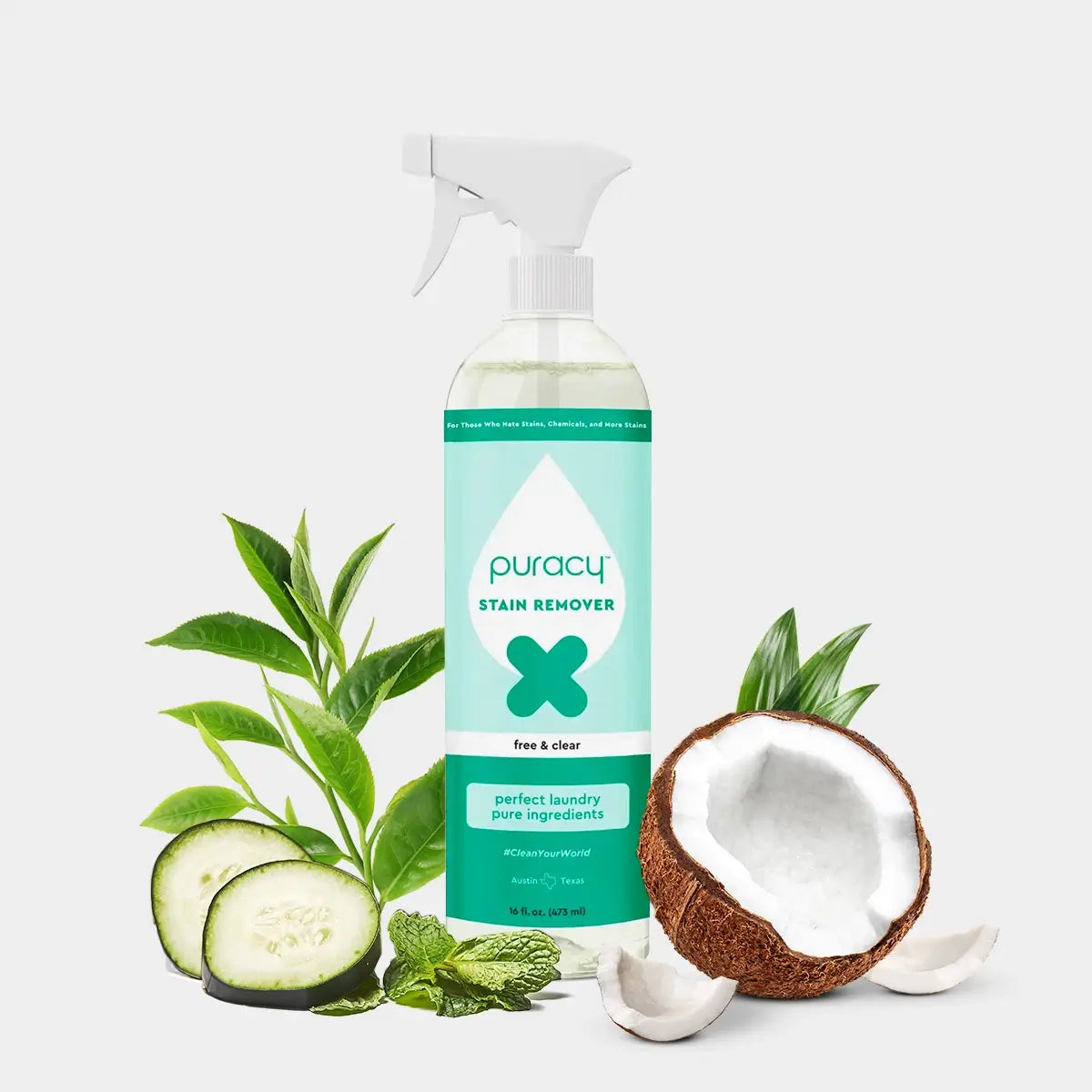 Plastic-Free Innovation
The Future of Cleaning is Here
Our cleaners have become staples of cleaning routines across the country, but that doesn't stop us from constantly innovating and evolving. We've developed industry-leading home cleaning supplies, such as our 10x Concentrated Natural Laundry Detergent and Natural Stain Remover. In April 2023, we introduced the Clean Can System, which uses an aluminum-based beverage can system to eliminate all single-use plastic from household cleaning. 100% ready-to-use, get back to cleaning in <10 seconds, 0% plastic.
Have a question? We're here to help!
We're proud that Puracy's Disinfecting Surface Cleaner is on the EPA's List of Approved Disinfectants for COVID-19. Thanks to a formula that's proven to kill 99.9% of bacteria and germs, it can even be used directly on vegetables and produce. Follow the label's directions to use it correctly, and be sure to also allow for at least 10 minutes to soak in order to achieve the best results.
If you are seeing streaks on windows or surfaces, that may be a sign that you are using too much product or glass cleaner. We formulate our cleaners so that a little goes a long way. To avoid streaks, take a clean microfiber cloth (which are much more effective than a paper towel) and spray once per 2-foot by 2-foot square. Go over this area in fast, overlapping Z-shaped wipes. This method can be applied to windows, glass surfaces, tabletops, and other surfaces. Check out our video tutorial for even more tips for a clean that won't leave streaks.
When it comes to thoroughly cleaning and disinfecting surfaces of germs and bacteria, you can trust Puracy's Disinfecting Surface Cleaner as everything from a toilet bowl cleaner and bathroom cleaner to a surface disinfectant and floor cleaner. Use it on high-touch surfaces such as doorknobs, handles, and table surfaces, especially during cold and flu season or allergy season.

If you are taking on routine, daily cleaning tasks, such as food stains, ceramic tiles, stainless steel, cleaning patio furniture, or hardwood floor spills (and even if you need a tile cleaner for some natural shine or cleaner shower doors), you can use our Multi-Surface Cleaner to leave your home spotless and neat as an effective all purpose cleaner. It does not contain any antibacterial ingredients and is ideal to use on multiple surfaces across multiple rooms.

If you're doing a deep clean of your house, you can use these two cleaners together for maximum cleaning results and boosted cleaning power. When used together, we recommend using the Multi-Surface Cleaner before the Disinfecting Surface Cleaner to achieve the best results.
You're in luck because our fan-favorite cleaning spray, Natural Stain Remover, can tackle even the toughest stains, including blood, grass, and mold stains, no matter how long it's been on a fabric or surface. First, target the affected area with thorough sprays of our Natural Stain Remover. Make sure the Stain Remover is embedded deep into the fibers by agitating it with a soft brush or rubbing the fabric together with your hands. Give the product at least 8 hours to set, as this will allow the stain-fighting plant enzymes to fully target the stain. Then launder the item based on its fabric care instructions. If needed, use an Extra Rinse cycle to make sure all the Stain Remover is gone.
With most cleaners, you should generally test it out on a small, inconspicuous spot on the fabric first to see if any discoloration happens. Puracy's Disinfecting Surface Cleaner contains a very low ratio of hydrogen peroxide (0.855% by volume), so you don't have to worry about fabrics becoming dull or discolored after use.
Our cleaners have a two-year shelf life upon purchasing, and to keep them at their best, you should store them away from direct sunlight. We recommend a cabinet or enclosed shelf, where they will not be easily accessible by small children or animals.
Our Natural Stain Remover features six enzymes that target the toughest stains and blemishes. Mannanase removed thich food stains such as coffee or soup. Protease takes on protein stains like blood, urine, or grass. Amylase tackles starch stains, such as chocolate or tomato sauce. Pectinase removes fruit stains, including red wine, juice, and berries. Lipase also removes protein stains, but more specifically stains such as sweat or grease. And finally, cellulase takes on general stains such as mud and dust, as well as working to leave fabrics bright and smelling fresh.
Puracy is dedicated to eco-friendly cleaning solutions, and that includes the sustainable packaging our cleaners come in. Instead of selling empty plastic bottles, we have our Reusable Infinity Glass Bottles that are sturdy and compatible with most Puracy cleaners. We also are an industry leader when it comes to selling eco-friendly refill pouches that save greatly on hot or cold water and plastic. Make the sustainable choice today and subscribe to these refill options as a part of your eco-friendly cleaning routine.
When it comes to cleaning, Puracy knows a cleaner's scent can have a huge effect on a household. That's why we only use natural fragrances instead of phthalates and synthetic fragrances, whether it's in our Dish Soaps, Detergents, or Stain Removers. Our cleaners' formulas contain natural aroma producing ingredients such as essential oils, citrus, and flora, and they're concocted by a team of highly skilled natural perfumers. The end result is gentle, subtle scents that elevate every cleaning experience and are also safe for anyone with allergies or other sensitivities – no air fresheners needed!
Puracy always strives for cleaning solutions that benefit the environment. Our packaging, including pumps, sprayers, and caps, are made from a strong reusable material called Polyethylene Terephthalate. This material is BPA-free and is the most widely recycled plastic in the world. You can also recycle our refill pouches, ensuring that your cleaning routine wastes as little energy, water, and plastic as possible!
Puracy goes the extra distance to ensure that all of our cleaners are 100% gluten free. That means we make sure that each of our manufacturers prohibit the use of any gluten in their facilities and take extra measures to sanitize their equipment between uses. This extra step of sanitization extends down to microscopic bacteria levels, eliminating any concern for the presence of gluten in any of our cleaners.
You can find Benzisothiazolinone, a biodegradable preservative, in our liquid cleaning products that are not used on skin. This preservative only requires a very low concentration to be effective, and its safety and efficacy has been rigorously tested. You can always find a complete list of each cleaners' ingredients by visiting our Ingredients Page.
Puracy's hypoallergenic, naturally derived cleaners are safe to be used during pregnancy. All of our cleaners have been rigorously tested to ensure the safety of your entire household, including upcoming bundles of joy!
Puracy's Natural Stain Remover is powered by six powerful plant enzymes that directly target and eliminate stains. Adding bleach to this formula will only kill the plant enzymes, so let the Stain Remover work its magic without any added harsh chemicals or agents.
You can depend on Puracy to create only 100% vegan and cruelty free cleaners. We've been certified cruelty free by both Leaping Bunny and PETA, and we never test our cleaners on animals.