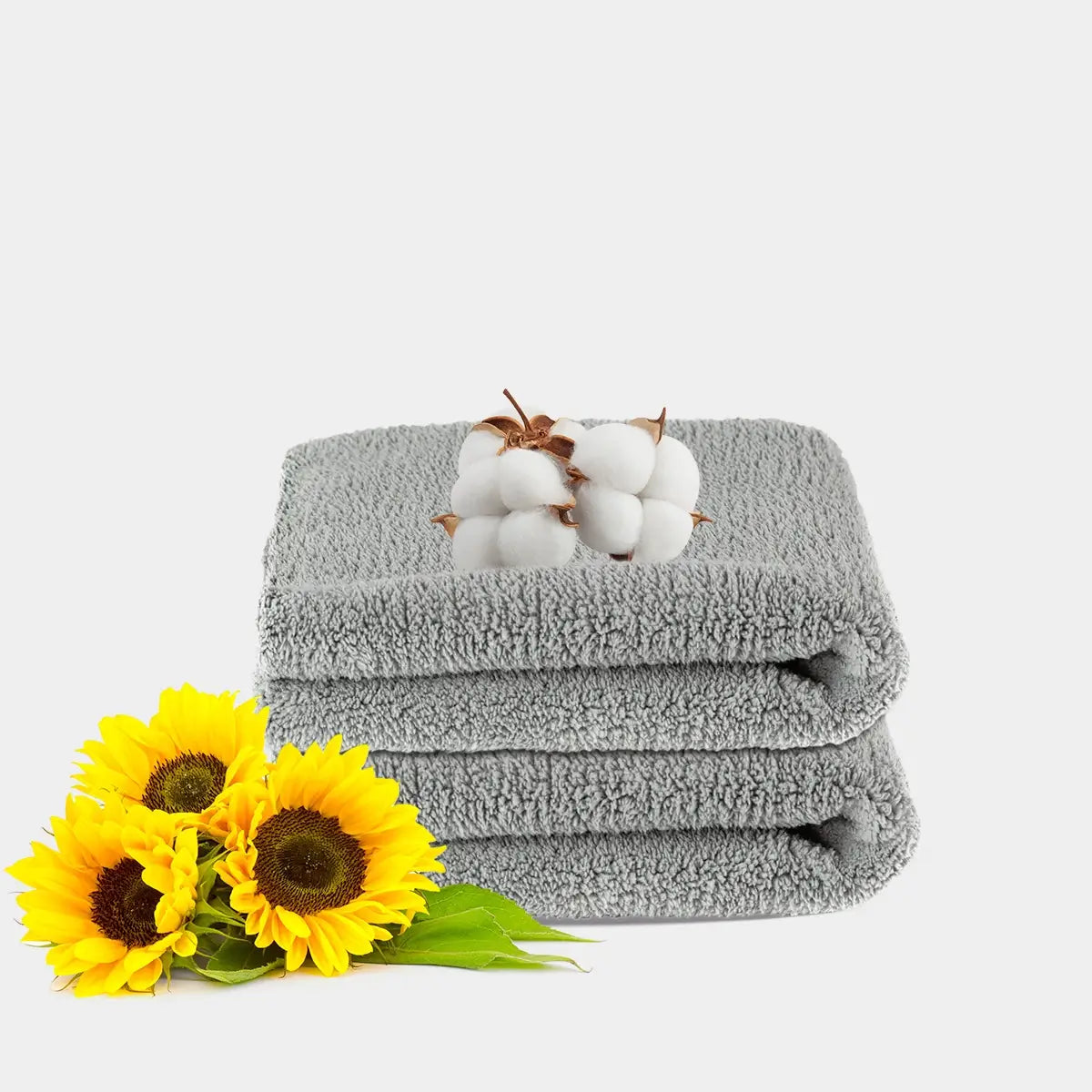 Go-To Cleaning Essentials
Designed for Busy Households
Our team of cleaning experts put in months of research to develop these tools into the equivalent of a cleaning magic wand. They are durable, ergonomic, and highly effective at their job.

- Our Laundry Stain Remover Brush is 100% smoothed, solid beechwood construction and is designed for any angle and hand size. The bristle length and density were obsessed over for just the right amount of flex to be gentle on delicate garments but tough enough for canvas and denim.
- Our Microfiber Towels feature a unique 600gsm (grams per square meter) plush fabric design, which blends the right length of fibers to absorb a lot of grime without trapping dirt that can't be washed out. It's also edgeless, which means every square millimeter can be used for cleaning.
- Our Infinity Glass Bottles are neutral, classically designed, and hold a versatile 16 ounces. You can use them with either spray or pump-based products, which captures over 90% of our product line. The optional silicone boot is a great addition to anchor it in wet areas, such as our Gel Hand Soap next to a sink.
Cleaning Made Easy
Accessories Designed By Cleaning Experts
01
Glass Bottles, the Sustainable Choice
Our mission to leave a gentler footprint on our planet through our ingredients and packaging is exemplified by our Infinity Glass Bottles, made from infinitely reusable glass. Each time you opt for these bottles, you're saving more plastic waste from entering our environment: a win for all!
02
The Best Microfiber Towel Ever
Our team of cleaning experts spent hundreds of hours researching different materials, patterns, and designs to create our unbeatable microfiber cloths. This painstaking attention to detail resulted in a cleaning tool that can help you tackle everything from hardwood floors, grout, and bathroom floors to shower doors, wet sinks, and kitchen counters. Some customers even use them as hand towels due to the incredible softness and moisture absorbency.
03
Our Versatile Laundry Stain Remover Brush
We chose horsehair bristles for our Laundry Stain Remover brush for two simple reasons: there's no harm to the horse and the material is safe to be used on any fabric. Whether it's silk or denim or upholstery or carpet, this handy brush can handle tough stains and sills with minimal agitation.
Have a question? We're here to help!
We can't stop singing the praises of Microfiber Towels as the ultimate cleaning accessory for any cleaning job! Not only are our Microfiber Towels lint-free and 3x finer than regular cotton, but their edgeless design makes it gentle on multi surfaces, while also being hyper-absorbent and extra effective at dusting and trapping grime, dirt, and everything in between. Our towels are also oversized to give you more use from a single towel, and don't worry about it ever giving up steam. Each towel is good for up to 500 washes!
First, spray the affected area with Stain Remover. Then gently agitate the fabric with our Laundry Stain Remover Brush for 5-15 seconds to make sure the stain remover is worked deep into the fibers. Wait at least 8 hours and launder as normal.
You've come to the right cleaning accessory! If you're seeing streaks when you clean, you are most likely using too much cleaning product, have a dirty towel, or are trying to clean a hot surface. At Puracy, a small amount of cleaner goes a long way. To get a streak-free clean, use broad, overlapping motions. Use one spray for every 2'x2' section, using medium pressure with your hand. Go over the surface quickly, with overlapping "Z" patterns. You can then flip to the dry side and wipe over until clean and dry.
Yes! Our premium Microfiber Towels are 100% washing machine safe, and they can last up to 500 washes. Plus they're lint-free, making them a low maintenance, fuss-free cleaning accessory! However, be sure to only wash them with microfiber cloths and dry them with the same. You should also spend special attention to make sure your lint trap is completely clean.
Of course! In fact, we recommend our Microfiber Towels in particular for those with curly or coarse hair. Its hyper-absorbent design works wonders when it comes to gently removing excess water. The best part? It does this without leaving your hair frizzly or hampering curl definition, unlike regular towels.
You can use our reusable Infinity Glass Bottles for almost Puracy cleaner, including our Stain Remover, Laundry Detergent, Everyday Surface Cleaner, and more. The only exception? The Infinity Glass Bottle uses a spray bottle and pump that only works with our liquid hand soap – not our foaming soap.
This comes from their blend of 80% polyester and 20% polyamide (nylon) fibers. Compared to other fabrics and brands, our Microfiber Towels have them beat when it comes to surface area and absorbency, plus they can trap dirt, grease, bacteria, and liquid with minimal effort on your part.
Like cars, there are varying levels of quality between microfiber towel brands. Our co-founder, Sean Busch, has been using microfiber towels since 1999, when he started his first car detailing business. He led the R&D on these.
These towels are the luxury cars of the towel market. 99% Lint-free, designed for 3x more washes than the towels you see at your local store or Amazon, and much thicker and plusher than anything you can buy locally. They are also edgeless, which means an unlimited cleaning surface and no risk of scratching or marring.
We designed our Microfiber Towels to have over 500 uses from a single cloth when properly washed and stored. As long as you only wash and dry with other microfiber towels, these will continue to feel great for years.
In comparison, single-use wipes and paper towels add up to a lot of cost and waste. Plus, our Microfiber Towels produce virtually zero lint, which can often enter and eventually pollute our local waterways.
Edgeless means 100% of the towel can be used to clean and you've also eliminated the risk of the edge scratching or marring a delicate surface, such as an HDTV screen.
Do not use these on anything with gritty dirt, sand, broken glass, or other hard grainy substances. These will get locked into the fibers and be very difficult or impossible to rinse out. This then makes the towel dangerous to use on delicate surfaces.
Wash and dry only with other microfiber towels. Use normal detergent without any softener or bleach. Before drying in the dryer, thoroughly clean out your lint trap. They are quite easy to care for as long as you remember to only wash with other microfiber cloths.
Our Microfiber Towels have ultra fine, hyper-absorbent fibers that grab and trap dirt and grime microparticles. Cotton fibers, on the other hand, simply push dust and dirt around, not absorbing them well. That's why Microfiber Towels are the obvious choice when it comes to cleaning since they can hold up to 7x their weight in water and are much more durable and longer lasting than cotton towels. Plus, you get a fuzz-free, streak-free clean with Microfiber Towels that is much more difficult to achieve with cotton.