Written by Lisa Truesdale. Reviewed by cleaning expert Sean Busch.
---
Red wine or grape juice stains on your carpet might be enough to make you cringe, but let's face it: Pet messes can be even worse. Urine has a highly offensive odor, vomit is gag-inducing, and poop is just gross. 
We put up with it because we love our pets, but that doesn't mean we want to also put up with stinky, smelly homes.

Our expert on these matters is Sean Busch, Puracy's co-founder and resident cleaning expert. Here, he shares his thoughts on the best pet stain remover (that also eradicates odors), and the most effective ways to use it.
Which Cleaners Are Safe to Use Around Pets?
"If you share your home with furry family members, you'll definitely want to use household cleaners that are free of harsh chemicals," Sean says. 
All of Puracy's products are completely safe to use around pets and children. In fact, after having kids and pets of their own, Puracy founders, Sean and Paul, wanted to make effective plant-based cleaners that were completely safe for every family member (furry ones included).
What Type of Cleaner Works Best on Pet Accidents?
When your dog or cat makes an ugly, smelly mess on your carpeting – whether it's urine, feces, vomit, drool, or something else – you've got two problems to solve. The first is the stain. The second is the smell, which is particularly important for dog and cat urine stains. 
You also have to completely eradicate the stain (even the most minuscule traces of it) or your pet will return to the same exact spot and do it again.
"For pet accidents," Sean says, "you always want to use a cleaner made with plant-based enzymes, because it solves both issues." 
Five Plant-Based Enzymes, 100% Effectiveness 
Puracy uses several types of enzymes for cleaning, with each targeting a different stain category, including protein-based ones for blood and urine. An enzyme cleaner creates a natural chemical reaction with the stain's particles to break it down until it's completely gone. And once the stain is gone, so is the smell.
Get the best tips from the cleaning obsessed.
Puracy crafts cleaning & care items that work really well. Our obsession with natural cleaning performance is our profession, and we're here to share it with you.
Sean warns, "If you use a non-enzyme cleaner, you're probably just temporarily covering up the odor – a tactic your pet is way too smart to fall for." 
For cat and dog stains, Sean recommends Puracy Pet Stain & Odor Remover, which was specially formulated for pet messes and contains five plant-based enzymes. 
How to Get Pet Stains & Odors Out of Carpet   
The trigger-spray on Puracy Pet Stain & Odor Remover is the perfect delivery system for reaching every inch of visible stain. But not all stain particles will be visible to the naked eye, so Sean recommends using a black light in a dark room to view the area (and to make sure you're treating the entire stain). Urine contains a crystal that shows up under blacklight, and the Escolite UV Flashlight is handy for everyday household use. 
Treating Older Pet Stains That Have Sat for More Than an Hour
Step #1: Saturate the Stain 
Fully coat the stain with Puracy Pet Stain & Odor Remover. Next, take warm water (in a 1:4 ratio, as we'll explain in a moment) and pour it over the entire area to help our ultra concentrated formula reach deep down into the carpet's fibers.

For example, if you use 1 ounce of stain remover, then you should use 4 ounces of water on top. Alternatively, you can mix 4 ounces of water with 1 ounce of stain remover and pour it evenly across the affected area. (Smaller pet accidents might require less stain remover, which is fine, but try to maintain that optimal 1:4 ratio of solution to water.)

Why Puracy is Different: With more than 30% active ingredients, Puracy Pet Stain & Odor Remover is arguably the most concentrated professional-grade formula on the market. In fact, it's 10X more concentrated than many of the leading brands. Our team of PhD chemists tested some of competitors' formulas, and we were shocked to discover that they contained just 3% active ingredients.
Step #2: Add Pressure 
To help the stain remover soak in, Sean likes to place something heavy (like a book, brick, or cast iron skillet) in a sturdy, clear plastic bag.
"Don't use a thin, single-use plastic bag, like the generic kind you get from the grocery store," Sean cautions. "They puncture easily and damage the item inside. The ink on those bags is also very weak, and once it's exposed to moisture, it could transfer color onto your carpet."
Step #3 - Let the Stain Remover Sit
Sean recommends letting your enzymatic cleaner sit at least 8 hours, overnight, or even longer.
When you're ready to rinse the area, Sean highly recommends using a carpet-cleaning machine. "Prices have really come down on these," he says, "and they're great to have around, especially if you have pets and kids." He likes the Hoover PowerScrub Carpet Washer and says it's been so reliable, he thinks it's the only one he'll ever have to buy.
Use your machine (according to the manufacturer's instructions) to thoroughly remove all of the stain remover and stain particles from the affected area with warm water, only. He says that no carpet shampoo is required, since there's already enough cleaning product in the stain remover.
Treating Fresh Pet Stains
If the pet stain you're treating is fairly fresh, say within the last hour, then follow the same instructions as we outlined above. However, you'll only need to let the stain remover solution sit on the stain for an hour before rinsing it from the surface with a carpet cleaning machine. 
If You Don't Have a Carpet Cleaner
If you don't have a machine, you'll need to do this part by hand:
The ingredients in Puracy Pet Stain & Odor Remover are safe to use around pets and children, but the stain particles you're rinsing out are likely pretty nasty. We recommend using disposable gloves. 
Fill a bowl or small bucket with warm water. 
Saturate a clean microfiber towel in the water and gently wring it out (hint: it should still be dripping a little bit)
Press the wet towel into the stain, gently rubbing (but not scrubbing). You're trying to flush in the fresh water while soaking up any remaining waste into the towel.
Wring out the wet towel over another empty bowl or bucket, saturate it in the clean water, and repeat the process until you've soaked up all of the excess liquid. Switch to another clean microfiber towel during the process (if necessary).
This may take a little bit of time but it is a necessary step of the process to ensure all remnants are flushed out. In the end, we highly recommend investing in a carpet cleaning machine. 
The 3 Best Ways to Neutralize and Eliminate Pet Odors
If you follow the instructions above and are successful in thoroughly removing all traces of a stain, no odor should remain except for the fresh, clean, subtle scent of cucumber and mint that Puracy Pet Stain & Odor Remover leaves behind.
In addition to accidents, carpeting sometimes gets that "dog smell" from dander, drool, and fur oils. Dog owners will be pleased to learn that Puracy Pet Stain & Odor Remover works to totally neutralize and eliminate those unpleasant odors. If you don't have a specific localized pet stain that you need to treat, and you're looking for a way to keep your entire home smelling fresh, then try these options:
1. Baking Soda
Highly-absorbent baking soda effectively neutralizes trapped odors. Simply sprinkle it all over carpets, rugs, and upholstered surfaces. Let it sit for several hours, then vacuum it up.
2. Air Purifiers 
An air purifier traps pollutants and particles (like dust, smoke, pet smells, cooking disasters, and diaper odors) and pushes fresh, clean air back into the room. Compact, portable models like the JINPUS Air Purifier can easily be moved from room to room, wherever the odor might be.
3. Puracy Natural Carpet & Upholstery Shampoo
Our Carpet & Upholstery Shampoo is a clinical-grade product that will leave your carpet clean and fresh-looking. The natural formula is hypoallergenic, safe, and biodegradable – and the citrus scent will leave your entire home smelling fresh.

Simply follow the directions on the label and use this carpet shampoo with a carpet-cleaning machine or by hand.
Choose Puracy's Effective, Natural Cleaning Products 
We know you absolutely adore your pets, and although they can make our homes pretty stinky sometimes, we wouldn't trade them for the world. When you're able to remove pet stains and odors quickly, you can spend less time worrying about a smelly home and more time cuddling with your furry pal.
Pet lovers will also be interested in these related articles:
Pet Safe Floor Cleaner to Keep Your Floors Sparkling and Your Furry Pal Healthy
Natural Cleaning Guide: 11 Ingredients and Products That Are Safe to Use Around Children and Pets
Shop this article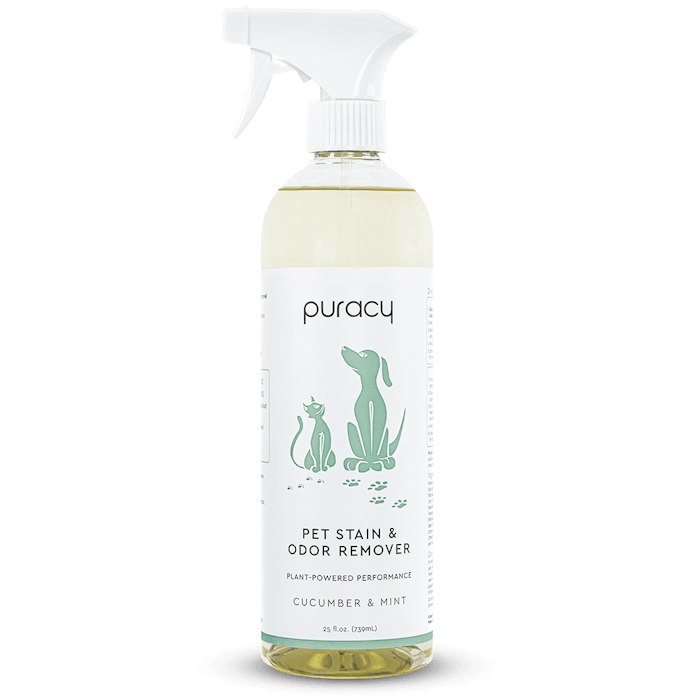 Natural Pet Stain & Odor Remover
Most powerful natural pet stain & odor remover. Concentrated enzymes specifically target pet messes to make them like they never happened.
Shop now