Written by Tenley Haraldson.
---
You put up with poop, drool, and vomit because you love your furry friends – but that doesn't mean you have to tolerate a stained sofa and stinky carpets.
If you've already got Puracy Pet Stain Remover (or are considering a switch to our 99.96% natural formula), discover how to thoroughly eliminate pet stains and odors for a clean, fresh-smelling home. 
Why Choose Pet-Safe Cleaners? 
There are plenty of reasons to choose natural pet cleaning products. However, most importantly, they're typically free of overly-aggressive chemicals like trichloroethylene (TCE), sulfates (e.g. SLS, SLES), formaldehyde, and synthetic fragrances. 
Why Puracy Pet Stain Remover Is Different
During our R&D process, we determined that many pet stain carpet cleaners were incredibly diluted, overwhelmingly fragranced, and filled with unnecessary/potentially harmful ingredients.
We challenged our team of PhD chemists to create the best enzyme cleaner for animal-friendly households – and one that could be safely used on all washable fabrics. We're pleased to announce that our 99.96% natural product is the most concentrated, professional-grade pet stain lifter on the market.
With more than 30% active ingredients, our pet stain remover is 10X more concentrated than most of our competitors (some contain just 3% active ingredients)!
How to Remove Set-in Pet Stains
If the mess happened more than an hour ago, fully saturate it with our Pet Stain & Odor Remover. To get the ultra-concentrated formula deep within upholstery fibers, take warm water (1:4 ratio) and pour it over the affected area.
For example, if you use 1 ounce of our pet spot remover, pour 4 ounces of water on top. Smaller pet accidents might require less stain remover, but still try to maintain that optimal 1:4 ratio.
Many stain particles are invisible to the naked eye. To ensure that you're treating the entire mess, we recommend using a UV flashlight in a dark room.  Black lights will show urine due to its high levels of phosphorus. 
Get the best tips from the cleaning obsessed.
Puracy crafts cleaning & care items that work really well. Our obsession with natural cleaning performance is our profession, and we're here to share it with you.
1. Add Pressure & Wait 
To help the stain remover soak in, place something heavy (e.g. book, brick, or cast iron skillet) in a sturdy, clear plastic bag. Don't use the thin, generic kinds you get from the grocery store. They puncture easily, can damage the item inside, and the ink can even transfer color onto surfaces.
Let the enzymatic cleaner sit for at least 8 hours (or overnight).
2a. Grab a Carpet Cleaner
If you're a parent or pet owner, a carpet cleaning machine is a handy way to keep your carpet and upholstery looking their best. Use your machine according to the manufacturer's instructions (use the handheld tool for furniture), then thoroughly remove all of the stain remover and stain particles from the affected area with warm water.
Since there's already enough cleaning product in your stain remover, you won't have to use carpet shampoo.
2b. If You Don't Have a Carpet Cleaner
While we recommend using a carpet cleaner (most hardware stores offer hourly rentals), you can absolutely do this part by hand. This process may take some effort, but it's necessary to ensure that all stain remnants are flushed out.
Use gloves if you're dealing with a particularly nasty mess. 
Fill a small bucket with warm water, then saturate a clean microfiber towel in the water and gently wring it out (It should still be dripping a little). 
Press the wet towel into the stain, gently rocking back and forth (don't scrub!). Remember: You're trying to flush fresh water into the affected area while absorbing waste into the towel.
Wring out the towel into another empty bowl or bucket, then saturate your towel in the clean water to repeat the process. Keep doing this until you've soaked up all of the excess liquid. 
Depending on the size of the stain, you may need to switch to another clean microfiber towel. 
How to Remove Fresh Pet Stains
If the pet stain is less than an hour old, follow the same instructions outlined above. However, you'll only need to let the stain remover solution sit on the stain for about one hour before rinsing it from the surface with a carpet cleaning machine. 
Why Enzyme Cleaners Are Perfect for Pet Stains
Whether the mess is urine, feces, drool, vomit, or a complete mystery, you have two problems to solve: 
The stain itself
The smell caused by the stain particles. Even a miniscule trace of urine can have pets returning to the scene of the crime.
If you're using a non-enzyme cleaner, you're probably just temporarily covering up the odor – and your pet is way too smart for that.
5 Plant-Based Еnzymes in Puracy Pet Stain Remover
Plant enzymes are microscopic proteins that feast on a huge variety of organic stain particles (and their subsequent odors). Each plant-based enzyme has a different natural chemical reaction when it interacts with certain stain categories. That's why we've included five (5) of them in this product:
These enzymes get deep into crevices and fibers to break down these offenders until they're completely eliminated. And when they're done munching and snacking, their job is done: No more stain, no more smell. 
Neutralize Pet Stains & Odors With Puracy
We've developed this product for more than just spot treatments: Our Puracy Pet Stain & Odor Remover can be used on all upholstered and carpeted surfaces. Say "goodbye" to nose-crinkling odors and "hello" to the fresh, subtle scent of cucumber and mint.
Shop this article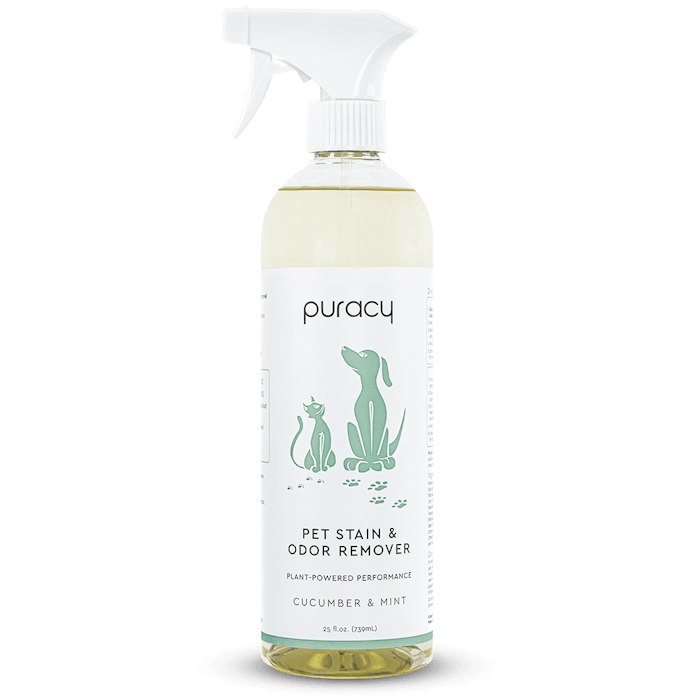 Natural Pet Stain & Odor Remover
Most powerful natural pet stain & odor remover. Concentrated enzymes specifically target pet messes to make them like they never happened.
Shop now