Natural Laundry Stain Remover
For those who hate stains, harsh chemicals, and more stains.
Directions
FOR STAINS LESS THAN 24 HOURS OLD: Spray the affected area and wait at least 15 minutes before laundering.
FOR STAINS MORE THAN 24 HOURS OLD: Spray then massage the affected area with a soft brush. Wait at least 8 hours (can be left on for days), then launder with the warmest water the fabric care instructions allow. Opt for the "Extra Rinse" cycle. Some stains may require two treatments.
FABRICS YOU CANNOT PUT IN THE WASHING MACHINE: Use exactly as "LESS THAN 24 HOURS OLD" states. To rinse, fill a bowl with warm water, saturate a clean cloth with the water. Gently wring, then press into the stain, moving back and forth with light pressure. This will pull the natural stain remover from the surface and replace it with fresh water, mimicking a rinsing effect. Rinse cloth and repeat the same steps until the stain remover is "rinsed" from the surface.
Always test for colorfastness on an inconspicuous area first.
Do not leave on silk or wool for more than one hour.
Avoid eye contact or breathing in the mist. If skin or eye irritation occurs, rinse with fresh water for 15 minutes. If swallowed, drink plenty of fresh water. Seek medical attention if problems persist.
Tips & Tricks
For the worst stains imaginable, spray the affected area thoroughly, agitate the area with a Puracy Stain Brush, and let it soak for at least 8 hours before laundering. The longer you wait, the more time these stain-fighting enzymes have to penetrate deep within the fibers.
Consider making stain removal part of your daily routine. At the end of the day, take a few seconds to spot-treat clothing stains before tossing into the hamper. When the clothes are washed later that week, the stain remover enzymes will have already done their job and your clothing will come out free from any blemishes.
For wool & silk, don't let the stain remover sit for more than 1 hour. If the stain persists, however, consider an additional treatment.
For those who hate new clothes becoming play clothes after one use.

Perfect Laundry: Guaranteed to safely remove all clothing stains and odors-  whether the stain was made 3 minutes ago or 3 years ago. 


All Stain & Odor Sources: Eliminates grass, berries, blood, sweat, oil, red wine, cosmetics, dairy, avocado, turmeric, watermelon, pee, poop, vomit, grease, deodorant, dead skin, pet accidents, and more.

All Water-Safe Fabrics: Thoroughly cleans clothing, linens, carpets, mattresses, couches, floor mats, dress shirts, fitness gear, denim, delicates, bedding, car seats, cloth diapers and all other washable fabrics.

Only Pure Ingredients: No sulfates (SLS, SLES, SCS), phosphates, bleach, peroxide, brighteners, salicylates, parabens, petroleum-based ingredients, animal by-products (

cruelty-free

), perfumes, or dyes.

98.95% from Mother Nature: Powered by All 6 plant-powered enzymes and vegetable-based cleansers

Pure Love Guarantee: Puracy is passionate about creating products that clean up life's inevitable messes. Your happiness matters to us, so if you aren't satisfied with any of your products, contact us directly. We'll refund 100% of your purchase, no matter when you purchased it.

Available in 4 oz Travel Bottle (125 uses), 12 oz Spray Bottle (375 uses), 16 oz Spray Bottle (500 uses), and 48 oz Refill Pouch (1500 uses)

Free & Clear
Stains are just a bummer. There is no other word to describe them. That little bit of guacamole that slid off the chip before you could catch it. The coffee stain because you tried to walk and drink at the same time. The stuff on your kid's clothes and you have no idea what that stuff actually is...Stains are a bummer. But they do not have to be a problem… 
Color-safe and non-caustic, Puracy Stain Remover was specifically developed to remove all stains, nasty odors, and mysterious blemishes from all types of fabrics. 
Crafted by a team of biochemists and cleaning specialists who strive to create safe and effective plant-powered products for everyone, the 6 plant-based enzymes contribute to a 98.95% natural formula. Available in a convenient 4-ounce travel size, 12-ounce spray bottle, 16-ounce spray bottle, and the best value - a 48-ounce refill pouch. 
Each pouch contains enough concentrated stain-fighting power to eradicate over 1500 stains. In fact, this is the only stain remover you will ever need. No more throwing pillows over food stains, no more t-shirts becoming rags, and no more good clothes becoming play clothes.
Free & Clear
Purified water (Aqua, eau), C10-C16 Alcohol ethoxylate (Plant-based cleanser), Decyl glucoside (Vegetable-based cleanser), Vegetable glycerin (Plant-based skin softener), Propanediol (Plant-based preservative), Protease (Plant-based enzyme), Sodium borate (Natural mineral cleanser), Amylase (Plant-based enzyme), Sodium citrate (Plant-based water softener), Lipase (Plant-based enzyme), Pectinase (Plant-based enzyme), Mannanase (Plant-based enzyme), Cellulase (Plant-based enzyme), Benzisothiazolinone (Biodegradable preservative), Coconut fatty acid (Plant-based foam reducer), Calcium chloride (Natural mineral stabilizer)
FAQ
What does Puracy do to ensure the safety and quality of each formula during product development?
Safety is a critical consideration in Puracy's product development process. For this reason, Puracy submits each new formula it develops to challenge testing, also known as preservative efficacy testing, by a third-party accredited laboratory. The purpose of this testing is to evaluate the effectiveness of the preservative used for the shelf life of the product. Puracy tests its products in compliance with the United States Pharmacopeia (USP) 51 standard. Only formulas that can pass this testing standard proceed to commercial development.
What does Puracy do to assess the safety and quality of each production run?
Safety and quality of the products is also monitored during and immediately after production. At appropriate intervals during the production of each batch of product, Puracy sends product samples for external microbiological testing by an accredited third-party laboratory. A sample of each finished batch of product is also sent for external microbiological testing by an accredited third-party laboratory. Samples are tested in compliance with the United States Pharmacopeia (USP) 61 standard. When all submitted samples from a batch pass this standard, the products from that batch can be distributed to consumers.
What kinds of preservatives does Puracy use in its products?
For liquid cleaning products not designed for use on skin, we use Benzisothiazolinone. This preservative is remarkably effective at low concentrations, and has rigorous data supporting efficacy, safety, and tolerability. While being synthetic, it is also biodegradable. You can read more about it here.
For personal care products, designed to be used on your body, we use a blend of Potassium Sorbate (Naturally-Derived Preservative, Sodium Benzoate (Food-Grade Preservative), and Gluconolactone (Food-Grade Preservative) to preserve those products. These ingredients are well studied for the use of preserving personal care and cosmetic products.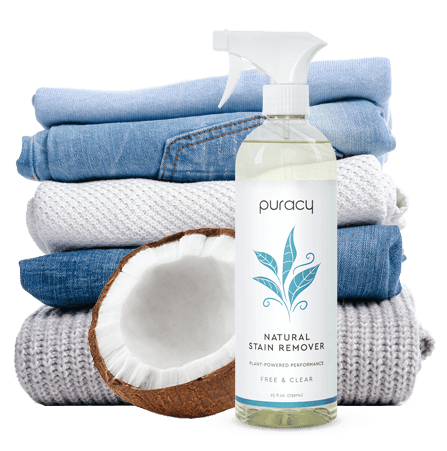 For those who hate stains, harsh chemicals, and more stains.
The go-to product for "uh-oh" moments
Our cleaning expert co-founder, Sean Busch, partnered with a decorated Ph.D. Chemist from MIT to create this 6-enzyme stain remover solution. Their goal was to create the only stain removing solution you needed in your laundry arsenal. Together, they created an overengineered formula that competing stain removers have never gotten close to. Best of all, it is 98.95% plant-based and not harmful to any fabrics, when used per directions.
This product rocks! It helped get out a hard to fix stain. I tried everything, but it wasn't until I found Puracy that I could get a tough oil stain and paint stain out of one of my favorite shirts. This is my go to stain removing solution!
This stain remover is the BEST! Better than the harsh brands. It got blood out of a towel immediately without having to soak. I haven't yet found a stain that it hasn't worked on.
I love this. It is LITERALLY the only thing I've used that has been able to remove mulberry stains from fabric and I wasn't even trying to remove them. One use and GONE! Incredible!
It truly does wonders for my kids' clothes! I can't think of a stain it hasn't gotten out! I treat my childrens' clothes as investments so I can pass them down. No stains here!
Perfect Laundry, Pure Ingredients
From sustainably-harvested coconuts to common vegetables, the 100% biodegradable ingredients inside each bottle of Puracy Stain Remover clean better, are safe for everyday use, and are naturally hypoallergenic, gluten-free, vegan, and Certified Cruelty-Free.
98.95% from Mother Nature
Contains All 6 Stain-Fighting Enzymes
Works like magic the first time.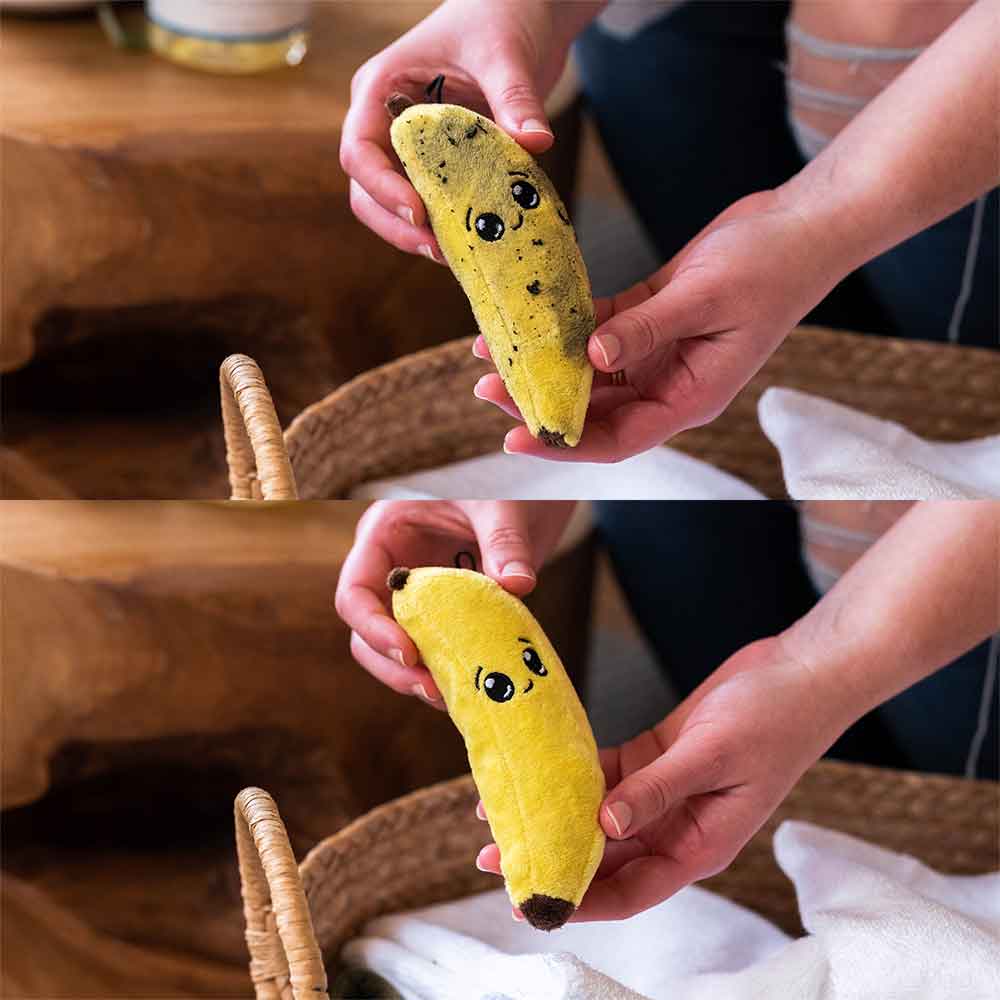 Gentle on fabrics, unlocks tough stains, destroys laundry odors
No stain is safe – and your fabrics will look like new. Color-safe and non-caustic, Puracy Natural Stain Remover was specifically developed to remove unsightly stains, nasty odors, and discolorations from all types of fabrics.

These tough, plant-derived surfactants and enzymes dislodge (then eradicate) even the most stubborn of stains from the very first moment of application.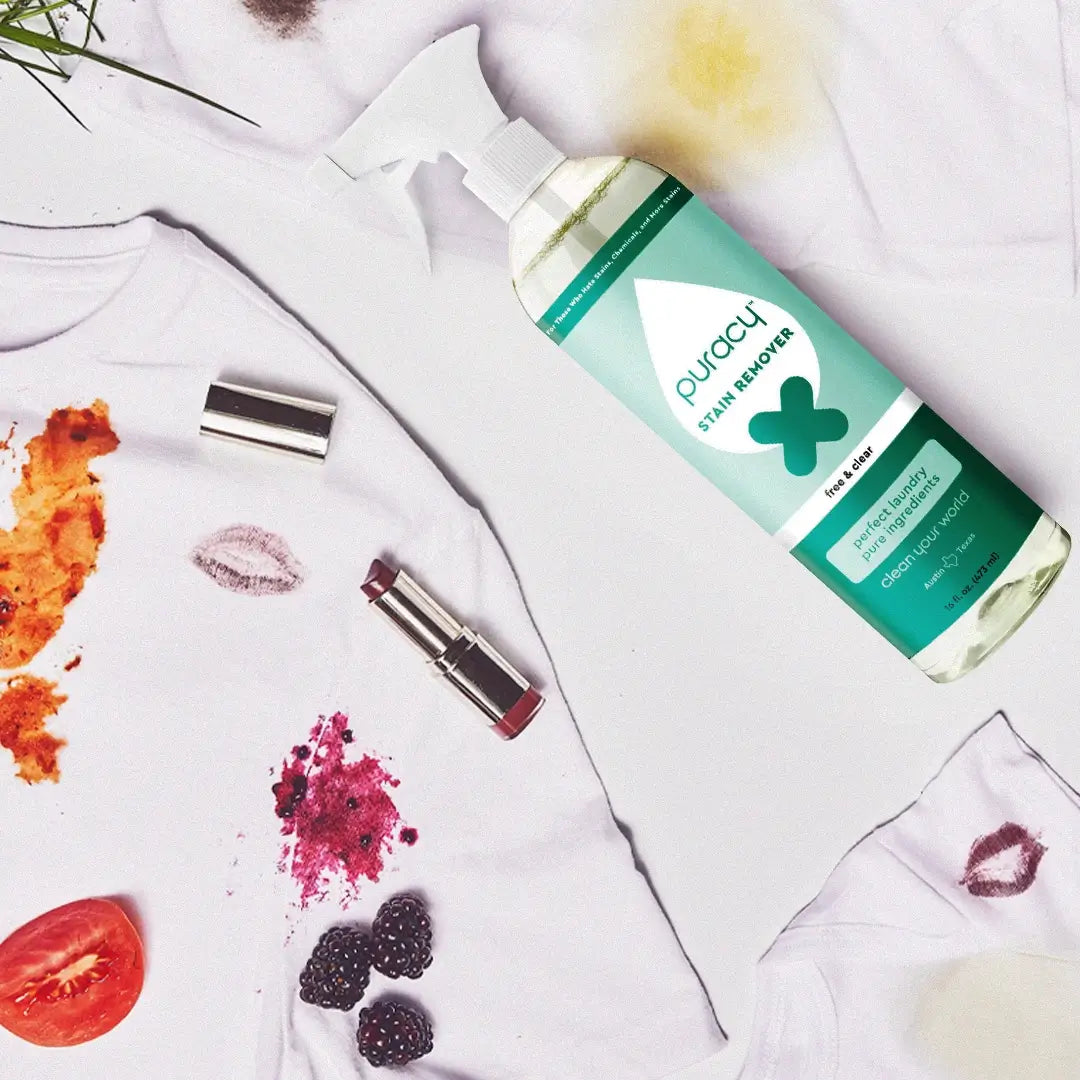 Works anytime on anything
If your clothes, workout gear, or favorite blouse can get wet, then it's safe to use this stain remover spray on it. And no more scrambling for towels and club soda: Even older spills are no match for this powerful enzyme stain remover.
So if you drop Tex-Mex on your dress shirt at noon and can't treat it until 9pm… the following week? Don't sweat it. Just spray the stain, let it soak for 15 minutes (or more), and wash it clean. It's "nacho" stain anymore.
These tough plant-based cleaners eradicate stains from the most infamous of stain-causing ingredients, from A to Z: armpit stains, berries, coffee, dirt, grass, lipstick, makeup, oil, pet accidents, tomato sauce, wine, za'atar, and hundreds of others.
* See the directions for use.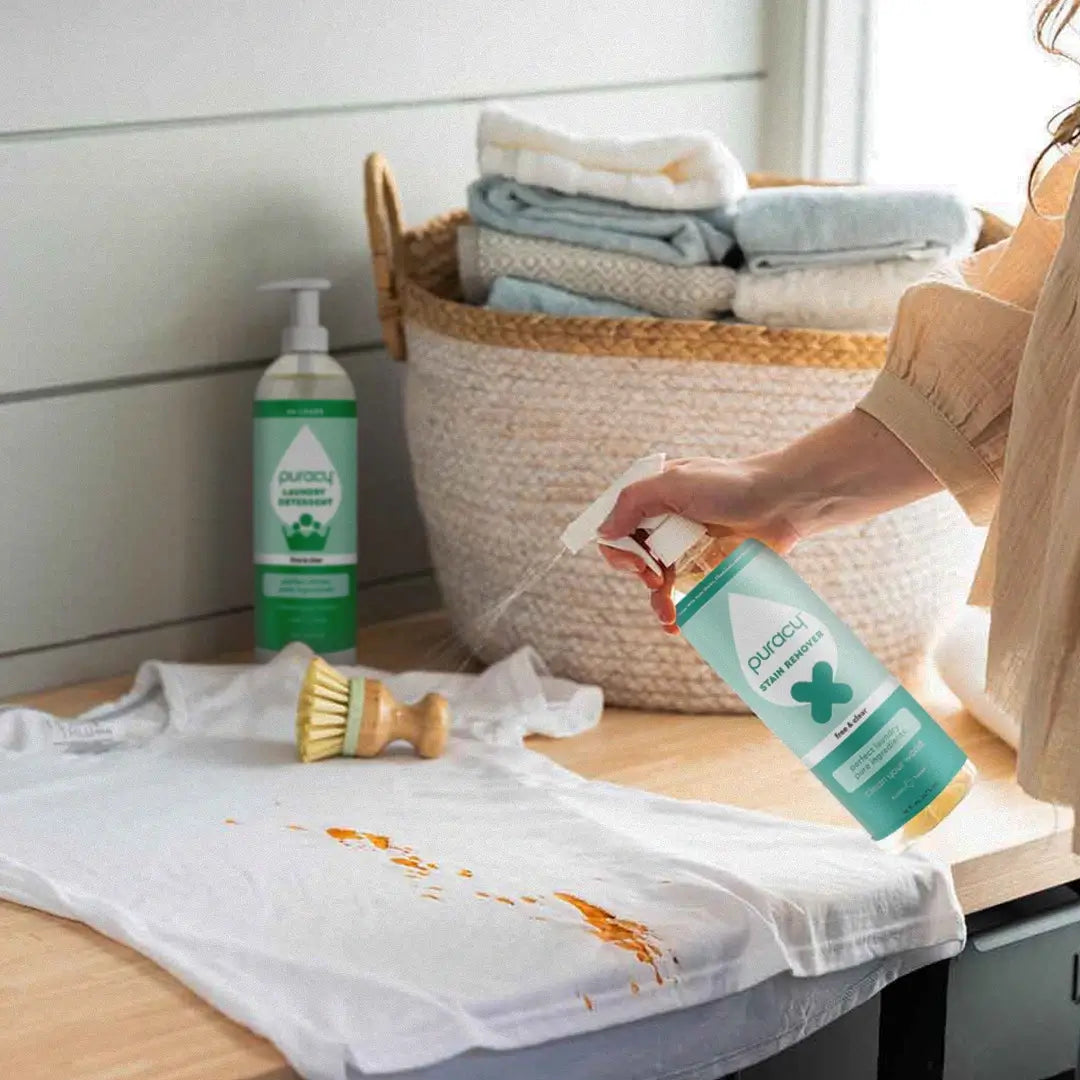 Use less, save more outfits
You don't need multiple products to save your favorite outfits: Each 16oz bottle contains enough concentrated stain-fighting power to eradicate over 500 stains.
 That's not only an incredible savings per ounce compared to others out there, but it's a more effective stain remover. You use less and save more.
 Have a particularly messy household with multiple kids or muddy pets? Our 48oz refill pouch tackles 1,500 stains. That saves you considerable money and uses way less plastic & energy -- especially when you reuse your bottle to lower your carbon footprint.
Powered by powerful plant enzymes.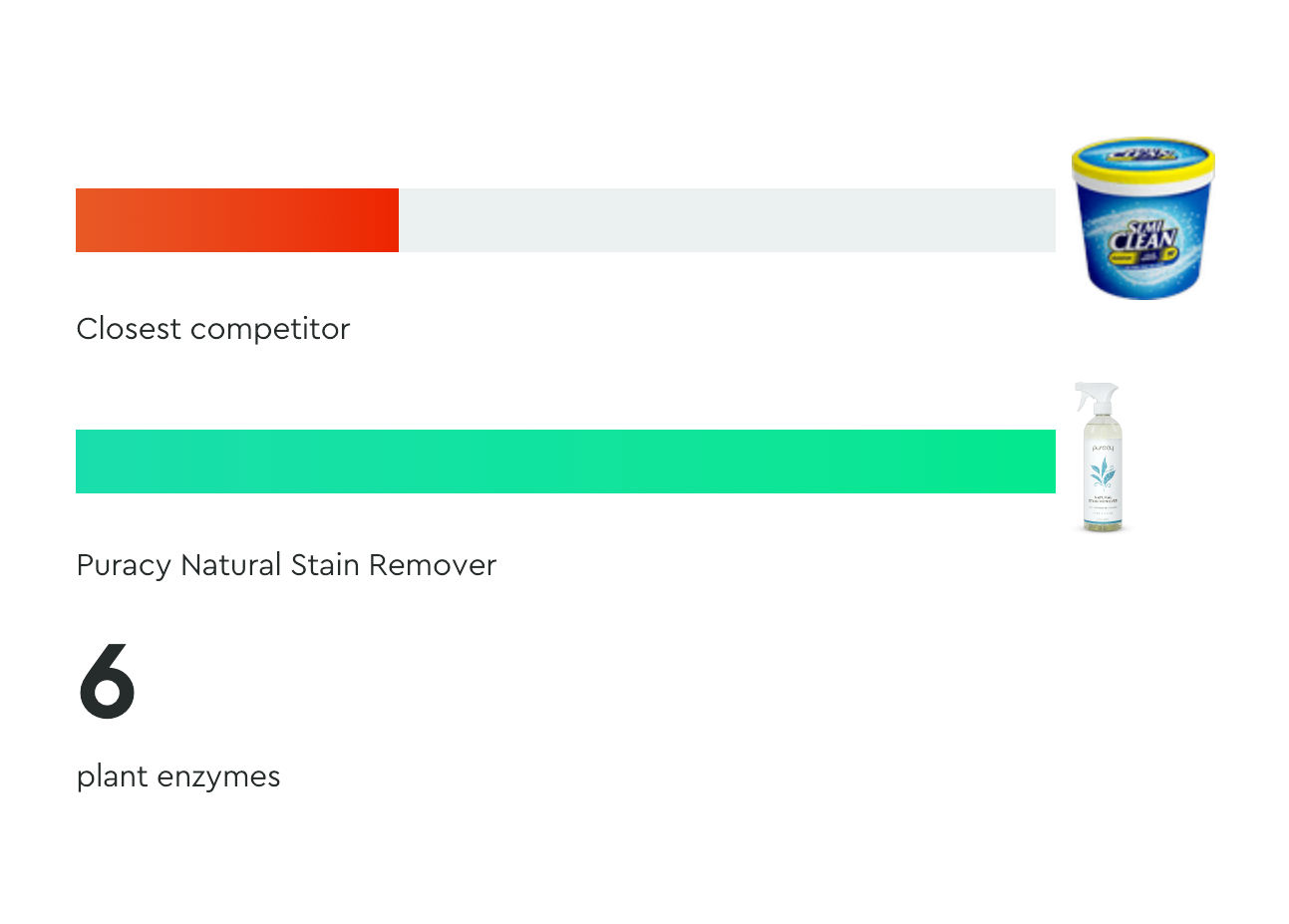 An enzyme for every messy occasion
Plant-based enzymes aren't some fancy-sounding marketing term. They're the Earth's naturally-occurring stain & odor removers. Think of it this way: Every kind of stain is a lock, and for every lock, a key can open it. With all six plant enzymes, Puracy Stain Remover is the skeleton key for all stains.
Enzymes go to work directly targeting each stain and won't cause bleaching, color fading, or harm to your fabrics. Each enzyme was carefully selected to act as the right tool for the job at hand.
Six stain-removing plant enzymes. Nothing else is close.
Amylase
Works on starches found in tomato sauce, BBQ sauce, chocolate, baby food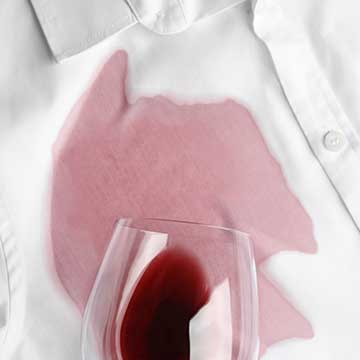 Pectinase
Works on plant material found in fruit, red wine, watermelon, berries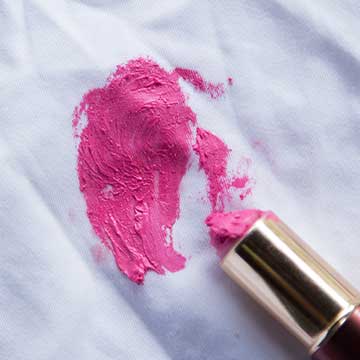 Lipase
Works on fats & oils found in lipstick, grease, sweat, dressings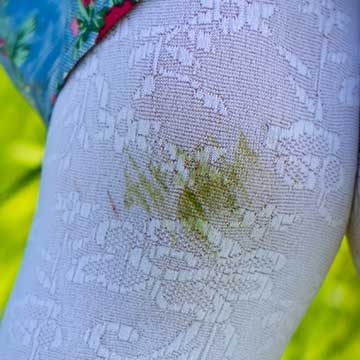 Protease
Works on proteins found in grass, blood, meat, eggs, baby formula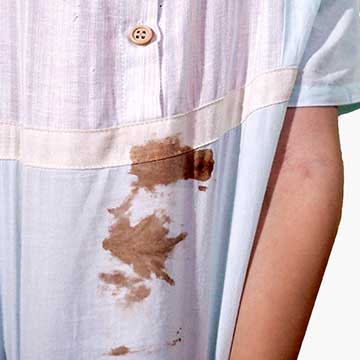 Mannanase
Works on thickeners found in ice cream, soup, cosmetics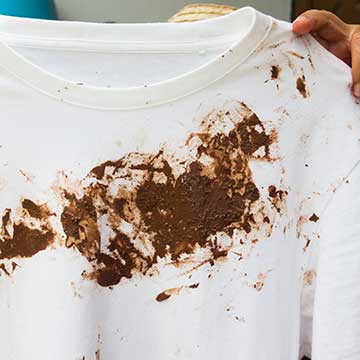 Cellulase
General purpose cleaner for mud, dirt, dust, & moreSix stain-removing plant enzymes. Nothing else is close.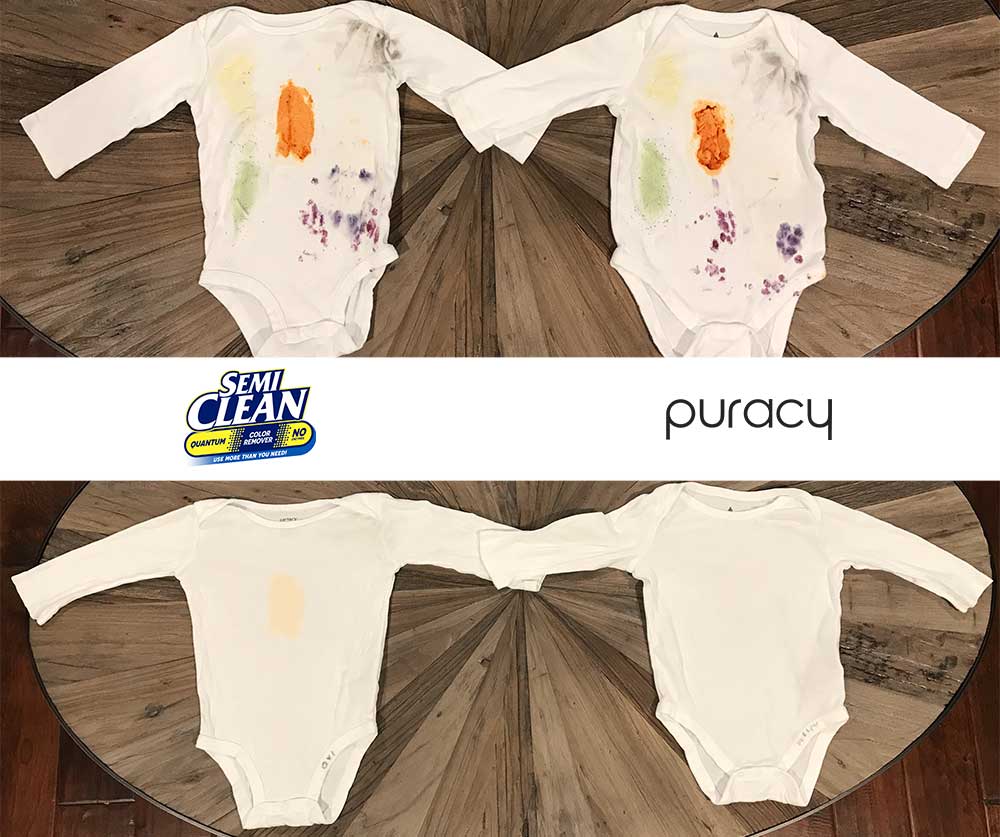 No more "SemiClean"
In head-to-head comparisons, oxygen bleach (e.g. sodium perborate, sodium percarbonate, hydrogen peroxide) was no match for Puracy Stain Remover.
Oxygen bleach simply doesn't remove all evidence of the different stains. And because it's indifferent to the source of each stain, you wind up using more product to do the same job. Plus, it can lead to fading and general wearing of fabrics. Not very fantastic.
Pure Ingredients
With a name like 'Puracy' you know we stand behind the purity of our ingredients. Don't go nuclear with your chemical stain removers – go surgical instead. You'll never find the following in our Stain Remover: bleach, perfumes, sulfates, ammonia, petrochemicals, caustics, phosphates, phthalates, animal byproducts, dyes, gluten, chlorine, allergens, and more.
Recyclable & Refillable Packaging
98.95% from Mother Nature
Developed by a Cleaning Expert & Ph.D. Chemist
Top reviews & trusted by customers
For nearly a decade, Puracy Stain Remover has been proven superiorly effective by thousands of families (and millions of stains). We've listened to every bit of feedback, read every review, and perfected a stain remover that's earned tens of thousands of universally-positive reviews. That doesn't happen if it doesn't work.
#1 Best Selling Puracy Product Formula
Natural Laundry Stain Remover
4.5/5
Remarkable

I've used many stain removers over the years, including professional chemicals when I was working at a dry cleaner's. For a home product, this rivals the best. I've experimented first using a popular stain removed, and then Puracy, on the same spot. The popular one did a fair job but did not remove all, but Puracy took it all out.
-John M.