Written by Tenley Haraldson. Reviewed by cleaning expert Sean Busch.
---
Let's be honest: Few of us can afford a genuine leather couch or armchair – and that's okay! Polyurethane coated leather is typically a much more affordable, durable option that comes in endless arrays of colors and styles.
With our natural, PU-coated leather care tips, you'll keep your investment gorgeous for years to come!
What Is Coated Leather?
Most "coated leather" is synthetic, fashioned from polyurethane ("vegan leather"). More rarely, it's actual leather that's been sealed with a thin layer of vinyl or polyurethane. This provides a more durable finish and creates a smoother surface that's easier to clean. Manufacturers may also apply a layer of pigment to create a more uniform color.
How to Tell If Leather Furniture Is Coated or Uncoated
The easiest way to determine what you're working with? Put a couple drops of water on the surface. If water absorbs into the leather, surprise! You've got genuine leather! If the water beads, it's coated.
To avoid scratches and peeling, polyurethane coated leather requires different maintenance than leather – but we've made it easy with our leather cleaning tips.
How to Clean Coated Leather 
You can get started with a few products to clean leather and a couple simple techniques.
Any time you clean furniture, pull out the handheld vacuum attachment to remove crumbs, hair, or excess debris. Be sure to get under and behind cushions. 
You really don't need fancy organic leather cleaner. Should your coated leather sofa require an all-over clean, just fill and swirl a spray bottle with warm water and a few drops of Puracy Natural Dish Soap. 
Spray the solution directly onto a clean microfiber towel, then apply using the same motion you'd use when cleaning your countertops. Cover every spot evenly, then buff out using a separate clean, dry microfiber cloth.
You Don't Need Much to Restore Coated Leather Furniture Naturally
Over time, it's normal for coated leather to appear dull or scratched up – and that's especially true for furniture that's used constantly.
While you can reach for leather-specific products that sit idly in your cupboard, why not use our 99.96% natural Multi-Surface Cleaner instead? Spray it on a clean microfiber cloth, gently swipe it across your furniture, and that's it!
Since acidic cleaners can strip away polyurethane coating, ensure that your leather cleaner has a pH level that's neutral or slightly basic. Lucky for you, our Multi-Surface Cleaner provides a basic formula that's safe for use on thousands of non-porous surfaces. Whatever you choose, test it on a small, inconspicuous spot and wait until it dries. If there's no discoloration or bleeding, you should be able to use it all over.
Get the best tips from the cleaning obsessed.
Puracy crafts cleaning & care items that work really well. Our obsession with natural cleaning performance is our profession, and we're here to share it with you.
Puracy: We Make Cleaning Easy & Effective 
Puracy is all about keeping harsh chemical cleaners out of your household, and we pride ourselves on making that as easy as possible. That's why we've worked with doctors and PhD chemists to develop our Multi-Surface Cleaner – and we firmly believe it's the most effective plant-based cleaning product anywhere.
From ceiling fans to remote controls to your own couch, we look forward to helping you on your journey towards a cleaner home.
Shop this article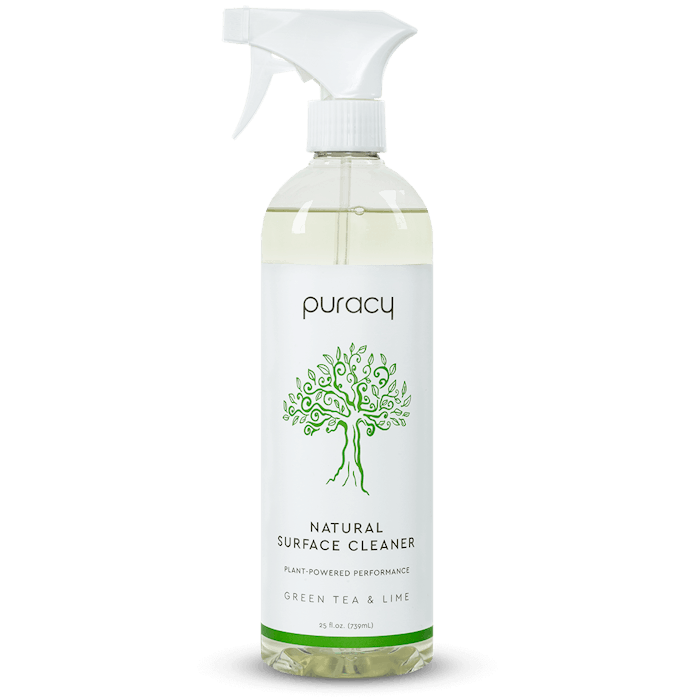 Natural Multi-Surface Cleaner
The natural, all-around-the-house, general-purpose cleaner. Engineered to be tough on dirt & grime, but gentle on skin & senses.
Shop now