Written by Tenley Haraldson. Reviewed by Sean Busch.
---
Cleaning countertops may seem like a simple task, but there's actually a lot to consider: You need to remove stuck-on food, avoid damaging custom surfaces, and then you need to find a streak-free counter cleaner!
Our guide to cleaning countertops is here to provide expert tips and tricks for gleaming surfaces!
Gather the Best Countertop Cleaners
Expert, natural counter cleaners make the task go much quicker. For all types of surfaces, you really only need two products:
1. Natural Surface Cleaner
The right countertop cleaner should make your surfaces sparkle without damaging them. Puracy Multi-Surface Cleaner is 99.96% natural and has a base pH level of 10. That means it's perfect as a laminate, marble, granite, quartz, glass, Corian, and stainless steel countertop cleaner. 
Pro Tip: Even diluted vinegar can etch certain stones, especially marble (see more below)..
2. High-Quality Microfiber Towels
Our microfiber towels don't scratch, don't leave lint behind, and they absorb 7X their weight in liquid. Designed for use with all Puracy natural cleaners, they're the most versatile and effective products for cleaning countertops.
1. Start by Clearing Your Countertops
Before you can clean, you'll first need a blank canvas. Countertops tend to accumulate miscellaneous items, so you might want to consider using a "catch-all basket" and finding homes for these objects later. 
Countertop appliances should be out of the way to avoid electrical issues and to tackle the spots they normally cover.
Get the best tips from the cleaning obsessed.
Puracy crafts cleaning & care items that work really well. Our obsession with natural cleaning performance is our profession, and we're here to share it with you.
Pro Tip: If heavy microwaves or bulky coffee makers can't be moved, avoid spraying them with your cleaner by using your microfiber towel as a protective curtain.
2. Clean in Patches 
Breaking chores into smaller chunks helps you give each part of the counter the attention it deserves.
After you've cleared the whole counter, visually create 2x2-foot segments to focus on and spritz each with a single, sweeping spray. Give messier areas an extra spray and let the cleaning solution soak for at least one minute. 
3. Use Streak-Free Countertop Cleaners Correctly
Some surfaces – like stainless steel and black granite countertops – are prone to streaking. There are two easy ways to avoid them:
Use the right amount of cleaning product
Only use clean microfiber towels. 
How to Get the Most out of Your Microfiber Towel 
Fold your microfiber towel in half twice, then wipe with medium pressure in fast, overlapping passes. We think that a Z-pattern is perfect for adding a cleaning boost to every square inch. 
Pro Tip: A second microfiber cloth may be needed for messes like bacon grease or melted butter (so the grease isn't spread around).
What Cleaning Products Are Safe to Use on Marble? 
We hear this question a lot, and for good reason: Soft, calcium-based stones like marble, granite, and soapstone have open pores that absorb liquids. This makes marble one of the hardest surfaces to clean.
Before using any natural counter cleaner, remember that diluted vinegar can eat away at marble's uniform frosty finish. Damaged marble countertops are both difficult and expensive to repair – avoid this whenever possible!
You'll need a non-acidic cleaner, like our all-purpose spray. Though it contains lime essential oil, this water-based product has a pH of approximately 10, making it the ideal Puracy marble cleaner.
Be Sure to Check if Marble Countertops Are Sealed 
Sealed marble is better protected from the elements, but the protective coating fades with normal wear and tear. Luckily, it's easy to check if marble countertops are sealed. Let a few drops of water sit on a clean marble countertop for 10-15 minutes before wiping the area dry. A darkened spot indicates water absorption and the need for re-treatment. 
Depending on how often you use/clean the surface – and which sealant you choose – marble should be resealed once every three months. 
Puracy: Cleaning Countertops Should Always Be This Easy
Puracy Natural Multi-Surface Cleaner has been formulated to be a safe cleaner for quartz, marble, and butcher block countertops. Add in the perfect microfiber cloths and you're one step closer to a cleaner kitchen.App-product-multi-surface-cleaner.
Shop this article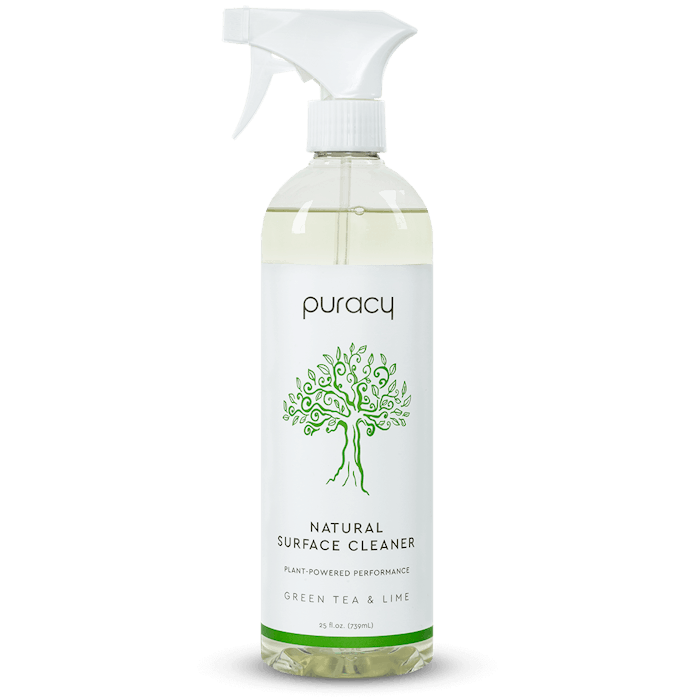 Natural Multi-Surface Cleaner
The natural, all-around-the-house, general-purpose cleaner. Engineered to be tough on dirt & grime, but gentle on skin & senses.
Shop now