Written by Tenley Haraldson.
---
You don't need to be a "sneakerhead" to appreciate a pair of crisp, white shoes. You also don't need complicated instructions to get them clean: These tips walk you through the best way for cleaning sneakers, no matter if they're leather, vinyl, or fabric. 
You don't have to worry about spilled drinks, muddy streets, or scuffed heels: Your kicks will look like they're straight out of the box!
How to Clean Leather & Vinyl Sneakers
We've pored over several methods for how to wash sneakers by hand, but these seven simple steps will provide a longer-lasting refresh.
1. Stuff Shoes with Newspaper 
Take our word for it: It's much easier to clean sneakers that have been filled with balled-up newspaper. You can also use paper towels or some old dish towels. 
2. Remove Excess Dirt
Take your shoes outside and knock the soles together to loosen dirt. Remove larger amounts of dirt or debris with a gentle scrub brush (like an auto detailing brush or old toothbrush). 
3. Clean the Laces and Insoles
If your insoles are removable and washable, a trip in the washing machine will help to remove "foot stink." Remove insoles and laces, place them in a mesh laundry bag, then run them in the washing machine (with like colors) on a cold, delicate wash cycle.
Our enzyme-based laundry detergent not only lifts stains, but it also targets odors straight down to the source. 
Get the best tips from the cleaning obsessed.
Puracy crafts cleaning & care items that work really well. Our obsession with natural cleaning performance is our profession, and we're here to share it with you.
4. Microfiber Towel + Natural Multi-Surface Cleaner
Puracy Natural Surface Cleaner was designed to lift dirt and grime from all non-porous surfaces. Spritz your shoe surfaces with this solution, then gently wipe away any marks or stains with one of our microfiber towels. 
5. Focus on the Outsoles
With a solution of warm water and a few drops of mild dish soap, scrub the outsoles with a brush to remove any scuffs or marks. For tougher marks, hit surfaces again with the Multi-Surface Cleaner, let it set for a couple minutes, agitate with a brush, then wipe away. Repeat as many times as necessary then lightly dry with a clean microfiber cloth. 
6. Apply a Conditioner (If Desired)
For leather sneakers, you may want to apply a leather shoe conditioner to reintroduce moisture. This will provide protection and increase the flexibility of the leather hide.
7. Let Your Shoes Dry 
No one likes soggy sneakers, so be sure to let dry them at room temperature. 
How to Clean White Fabric Sneakers 
Untreated fabric like canvas tends to soak up grime and stains, but there are simple ways to clean dirty sneakers – and fabric can usually withstand a bit more scrubbing than leather. 
To clean your white fabric sneakers, start with directions #1-3. Next, thoroughly spritz the surface with Puracy Stain Remover and gently agitate with your brush. The longer you wait (at least 15 minutes but we recommend at least 8 hours), the better these plant enzymes work at dislodging grass, dirt, blood, berry, oil, and any other stains you can think of.
Next, fill a bowl with warm water, saturate a microfiber cloth, then wring out any excess liquid. Gently rock the damp cloth along the shoe's surface to pull out stain residue, effectively replacing the stain remover with water. 
If this process doesn't completely remove stains, repeat the process but leave the stain remover on longer the next time. Allow your white sneakers to dry completely at room temperature and you're good to go! 
Can I Wash Fabric Sneakers in the Washing Machine?
Absolutely, but you'll want to try this cleaning method with your fabric sneakers (and definitely not a pair of luxury leather shoes). Follow steps #1-3 from above. After your stain remover has had time to work, place your shoes in the washer. Add a few towels to balance the machine, pump in some Natural Laundry Detergent, and run a cold/delicate cycle.
Pro Tip: Never put shoes in the dryer. Even if you select a low- or no-heat cycle, the hot air can warp shoes and damage the glue that holds them together.
The Best Stain Remover for White Shoes. We Guarantee It 
Puracy believes there's no such thing as "impossible stains" – just stains that haven't met our Natural Stain Remover. Safe for all washable fabrics, this 99.96% natural formula eradicates every smudge and spot. If you don't absolutely love it, we'll give your money back: No questions, hassles, or returns necessary.
Shop this article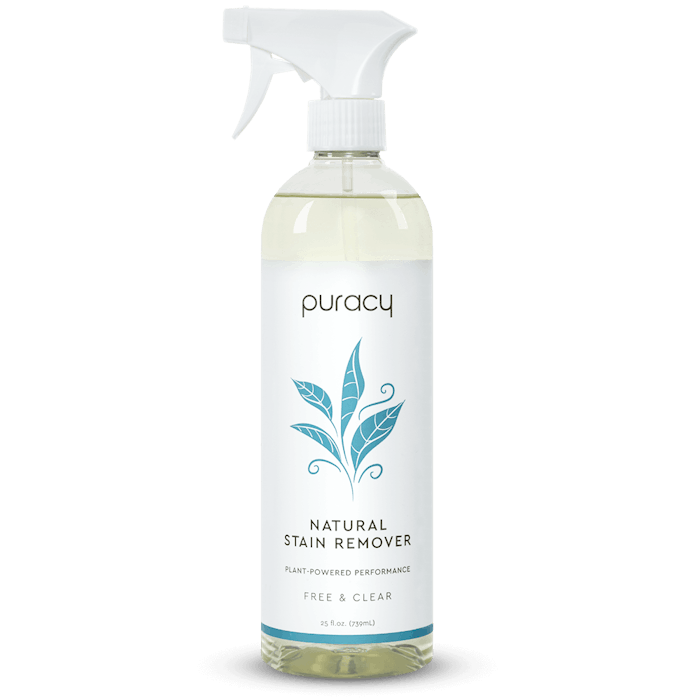 Natural Stain Remover
Six plant enzymes eradicate the toughest of stains, while gently preserving & restoring your fabrics.
Shop now