Depending on where you live and work, cloth face masks are probably required or recommended for use in public settings. 
For non-frontline workers, these items have been an affordable, convenient, and practical way to curb the spread of COVID-19. If you're tired of skin irritation and "mask-ne", however, it's crucial to learn how to wash face masks for sensitive skin. 
Why Should I Wear a Face Mask?
Proper cloth face masks are an effective and affordable way to help reduce the spread of viruses. This is especially true when people are asymptomatic and don't know if they're contagious. 
If that's the case, cloth masks should contain most of the respiratory droplets generated from coughing and sneezing whenever you're in community settings (like grocery stores and pharmacies). 
For those of us who don't require advanced PPE, the CDC mask guidelines are as follows: 
Be secured with ties or ear loops 
Consist of multiple layers of fabric 
Fit snugly and comfortably, completely covering the nose and mouth. 
Never restrict breathing 
How Long Does COVID-19 Last on Fabric?
At the time of publication, the CDC has confirmed that COVID-19 is typically transmitted from person-to-person contact via droplets. Researchers are still working to understand precisely how the novel coronavirus is transmitted to people who touch surfaces containing the virus. 
Recent research has revealed that the novel coronavirus lives on fabric for up to 72 hours (the virus lasted for 24 hours on 100% cotton). That's why it's best to wash cloth masks frequently – and after each use. 
How Often Do I Need to Wash My Face Mask? 
You should wash cloth face masks after each use. You'll extend the wear of each mask by only touching it with washed or properly sanitized hands.
If you're away from home for hours, your face masks might be worn for that entire time. Since many popular detergents irritate sensitive skin, take that into consideration when choosing your soap. 
Get the best tips from the cleaning obsessed.
Puracy crafts cleaning & care items that work really well. Our obsession with natural cleaning performance is our profession, and we're here to share it with you.
Can I Wash My Mask with Dish Soap? 
It's absolutely fine to wash masks with dish soap, so long as you use hot water and a laundry brush. 
Most dish soaps aren't formulated to be gentle on skin, however, and synthetic perfumes can cause unwanted reactions in people with sensitive skin and allergies. 
Puracy Natural Dish Soap, however, rinses 100% clean and is scented with natural essential oils. This makes it an incredibly gentle soap to wash masks.
Steps for Washing Fabric Masks by Hand 
First, start by properly washing your hands. Add 3-5 pumps of Puracy Dish Soap, Hand Soap, or even Natural Body Wash directly onto the mask. Using hot water and a laundry brush, thoroughly scrub both sides and straps for at least 20 seconds. If the soap disappears, that means your mask is either oily or dirty. Simply add more soap and hot water and continue scrubbing. 
Gently wring out excess water and hang your mask up to dry. Just like towels dry better on a towel bar (versus a hook), draping the center of damp masks over a clothes hanger ensures better air flow and faster drying time. 
When you're finished, wash your hands for another 20 seconds. 
How to Machine Wash Face Masks
The simplest way to kill germs on face masks is by machine-washing in hot water. Your preferred laundry detergent should be just fine for washing cloth face masks, especially when combined with the following tips: For cloth masks, we recommend a hot water setting with an extra rinse cycle. 
It's safe to wash your face mask with your other clothing, but be sure to follow these tips: 
Remove elastic ties or bands before washing no-sew masks. 
Put masks in the dryer or use a hair blow dryer (both on the hottest settings).
Do not microwave or boil masks in water. 
We've Developed the Best Laundry Soap for Sensitive Skin
Puracy Natural Laundry Detergent is gentle yet effective, thanks to a formula that's free from harsh chemicals, allergens, sulfates, and dyes. 
It's important to note that the powerful plant enzymes in our plant enzyme-based cleaners are destroyed in water temperatures over 212ºF. For steam-sanitizing washing machine users, check water temps to ensure effectiveness. 
Plant-Based Products Your Family Can Trust 
From washing masks to disinfecting your home, we know you're taking extra precautions to protect your family. That's why we're working around the clock to ensure you have the products you need to keep you healthy.
Shop this article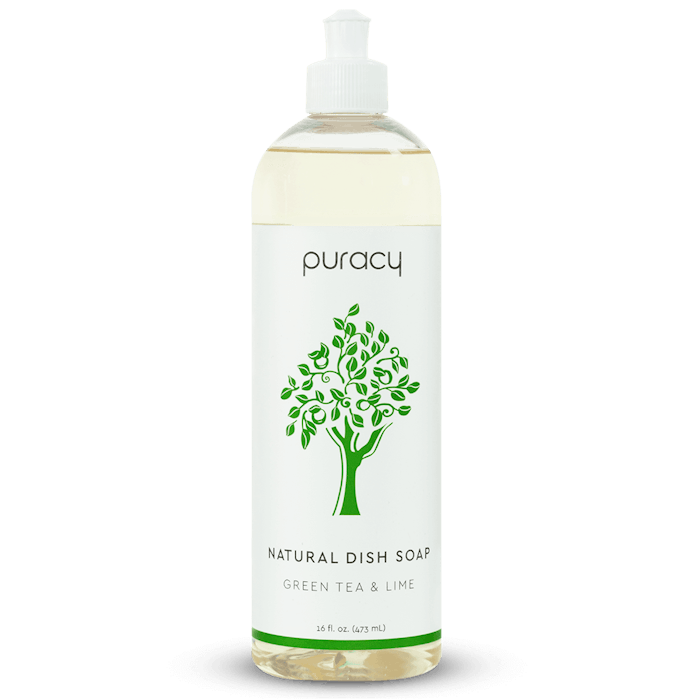 Natural Dish Soap
Powerful & concentrated to do more cleaning with less. Safe & naturally-derived, leaving hands soft and dishes sparkling, no gloves required.
Shop now