At Puracy, we're passionate about health and safety. That's why we wanted to clear up some confusion about a topic that affects all of us: face masks. 
Depending on where you live and work, cloth face masks are probably required or recommended for use in public settings. For the average person who doesn't work in the medical field, these items are an affordable, convenient, and practical way to curb the spread of COVID-19. 
Who Should Wear a Face Mask? 
Proper cloth face masks are safe and help reduce the spread of viruses. This is especially true when people are asymptomatic and don't know if they're contagious. In community settings (like grocery stores and pharmacies), it's important to use some type of face cloth that covers your nose and mouth.
Note: If you're showing any symptoms of COVID-19, immediately self-quarantine under a doctor's guidance.
Who Should Not Wear a Face Mask
According to the CDC, the following people should not use face masks: 
Children under the age of 2
People who are incapacitated or unconscious
Those with breathing problems
A person who is unable to remove their mask on their own
Will My Face Mask Protect Me from COVID-19?  
The main purpose of cloth face masks is to keep normal civilians from unknowingly spreading COVID-19 to others. If you happen to be infected, cloth masks should be able to contain most of the respiratory droplets generated from coughing or sneezing. 
Because of their increased risk exposure to COVID-19, medical workers require specific personal protective equipment (PPE). N95 respirators and surgical masks should be reserved for these essential frontline workers, as well as patients.
For those of us who don't require advanced PPE, the CDC mask guidelines are as follows: 
Be secured with ties or ear loops 
Consist of multiple layers of fabric 
Fit snugly and comfortably against the face, completely covering the nose and mouth. 
Never restrict breathing 
Withstand washing without damage or losing their shape 
Does Social Distancing Apply if I Wear a Face Mask?
Yes. Wearing a cloth face cover is just one of several ways we can all help "flatten the curve." Even with a face mask on, try to keep a distance of six feet from other people outside of your home.
Get the best tips from the cleaning obsessed.
Puracy crafts cleaning & care items that work really well. Our obsession with natural cleaning performance is our profession, and we're here to share it with you.
Should I Wear a Face Mask During Exercise? 
That depends on where you're working out. As public gyms reopen in the months ahead, face masks will likely be required by many.  
Experts believe that the likelihood of COVID-19 transmission while exercising outside is unlikely. So a solo jog around your own neighborhood (where you're unlikely to encounter many other people) probably won't require any facial covering. If you're exercising outdoors in more populated areas (like community parks), a mask is a good idea. Even if your municipality doesn't require them, masks are a good show of respect and courtesy.
Cloth face masks can collect moisture and make it more challenging to breathe when running or biking. Experiment with different materials to find one that is not only comfortable, but also offers good breathability as well. 
Instructions to Make a DIY Face Mask
Which cloth face mask pattern is best? There are a few options, depending on your sewing skill level and whatever items you have on-hand. 
The Easiest No-Sew Face Mask
How to Sew a Face Mask 
Source: Centers for Disease Control and Prevention
The Best Materials for a Face Mask 
Some materials make better masks than others. Choose fabrics that are breathable but dense enough to contain droplets from the nose and mouth. Filtration abilities increase with each added layer of fabric. 
A good rule of thumb: Hold your fabric up to a light. If you can easily see light shining through the fibers, it's probably too porous for an effective mask. 
A group of researchers in Illinois evaluated different types of readily-available materials. The most effective face mask fabrics were: 
2 layers of cotton quilt  
Quilter's cotton #80 
Flannel (with a 65% cotton / 35% polyester blend)
Though satin and chiffon are easier to breathe through, they offer minimal filtration (when compared to denser materials like cotton quilt and quilter's cotton). If you have old t-shirts, pillow cases, and flannel pajamas, it's a great time to start getting creative. 
What Filters Can Be Used in Face Masks?
Some people insert filters into face masks, but not all materials offer the same level of protection. Also, filters cannot be reused if they can't be washed. 
Missouri University of Science and Technology graduate students evaluated different types of masks and filters for effectiveness. The team discovered that allergy-reducing HVAC filters were most effective at filtering out airborne particles. 
Experts also recommend HEPA filters for face masks, like those found in air conditioners and other household appliances. Coffee filters offered reasonable protection, but not as much as the options mentioned above. 
If you do use a HEPA filter, ensure that it's secured between layers of fabric. Many HEPA filters for vacuum cleaners contain fiberglass which is dangerous when inhaled.  
Where Can I Donate Face Masks? 
If you have the time and supplies to make cloth face coverings, consider donating them to friends, neighbors, and non-healthcare frontline workers who may need them. Healthcare staff depend on PPE for greater protection from pathogens (especially surgical masks and N95 respirators). Contact your local medical facility if you want to learn more about donating PPE. 
How Long Does COVID-19 Last on Fabric?
At the time of publication, the CDC has confirmed that COVID-19 is typically transmitted from person-to-person contact via droplets. Researchers are still working to understand precisely how the novel coronavirus is transmitted to people who touch surfaces containing the virus.
We know COVID-19 can survive on cardboard for up to 24 hours and 2-3 days on plastic and stainless steel. In perfect laboratory conditions, COVID-19 can survive for up to 28 days. 
Not much is currently known, however, about how long novel coronavirus lives on fabric. Until we learn more, it's best to be proactive and wash cloth masks frequently to remove possible pathogens. 
How Often Do I Need to Wash My Face Mask? 
Ideally, you should wash cloth face masks after every use. Frontline workers – or those who are unable to socially distance – should put on clean masks every few hours. You'll extend the wear of each mask by only touching it with washed or properly sanitized hands. 
If you're away from home for hours, your face masks will likely be worn for that entire time. Since many popular laundry detergents irritate sensitive skin, take that into consideration when choosing yours. 
How to Wash Cloth Face Masks
The recommended way to kill germs on face masks is by machine-washing in hot water. Your preferred laundry detergent should be just fine for washing cloth face masks, especially when combined with the following tips: 
Remove elastic ties or bands before washing no-sew masks. 
Put masks in the dryer or use a hair blow dryer, both on the hottest settings.
Do not microwave or boil masks in water. 
How to Wash Masks by Hand 
First, start by properly washing your hands. Add 3-5 pumps of Puracy Hand Soap, Natural Body Wash, or Natural Dish Soap directly onto the mask. Using hot water and a laundry brush, thoroughly scrub both sides and straps for at least 20 seconds. If the soap disappears, that means your mask is either oily or dirty. Simply add more soap and hot water and continue scrubbing. Gently wring out excess water and hang your mask up to dry. 
When you're finished, don't forget to wash your hands for another 20 seconds. 
Pro tip: Just like towels dry better on a towel bar (versus a hook), draping the center of damp masks over a clothes hanger ensures better air flow and faster drying time. 
Can I Wash My Mask with Dish Soap? 
Washing cloth masks with dish soap is possible when paired with hot water and a laundry brush (following the cleaning instructions above). 
For people with sensitive skin or allergies, most dish soaps aren't formulated to be as gentle as ours, and synthetic perfumes can cause unwanted reactions. Our Natural Dish Soap, however, rinses 100% clean when paired with the cleaning instructions above. What's more, these subtle scents are made from natural essential oils. 
How to Wash Face Masks for Sensitive Skin
Puracy Natural Laundry Detergent is gentle yet effective, thanks to a formula that's free of harsh chemicals, allergens, sulfates, and dyes. For your cloth masks, we recommend a hot water setting with an extra rinse cycle. It's safe to wash your face mask with your other clothing.
Natural Products Your Family Can Trust 
From wearing masks to washing your hands to cleaning and disinfecting high-touch areas of your home, we know you're taking extra precautions to protect your family. That's why we're working around the clock to ensure you have the products you need to stay healthy.
Shop this article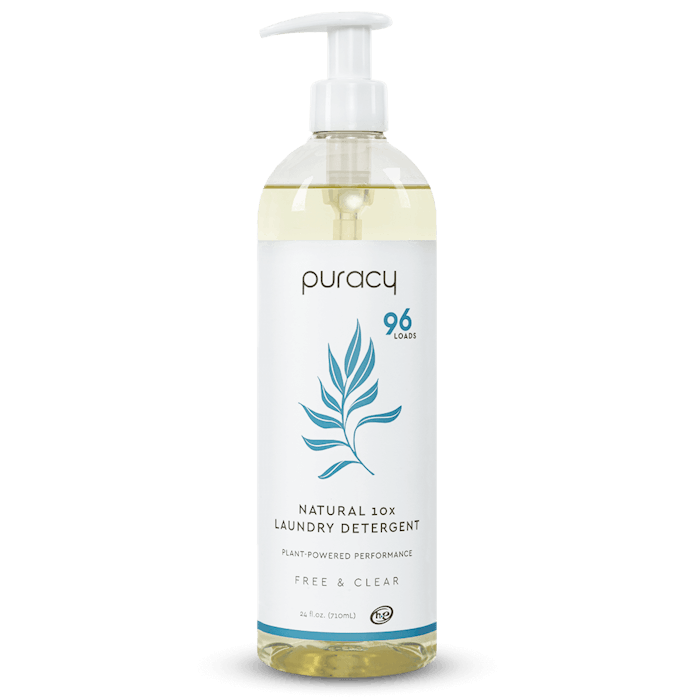 Natural Laundry Detergent
Safe for sensitive skin & 10x concentrated to last. Eliminates stains, odors, sweat, and dirt from 96 full loads of the dirtiest laundry.
Shop now