Even without a full house of relatives this year, holiday clean-up can still be a massive undertaking. 
We've compiled some of the most common clean-up questions sent in by our readers, and Liz Busch (our CEO's wife) answered them with her tried-and-true tips and tricks. 
Where Do I Even Begin?
Before any food is laid on the table, it's important to get your brain into holiday mode. 
Start with a Blank Slate 
When I wake up in the morning, my husband, Sean and I have already cleared the counters, gutted the fridge for expired food, taken out the trash, cleaned the sink, and emptied the dishwasher. There's a cooler at our back door that's loaded with drinks to free up fridge space. My Puracy cleaning products are on the floor of the pantry so I can grab them easily. 
Frequent Care Is Easy Care 
To avoid clutter and build-up, the #NeatMethod person in me always puts ingredients back as I use them. I also address spills and splatters as they happen with the Multi-Surface Cleaner. In my kitchen, it's all about offense, not defense.
Ask for Help 
To take care of piles of dishes, ask a parent, husband, or friend to help you out. If you're the one making all the food, it's the least they can do (promises of extra dessert works well here). If they complain about their manicure, I like to remind them that our dish soap is super moisturizing and gentle on skin. 
1.   How Do I Clean My Good Silverware?
As a lover of all things vintage, I would absolutely love some hand-me-down silver. If that day ever comes, all I'll need to do is fill a basin in the sink with warm water and the slightest amount of dish soap. Before heading to bed, take your silverware out, rinse by the handful, shake, then air dry. 
How Do I Polish Tarnished Silverware Without Chemicals? 
If you're dealing with tarnished silver, there's no need to use noxious silver polish. Line a large tub with tin foil, and add boiling water. For every liter of water, add 2TBSP of baking soda. When placing the silverware inside, make sure that it touches the tin foil. 
After a few minutes, pull your silverware out of the hot water (using tongs) and polish using a microfiber cloth. For heavily tarnished silver, you may need to repeat the process a couple of times – but zero fumes!
Get the best tips from the cleaning obsessed.
Puracy crafts cleaning & care items that work really well. Our obsession with natural cleaning performance is our profession, and we're here to share it with you.
2. During Dinner, How Should I Soak My Pans?
The typical go-to in our house is squirting a little Natural Dish Soap and hot water into your pots and pans. Leave them to soak, then place them in the dishwasher after dinner. 
How Do I Deal with Burned Food in My Pans? 
In our family, my mother is Queen of Scorching Things. One holiday, the gravy was burned so badly, my father was convinced that the pan was finished. Nope! I filled it with hot water, added dish soap, and scrubbed it with an OXO dish brush. If you're using cast iron or an uncoated pan, you can use steel wool or balled-up tin foil.  
3. How Can I Get Food Stains out of My Tablecloth?
Any holiday host or hostess will tell you about tablecloth horror stories. Whether you've spilled an entire carafe of coffee or your extremely mobile toddler has gotten a hold of a fruitcake, Puracy Natural Stain Remover has you covered. 
Rinse the textile under cold water as soon as you can (don't worry, you can wait until the meal is finished). Thoroughly spray heavy stains with the Stain Remover, agitate gently with a laundry brush (a toothbrush works in a pinch), then let it sit for 8-48 hours. The longer you leave it, the better it works. Next, run a normal washing machine cycle with an "extra rinse." 
What About Food Stains on My Carpet?
If your flooring has been hit by a food tornado, we've dedicated a how-to guide for cleaning stains out of carpets. 
4. How Can I Cut Down on Dishwasher Cycles?
As soon as you preheat the oven for the dessert course, your dishwasher should already be running with a full load of dinner plates. The plant enzymes in our Dishwasher Detergent Packs break down food remnants, so all you need to do is "scrape, not rinse." That's right: This product targets chocolate smudges and streaks of mashed potato on plates, letting you focus on what really matters: dessert. 
A great trick for fitting everything into a single dishwasher cycle is not using standard dessert plates. The bottom of your dishwasher will already be full, so consider using small bowls or cups that can fit on top. Take it one step further and use compostable paper plates. Honestly, no one will care and you'll make clean-up a cinch.
5. How Can I Package Leftovers More Quickly & Easily?
If you're having a small (and safe) get together, cut down on plastic use by asking guests to bring their own reusable containers that are clearly marked. If you've got a massive collection of Tupperware containers that you're trying to get rid of, now's the time! Provide paper grocery bags near the door with everyone's names on them and let guests choose whichever containers they'd like. 
Puracy: From Our Home to Yours 
When I say that my husband brings his work home with him, I'm not kidding: Before being sold on the market, every Puracy product has been rigorously tested by our family. Our plant-based formulas are safe to be used around children and pets – and they work amazingly well. 
Though this holiday season may be different than in years past, you can still count on exceptional products that keep your home clean. 
Shop this article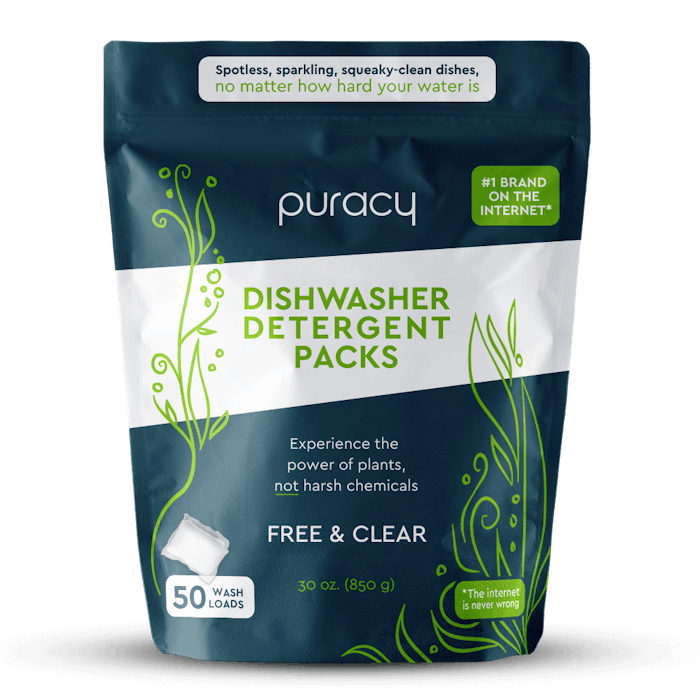 Natural Dishwasher Detergent Packs
Plant-based formula with enzymes safely break down the toughest caked-on food & leave dishes sparkling. Guaranteed.
Shop now