Written by Tenley Haraldson. Reviewed by cleaning expert Sean Busch.
---
Most of us have given up on plastic straw use to "save the oceans", but plastic use has also been linked to both climate and human health issues.

Though it's almost impossible to entirely remove this substance from our lives, there are simple things we can all do to reduce plastic waste at home. In fact, here are 14 easy tips to reduce plastic waste and live more sustainably.
1.  Buy Reusable Water Bottles for Your Family
With over a million purchased every minute, it's clear that water bottles contribute massively to the plastic problem. While we understand that they're convenient for lunches, snacks, and on-the-go rushes, let your kids pick out their own reusable water bottle. We highly recommend getting them personalized/etched with their names (which are far more durable than stickers).  
We love Yeti's resilient, stainless steel bottles. Not only can they be refilled and enjoyed for years, but they keep beverages hot or ice-cold for hours. 
2. Avoid Single-Use Plastic Bags
Paper or plastic? How about reusable tote bags to carry groceries? They're stronger and washable, and if you're handy with a sewing machine, you can even craft your own. 
3. Buy in Bulk 
When you're at your local co-op, check out the bulk bins. Avoid single-use plastic bags and use zero-waste bags for your rice, beans, or grains. When you go home, simply pour them into reused food jars.

Buying from bulk containers cuts down on plastic waste and tends to save you money.
4. Pack Lunches with Reusable Containers 
Most lunch boxes are made from some type of plastic, and all those sandwich bags are, too. Pack a smart lunch by using metal lunch boxes and reusable containers like glass Pyrex or food-grade silicone Stasher Bags. 
5. Cut Down on Plastic During Diaper Duty
Babies use more than 2,000 disposable diapers during that precious first year. Multiply that figure by every baby in the US – that's one gross pile of dirty diapers. Baby wipes add to the landfill pile, as do the plastic containers that store them.
Choose eco-friendly options for diaper duty by using cloth diapers and buying biodegradable diaper wipes. 
Get the best tips from the cleaning obsessed.
Puracy crafts cleaning & care items that work really well. Our obsession with natural cleaning performance is our profession, and we're here to share it with you.
6. Reuse Your Plastic Containers
Because plastic products can only be recycled a few times, opt to reuse and repurpose them to keep them out of landfills.  
When restaurants or friends give you containers, check out their recycling codes (1, 2, 4, and 5 are the safest). Some of our favorite reusable tubs are made from sturdy plastic that can store leftovers or baked goods. Consider using them around the house for storage or regifting to other eco-conscious friends, too.
7. Opt for Glass or Metal Pet Dishes 
Most pet bowls are made from plastic. Choose porcelain, glass, or even metal: You'll find a wide variety of eco-friendly pet dishes at pet stores. 
8. Party On & Eat with Real Utensils
Yes, plastic utensils are convenient during events and parties. While washing dishes is no one's favorite household chore, buying a massive box of plastic cutlery (that's destined for the landfill) is a massive waste. If you're heading outdoors, there are so many options for biodegradable utensils and plates.
9. Chew Plant-Based Gum
Did you know that your favorite chewing gum has plastic particles in it? While you may love the taste or texture of that gum, it's yet another plastic glob that will eventually be spit into the trash (we hope you don't swallow it!). If you have to blow those bubbles, chew on a piece of plant-based gum or organic breath mints.
10. Keep Household Cleaners in Glass Bottles
Household cleaners usually come in single-use plastic spray bottles, but natural cleaning refills can save on plastic waste, packaging, and even money (like our biodegradable, concentrated Puracy Natural Multi-Surface Cleaner) .
Pour them into reusable eco-friendly glass bottles can be used over and over again:
11. Choose Eco-Friendly Beauty and Hair Products 
Palettes, compacts, makeup brushes, and shampoo & conditioner bottles often feature luxe designs made from eco unfriendly polymers. Choose sustainable cosmetics brands that emphasize eco-friendly packaging. 
12. Shop Second Hand 
Polyester, nylon, and acrylic are forms of plastic. And while some people donate their worn items of clothing to second hand stores, many others will throw unwanted garments in the trash. According to 2017 EPA statistics, more than 11 million pounds of "municipal solid waste" textiles were tossed in landfills. 
Buy second hand to save money and dress sustainably. Or choose sustainable fashion brands that are committed to eco-friendly initiatives while providing fair wages and factory conditions for workers. 
13. Kick Coffee Pods to the Curb 
Did you know that 25% of Americans regularly use coffee pods (e.g. "K cups")? While these products can be recycled, that's only true if you separate the plastic from aluminum, coffee grounds, and paper. Very few people actually have the time to do this during a morning rush.

If you're serious about your coffee – and want to reduce plastic waste at home – coffee brewers like a Moka, Aeropress, and V60s are simple switches. If you still want to keep your machine, invest in a reusable K-cup.
14. Reduce, Reuse, Recycle, and Repurpose 
Check with your local municipality about recycling programs and pick-up schedules. Set up a recycling station in your garage or kitchen and quiz your children on the materials that should go into each bin. 


It's important to realize, however, that certain types of plastic aren't recyclable. That's another reason why Puracy uses PETE (also known as PET): It's one of the most recyclable plastics out there.
15. Choose Eco-Friendly Refills
If every sink in your home has a disposable bottle of hand soap, you're simply adding more single-use plastic to the trash heap. Our refillable glass bottles were designed for any room in the house. Top off each one with 64-ounce Puracy refill pouches.
Choose Puracy Products to Reduce Plastic Waste
Puracy's refill packs span our entire line of sustainable products. And because they use 90% less plastic, water, and energy compared to bottles, we've been able to save more than 200 tons of plastic from entering our environment. Start decreasing your carbon footprint, reduce your plastic profile, and live a more eco-friendly lifestyle – without sacrificing quality. 
Shop this article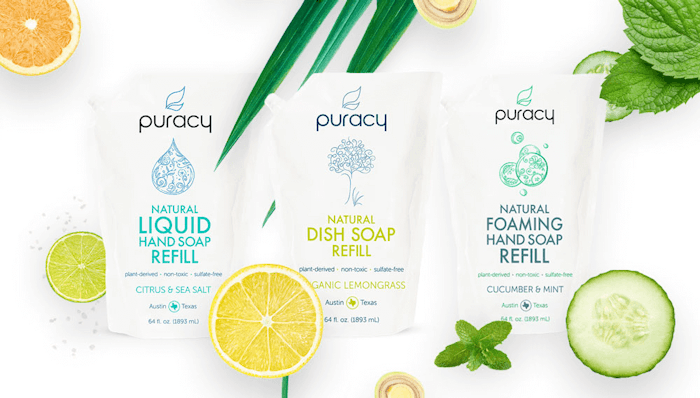 Eco-friendly Refills At Huge Savings
Puracy refills help you save over 20% per ounce, plus they save 90% more plastic, water, and energy compared to bottles.
Shop now