Written by Stacey Kelleher. Reviewed by Sean Busch.
---
The arrival of a new baby is incredibly exciting – and shopping for a little one is always fun. It can, however, feel a little overwhelming to find the right sustainable gifts for new parents. 
From cloth diapers to silicone bibs to house cleaning services, here are some of the best baby gifts for 2021! 
2021 Baby Trends   
There's no denying that 2021's baby trends revolve around gender neutral colors, sustainability, and high-quality products. 
Gender Neutrality
Parents are more inclined to choose gender-neutral clothing, decor, and even names for their baby.
According to 2020's Pinterest baby trends, interest in gender-neutral names and clothes was on the rise. Searches for unisex nurseries alone were up a whopping 527%. Baby products are no longer relegated to "dolls and pink colors" for girls and "trucks and blue colors" for boys. Instead, items come in a wide array of neutral colors and themes. 
Green Nurseries 
The eco-friendly baby market is bursting at the seams, with innovative, sustainable materials and non-toxic ingredients. From diapers to furniture, bottles and toys, nearly every inch of the nursery can be "greener" in 2020. 
But parents shouldn't feel pressured to ensure that every single thing their baby comes in contact with is eco-friendly. Simply switching to natural baby care products can dramatically reduce exposure to undesirable chemicals and ingredients. 
Keeping It Real 
The "Instamom" culture that promotes the idea of "perfect parenting" is starting to fade away in favor of real stories from the trenches. It's incredibly comforting for new parents to know they aren't alone in their struggles with fertility, postpartum adjustment, parenting burnout, and nursing. Parenting in 2021 will be more about finding joy and support in the day-to-day.  
Get the best tips from the cleaning obsessed.
Puracy crafts cleaning & care items that work really well. Our obsession with natural cleaning performance is our profession, and we're here to share it with you.
11 Eco Friendly Gifts for New Parents in 2021
There's no way around it: Preparing for a newborn takes an awful lot of time, commitment, and money. Purchasing well-made gifts for future parents ensures a much longer lifespan. 
1. Cloth Diapers
During their first year, babies go through anywhere from 2,500 to 3,000 diaper changes. When you're talking about disposable diapers, that's a lot of waste that contains potential toxins and takes hundreds of years to decompose. There's never been a greater demand for cloth diapers, and they might be a eco-friendly baby gift for moms and dads who are looking to limit their carbon footprint. 
2. Swaddling Blankets
The American Academy of Pediatrics (AAP) says that, "When done correctly, swaddling can be an effective technique to help calm infants and promote sleep." 
Because babies spend a good deal of time wrapped in swaddling blankets, it's best to choose soft, breathable fabrics. We like Swaddle Me's organic cotton version – the velcro closure makes diaper changes a breeze. 
3. Baby Food Maker 
Making your own baby food is the best way to ensure that your baby is getting the good stuff (without unwanted additives and preservatives). It's also a budget-friendly alternative to store-bought baby food. 
Options for making homemade baby food range from a simple grinder for quick purees to more high-tech options that steam, heat, and blend foods. The QOOC 4-in-1 Mini Baby Food Maker is BPA-, lead-, and phthalate-free. Though baby food doesn't start making an appearance for 6 months, this is a great gift that will never get lost amongst the newborn gifts. 
4. Bibs & Placemats
Before you know it, babies will be sitting up, grabbing food with both hands – and making a big mess. Every parent will be happy to have bibs and placemats ready when that happens!
From sippy cups to placemats to soft, comfortable bibs, we love Austin Baby Collection's food-safe silicone feeding products. Parents will also love how unbelievably resilient these phthalate-, BPA-, and PVC-free products are!
5. Babysitting Services
The gift of time can be a blessing for parents in need of some adult conversation (or even free time to take a bath or read a book). If you're up for diaper duty, consider gifting babysitting "coupons" to watch a friend's bundle of joy. If you have a sitter, offer to "lend" them for a certain amount of hours. Not only is this a great way to help new parents, but your sitter is thoroughly vetted by your family. 
Puracy founder and CEO, Sean Busch, adds, "With our second child, the absolute best 'gift' we got for ourselves was a night nurse. While they're pricey, nobody I know who has used a night nurse has regretted it."  
6. Diaper Bag
Babies require a lot of extra stuff, and new parents will soon find they are living out of their diaper bags. Made of 100% recycled polyester – and full of pockets and spots to stash supplies – this diaper bag is so stylish, mom may use it well after the baby is out of diapers. 
7. Natural Baby Care Products 
If you're purchasing a diaper bag, make sure that it's filled with everything a parent needs. We recommend purchasing biodegradable wipes, organic diaper cream, and organic baby lotion that nourish and protect the most sensitive skin. 
Pro tip: Because you never know when life's little messes occur, travel-sized hand sanitizer is a great addition to every diaper bag. 
8. Eco-Friendly Toys
Babies often learn about their world by "mouthing" objects. It's normal behavior for the first few years of life. That can cause parents a bit of anxiety – especially with concerns about choking and the risk of ingesting dangerous substances. 
Safe, non-toxic baby toys are worry-free for parents and provide hours of enjoyment. This handmade wood rattle is smooth for little teethers and coated with organic jojoba oil for plastic-free fun. WubbaNubs are the cutest pacifiers for little hands. Made of medical-grade silicone, they're also BPA- and phthalate-free. 
9. Hand-Me-Downs 
Like diapers, parents can never have enough baby clothes. In a single day, a baby needs multiple wardrobe changes. Hand-me-downs are a great way to get more use from clothing older children have outgrown, reduce consumption, and save money. 
Before passing on gently-used kids clothing, wash them in Puracy Natural Baby Laundry Detergent for a fresh clean without the harsh chemicals. If you don't have clothing to share, consider a gift certificate to online thrift store thredUP. 
10. Spa Day 
A gift card for a spa day makes a great gift for a pregnant woman. Author and counselor, Laura Choate, Ed.D. says that self-care at every stage of parenting is important to reduce stress, maintain an identity outside of parenting, and model good personal habits to children. Plus, a massage is great for those pregnancy and post-natal aches and pains. 
11. House Cleaning Services 
Life with a newborn doesn't leave much free time (or energy) to tackle household chores. Any parent would surely appreciate the gift of house cleaning services. If you're researching local cleaning services, be sure to ask if they use non-toxic products that are safe for babies, pets, and the environment. You can also ask if they're willing to use the products stocked at your own home. 
Puracy's Housewarming Gift Set is a carefully curated collection of natural cleaners for preemptive cleaning before the little bundle arrives. 
There's No End to Great Eco-Friendly Gifts
Whatever the occasion, Puracy personal care and home products make great gifts for everyone on your list. Our plant-based, natural products are all free of harsh chemicals, perfumes, and dyes and are full of naturally-sourced ingredients that pass the Puracy purity test.
Shop this article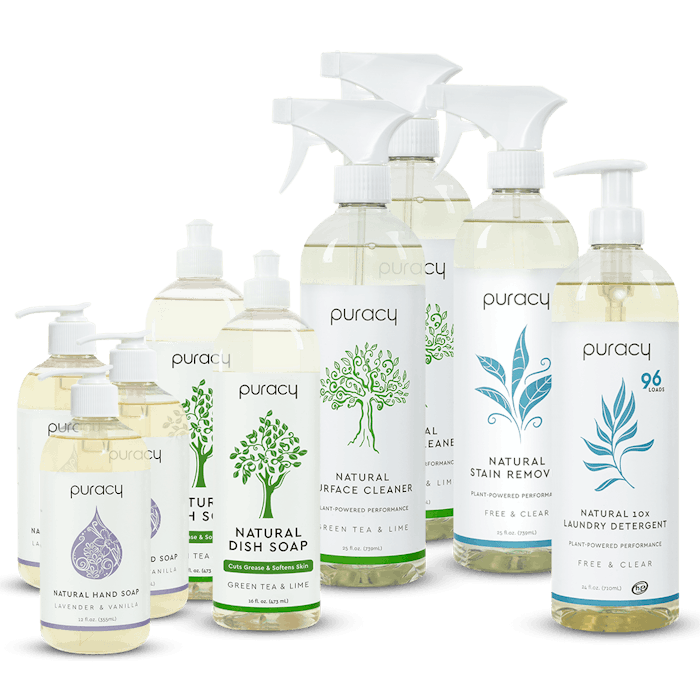 Natural Housewarming Set
Be the thoughtful friend who helps turn a new house into a safe, natural home.
Shop now