Written by Stacy Kelleher.
---
As parents, we pride ourselves on choosing healthy foods – and caring about the path they take to reach our tables. But we often overlook potentially dangerous chemicals when it comes to selecting toys for our infants and toddlers. 
Because small children tend to explore the world around them by putting things in their mouths, it makes sense to take a closer look at their playthings. There are so many reasons to choose non toxic baby toys – and to reach for natural cleaning products to keep them sanitary.
Chemicals to Avoid in Children's Toys
There are plenty of suspicious chemicals lurking in baby toys, but the major offenders to watch out for are phthalates and cadmium. 
Phthalates
In addition to being used in various body care and cleaning products, phthalates are synthetic chemicals used to make plastic softer and more flexible. These chemicals can become ingested by children who put toys in or near their mouths, especially when plastics are heated up. 
Multiple human studies suspect a link between phthalates and a wide variety of health issues, including fertility issues, birth defects, early onset puberty, and even childhood obesity. 
Cadmium
Cadmium is often used in the paint and plating of certain children's jewelry and toys. The US Department of Health calls cadmium "a known carcinogen" that also hinders brain growth in infants and young children. 
While federal law limits cadmium levels in toys intended for kids under 14, it may be present at low levels – and is not currently regulated – in children's jewelry. 
Why Do So Many Children's Toys Include Potentially Harmful Ingredients?
Get the best tips from the cleaning obsessed.
Puracy crafts cleaning & care items that work really well. Our obsession with natural cleaning performance is our profession, and we're here to share it with you.
If harmful chemicals are shown to pose a risk to young, developing bodies, why are they used in products made for – and marketed to – children? There are several reasons:
1. Cost-Effectiveness
Simply said, it often costs less to make toys with lead paint and other chemicals because they are cheaper than organic, naturally-sourced alternatives. That leaves more room for retailers, marketers, and manufacturers to profit. 
2. Functionality
Most of these chemicals were developed to make materials stronger, sturdier, more flexible, and even heat-resistant. No one can deny they work as they're intended to, but they also come with unwanted health risks. 
3. Lax Regulations 
As we said earlier, many toys are produced overseas (where manufacturing guidelines are more lenient). Laws regulating toy materials also vary from state to state. 
More Reasons to Consider Eco Friendly Baby Toys
If you're serious about reducing your baby's exposure to harmful chemicals and materials (what parent isn't?), it's important to do research on how retailers source and manufacture their products.
But don't think that "sustainable" and "organic" means exorbitant prices: Green baby toys are more affordable than ever. And as production processes evolve – and we discover more innovative ways to utilize high-quality materials – those savings will continue to be passed on to consumers. 
Here are 5 more reasons to consider buying non toxic baby toys: 
1. They're Higher Quality 
Because babies put everything in their mouths – and launch toys across the room with surprising strength – we're all for indestructible products. We love Green Toys' use of 100% recycled, high-quality plastic and durable designs.
Puracy Pick: Certain to be a hit at bath time, Green Toys' Paddle Boat is BPA-, phthalate-, and PVC-free. For babies and young toddlers, the Green Toys Shape Sorter was a huge hit for the five kids of Puracy's co-founder, Paul Tracy.
2. They're Award Winners
Green baby toys and games don't have to forego creativity and innovation: Many of our favorites have won awards for their environmental impact – but also because they're tons of fun!
Puracy Toddler Pick: The durable Hape Scoot Around Ride On Wooden Bike uses non-toxic finishes like water-based paint. Pictured is Lawson Tracy, enjoying the scooter just before bedtime.
3. They're Ethically Produced
It's always a wonderful idea to tell children where their treasured objects come from, what they're made of, and who assembled them. Fair Trade Certification means that workers receive fair wages for long-term work, communities are valued, and they enjoy safe working conditions.
Puracy Toddler Pick: Fabric Frisbee Disc: This cloth frisbee is not only fun for kids and pets alike, but it's also a Fair Trade item hand crocheted by members of the local Mayan community in Guatemala. 
4. Simple Designs Encourage Creativity 
How many times do children unwrap an elaborate present only to be more fascinated by the box it came in? Our favorite non-toxic wooden toys are simple in design and function, encouraging kids to tap into their creativity – no bells or whistles needed!
Puracy Baby Picks: One of our favorite non toxic toys for one-year-old children is the lead-, phthalate-, BPA-, and PVC-free Muyindo Montessori Wood Blocks Puzzle Board.
Another special mention is the Grimm's Rainbow Colored Stacker: Not only are these wooden rings colored with non-toxic water-based dyes, but they're also beautifully crafted. 
5. Sustainability Continues Paying It Forward 
Sustainable toys are made from natural, renewable materials. They don't pollute the environment during any stage of development – and they certainly won't sit in the landfill for centuries. 
Well-made, eco friendly baby toys are built to go the distance, so when your kids have outgrown them, consider donating them so other families can continue appreciating them. 
Puracy Pick for 1-3 year olds: Hape Pound & Tap Bench: This award-winning toy (with slide-out xylophone) is great for teaching the love of music, improves hand-eye motor skills, and is made to last for years.
Puracy Toddler Pick: The PlanToys Musical Drum Band is a tiny instrument that's a "hit" with music-loving kids. This ethically-produced, sustainably-harvested wood is colored with organic pigments. As parents who've received extremely noisy toys, we love these rubber-topped drums. 
Where to Find Eco Friendly Toys
Don't feel pressured to choose children's toys that check every single box: As you get started, look for great baby products that are: 
Made of safe materials like organic cotton and non-toxic wood. 
Unfinished or finished with non-toxic dyes, water-based paints, and sealants. 
Fair Trade-certified to ensure ethical, living wages for workers.
We've compiled a list of our favorite eco-friendly online retailers: 
Keep Your Children's Toys Clean with Natural Products 
Whichever toys you choose, make sure they're clean and well-cared for. 
Textiles 
For bedding, clothing, stuffed animals, and other washable fabrics, choose products that were designed for the most sensitive skin. After you use the Natural Stain Remover to break down hundreds of stains and odors, throw clothes and toys in the washing machine with the gentle-yet-effective Natural Laundry Detergent. 
Surface Cleaning 
Puracy cleaning products have been designed to be used around the youngest members of your family. Free of harsh chemicals, dyes, and synthetic fragrances, our Natural Baby Multi-Surface Cleaner is loaded with powerful, plant-based ingredients that quickly remove dirt and grime from everything your baby touches.
We're also proud to introduce our Disinfecting Surface Cleaner. Designed to be used around your entire family, this product kills 99.99+% of germs (with a 10-minute dwell time) and cleans gunk and grime off of non-porous surfaces. This biodegradable formula is perfect for deep-cleaning play areas. 
Choose Natural Cleaning Products You Can Trust 
Our company was founded on creating effective, plant-based products for the entire family. That's why you'll never find any of these ingredients in Puracy products:
Shop this article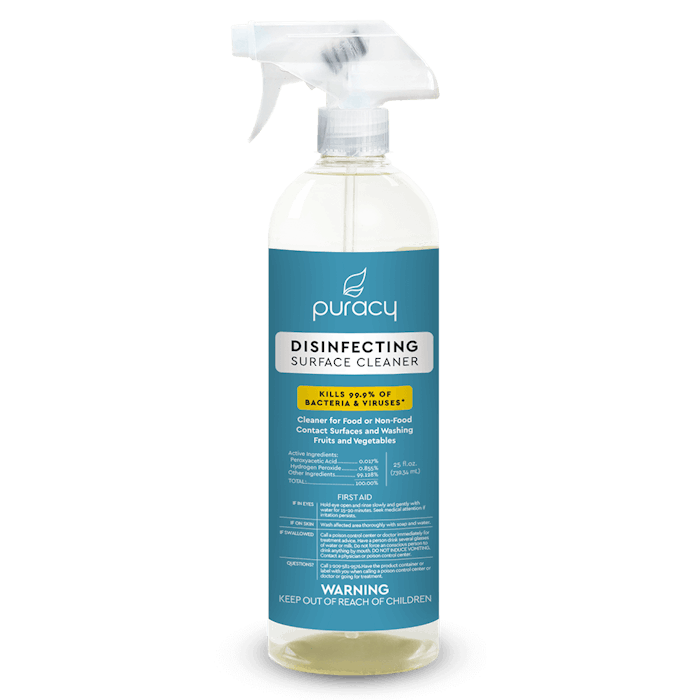 Disinfecting Surface Cleaner
Cleans, deodorizes, sanitizes, and disinfects household surfaces. Kills 99.9%+ of germs with hydrogen peroxide.
Shop now