Written by Tenley Haraldson. Medically reviewed by board-certified pediatrician Dr. Ryan Blackman DO, FAAP.
---
You may be spotting more "paraben free" labels on personal care products these days, but what does that actually mean? How might these chemicals affect you and your health? Why are so many manufacturers shirking their use?
After reading this article, you'll have a much greater idea of what "paraben free" means on your bottle of shampoo or body lotion. 
What Are Parabens?
According to the FDA, parabens are a family of preservatives commonly used to keep cosmetic products from growing harmful bacteria and mold. Oftentimes, several parabens are used – alongside other preservatives – to fight a wider variety of microorganisms. They're very cheap, extremely effective, and are considered to be widely hypoallergenic.
These long-lasting preservatives allow products to maintain their quality and staying power on store shelves and in your home.
Where Do Parabens Come from? 
Parabens are sourced from para-hydroxybenzoic acid (PHBA). This chemical occurs naturally in plants (like carrots, blueberries, and cherries) as well as within the human body when amino acids are broken down.
Common Personal Products with Parabens
Parabens are commonly found in:
hair care products 
lotions
skin cleaners
Scrubs
shaving cream
makeup
While they're mostly used in cosmetics and personal care products, you may also find them in processed foods to extend shelf lives.
Parabens to Watch for
Looking at the labels of common personal care products, you might spot the following common names of parabens:
Get the best tips from the cleaning obsessed.
Puracy crafts cleaning & care items that work really well. Our obsession with natural cleaning performance is our profession, and we're here to share it with you.
Methylparaben
Butylparaben
Propylparaben
Ethylparaben 
Are Parabens FDA-Approved? 
At the time of writing, the FDA doesn't have specific rules related to cosmetic preservatives.
Preservatives like parabens are treated the same as other cosmetic ingredients, and other than color additives, they don't require FDA approval before being sold to the public. These products must simply meet the standard of being "safe and properly labeled" under the Federal Food, Drug, and Cosmetic Act.
In 2006, a joint study between the FDA and Cosmetic Ingredient Review (CIR) concluded that there was no need to change the above-listed parabens' safety ratings for cosmetics. In 2008, a safety assessment of parabens was published with the conclusion that these 4 parabens were safe in their present practices and concentrations.
Who Is Most Affected by Parabens?
Typically absorbed through the skin, parabens are thought to be excreted through waste. From 2005 to 2006, a National Health and Nutrition Examination Survey (NHANES) detected methylparaben and propylparaben urine levels in most test subjects.
The group with the highest levels of methylparaben was in African Americans under 60. Women, however, had 7x higher levels of both methylparaben and propylparaben than men (possibly because they tend to use more personal care products).
What Are Purported Effects of Parabens?
Butylparaben was singled out, potentially causing greater eye and skin redness, irritation, pain, and itchiness than its counterparts. Ingesting large doses of butylparaben was also found to irritate the GI tract. 
A 2005 National Toxicology Program study revealed that, generally speaking, parabens were reported to have adverse effects on male rats' reproductive systems. While these rats were provided with much higher doses of parabens than what people would normally be exposed to,  scientists are uncertain of potential long-term use.
Parabens and Cancer – Is There a Link?
Questions have been raised about whether parabens are carcinogenic. Much of this is connected to parabens' ability to produce similar effects to those of estrogen (which has been associated with the development of breast cancer). Interestingly, a 2012 British study detected parabens within breast tissue of breast cancer patients.
It's also important to note that FDA studies have repeatedly concluded that parabens affect estrogen production far less than the body's native estrogen, especially when products contain low amounts.
While human clinical trials have not definitively shown a link between parabens and increased cancer risk, parabens were able to penetrate the skin and remain within tissue.
Do Parabens Affect the Environment?
It's not just humans that are potentially affected by paraben exposure. 121 tissue samples were collected from marine mammals (e.g. polar bears, sea otters, dolphins) living along the US Pacific coastline. Methylparaben was detected in many samples while a metabolite of methylparaben (4-HB) was found in all of them.
While this metabolite occurs naturally in vegetation, the samples suggest that animals were exposed to synthetic parabens which may have been released into the environment via sewage systems.
What Are Safer, Natural Paraben Substitutes?
To gain a better understanding of the potential effects of parabens, we discussed this issue with Dr. Ryan Blackman, a board-certified pediatrician on our Puracy consulting team.
According to Dr. Blackman, "The research on parabens is ongoing, and at times contradictory. They have been theorized to be endocrine disruptors but, as of yet, this hasn't been definitively established in humans. Until we know all the facts, avoidance of potential harm is never a bad choice – especially if there are safe alternatives available."
Puracy: Ingredients You Can Trust
To maintain the shelf life of personal care products, our team of Ph.D. chemists have developed formulas that utilize natural preservatives like caprylyl glycol (a coconut-based preservative), propanediol (a plant-based preservative), and gluconolactone (a food-grade preservative).
What's more, our personal care products are free of:
Sulfates (e.g. SLS, SLES)
Formaldehyde
Chlorine
Triclosan 
Phthalates
Boric acid
Phosphates
Animal by-products
Dyes or perfumes
To learn more about parabens and other ingredients to avoid in personal care products, check out our earlier posts: 
https://puracy.com/blogs/puracy-blog/is-dimethicone-bad-and-alternatives
https://puracy.com/blogs/puracy-blog/are-phthalates-harmful-and-should-i-use-them
https://puracy.com/blogs/puracy-blog/what-is-cocamidopropyl-betaine
Shop this article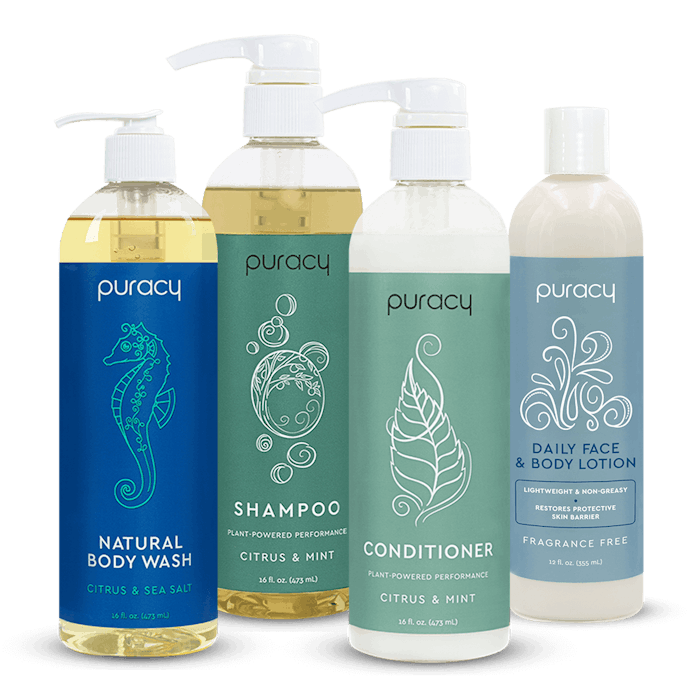 Natural Personal Care Set
The perfect introduction to Puracy personal care. Everything your body needs to be clean, from hair to toe.
Shop now