Written by Stacey Kelleher. Medically reviewed by board-certified pediatrician Dr. Ryan Blackman DO, FAAP.
---
Flu season is upon us. This viral infection isn't just inconvenient and unpleasant: The flu can be extremely dangerous for pregnant women, senior citizens, children under 2, and people with underlying health issues or compromised immune systems.
With the rise of the novel Coronavirus strain (COVID-19), it's more important than ever to keep yourself healthy during flu season.
Tips to Avoid Influenza and Other Respiratory Viruses
The Centers for Disease Control and Prevention (CDC) recommends the influenza vaccine as your best defense against the regular flu. Other common recommendations include: 
Getting plenty of sleep (between 7-9 hours)
Exercising regularly 
Eating healthily
Aside from the basic "cover your mouth" rule, keeping hydrated, eating right, and getting plenty of sleep, there are seven major things you can do to
stay healthy this flu season
and stop viruses from spreading:  
Understand how respiratory viruses spread
Stay home if you are sick
Avoid touching your face
Wash your hands correctly throughout the day
Take regular baths and showers
Keep hand sanitizer nearby
Use an effective home cleaner
1. Understand How Respiratory Viruses Spread
When an infected person coughs, talks, or sneezes, respiratory
viruses spread in microscopic droplets
that then travel through the air. In addition to breathing them in, we come into contact with these germs on door handles, keyboards, phones, etc... Whenever those droplets are transferred to our nose and mouth, these germs enter our systems. 
Do I Need to Wear a Mask to Prevent Coronavirus?
The novel Coronavirus isn't an airborne virus: It's actually spread through respiratory droplets. So while certain face masks can offer protection, most are better suited for preventing the spread of your infected respiratory droplets to others. 
According to Dr. Michael J. Ryan, executive director of the health emergency program at the World Health Organization: "There are limits to
how a mask can protect you
from being infected. The most important thing everyone can do is wash your hands, keep your hands away from your face and observe very precise hygiene."
2. Stay Home if You're Sick
To stop the flu from spreading, stay home if you think you're ill. The most common symptoms of the flu include:
Chills and sweats
Dry cough
Fever above 100.4ºF
Headache
Muscle aches
Sore throat
Weakness and fatigue 
If you have underlying health conditions, a weakened immune system, or if you're at risk of developing serious health complications, early medical care may help shorten the duration of the flu and prevent more serious health problems (like pneumonia and bronchitis). 
Dr. Ryan Blackman DO, FAAP states, "Influenza can be a devastating disease, especially for those who are at higher risk of complications. If you think you have the flu, be sure to notify your primary care physician early in the course of the illness as treatment options may be available." 
What to Do if You've Been Exposed to COVID-19
According to the CDC, the following symptoms could indicate a Coronavirus infection:
Fever
Cough
Shortness of breath
Dr. Blackman adds, "COVID-19 and influenza can have very similar symptoms. If you've been in close contact with an infected individual or have recently traveled internationally to
affected countries
 and develop these flu-like symptoms, call your medical professional right away." 
3. Avoid Touching Your Face
Gas pumps, doorknobs, elevator buttons: Using a high-traffic surface and then touching your nose, mouth, or eyes makes you susceptible to germs. Most of us don't even realize we're doing it, so this takes an awful lot of awareness. 
Get the best tips from the cleaning obsessed.
Puracy crafts cleaning & care items that work really well. Our obsession with natural cleaning performance is our profession, and we're here to share it with you.
Before itching your nose, reapplying lip balm, or fixing your contact lens, make sure you wash your hands thoroughly. If you have a facial itch, try using your arm. Open doors with your body whenever possible, and avoid handshakes. Don't worry: People will be more understanding during flu season. 
4. Wash Your Hands Correctly – and Often 
According to the CDC, one of the best ways to fight the spread of germs is by washing your hands. The CDC recommends using water and hand soap "because hand washing reduces the amounts of all types of germs and chemicals on hands." 
When washing hands, it's also important to use the right technique. Shockingly, 97% of Americans don't wash their hands correctly. During flu season – and all year long – be sure to follow these six simple steps: 
Rinse your hands thoroughly to remove excess debris. 
Apply soap and create a rich lather. Don't apply soap to dry hands (it's like trying to shampoo dry hair). Soap requires water to work.
While scrubbing, make sure you cover every millimeter of your hands up to your wrists (e.g. backs, palms, knuckles). Bring your fingertips together in a circle and scrub them on your palms using your fingernails. Remember: Germs can be trapped in the knuckle skin creases when fingers are straight, so be sure to bend them during this process. 
The CDC recommends washing your hands for 20-30 seconds (about the same amount of time it takes to sing "Happy Birthday" twice). 
Rinse thoroughly with clean water, starting with the fingertips and concluding with your wrist area.

While it's not the most eco-friendly option, the best way to dry hands is with a fresh paper towel. Think about it: If you're using someone else's cloth towels – and they haven't properly washed their hands – then you could be covering your hands in their germs. 
Regular Soap and Water Are the Best Methods for Virus Prevention 
So far, multiple studies have revealed that there is statistically "no significant difference" between households that use antibacterial soap and regular soap. What's more, researchers are concerned that bacteria strains are becoming more resistant to triclosan and other antibacterial chemicals.
Triclosan and other antibacterial hand soaps are not necessary to clean hands effectively. Instead, it really comes down to your technique.
Puracy Liquid Hand Soap Is Gentle on Hands, Tough on Germs 
Ideally suited for those who wash their hands frequently throughout the day, Puracy Natural Liquid Hand Soap is loaded with gentle, effective surfactants as well as moisturizers. You'll be able to clean hands correctly without robbing them of moisture (which can destroy the beneficial microbes on skin that guard against bad bacteria). You'll also be able to avoid using greasy hand cream, which has a higher propensity of attracting foreign objects and germs.
5. Take Regular Showers and Baths
If you have school-aged children, implement a bath or shower schedule as soon as they get home each day. If you're regularly exposed to sick people at work (e.g. healthcare, school), consider a post-work shower regimen. Immediately throw your clothes into the washing machine to avoid tracking germs throughout your home. 
6. Use Hand Sanitizer if You Can't Wash Your Hands 
If you aren't near a sink, keeping hand sanitizer nearby is the next-best option. Just like soap, to be effective, you need to thoroughly rub hand sanitizer on your hands for at least 15 seconds. 
We recommend keeping hand sanitizer in your car (especially important while running errands), your home entryway, the entrance of your office, and in your handbag.
Alcohol vs. Natural Hand Sanitizers 
Most people are familiar with alcohol-based hand sanitizers (like Purell), which tend to dry out skin. If you're sanitizing and cleaning your hands more than usual (especially during flu season), it's important to keep your hands moisturized and healthy. 
Working alongside our Ph.D. chemists, we've developed a benzalkonium chloride hand sanitizer that actually moisturizes your skin. It's also non-toxic, alcohol-free, and leaves little-to-no scent behind. When used correctly, Puracy Natural Foaming Hand Sanitizer has been clinically tested to kill 99.9% of germs.
Although the CDC recommends using a hand sanitizer with an alcohol concentration of at least 60%, studies have shown that alcohol-free benzalkonium chloride hand sanitizers are equally as effective for normal hand washing. 
To learn more about the active ingredient in Puracy Natural Foaming Hand Sanitizer – as well as its safety and efficacy –
visit this link
.
7. Use an Effective Natural Home Surface Cleaner 
Keeping your home clean and virus-free is an essential part of helping curb the spread of influenza. Puracy Natural Multi-Surface Cleaner is an extremely effective household cleaner that cleans bad-for-you germs while still being food safe. Focus on high-traffic areas like doorknobs and phones, and be sure to replace your microfiber towel to avoid transmitting germs (we recommend keeping a stack handy to cut down on paper towel waste). 
To properly clean your Puracy microfiber towels, our enzyme-based laundry detergent will bring things back to a near-sterile state – naturally.
Reach for Baby-Friendly Surface Cleaners
For all the surfaces your children come in contact with, try
Puracy Natural Baby Multi-Surface Cleaner
. Developed by Ph.D. chemists, this non-toxic, multi-tasking wonder is perfect for highchairs, car seats, strollers, and toys. Because there's no residue left behind on surfaces, it's ideal for everything your child crawls on, touches, and even licks!
Fight Germs All Year with Puracy Natural Cleaning Products
With solid hygiene habits and
natural cleaning products
from Puracy, you have everything you need to keep your family healthy and help reduce your risk of getting the flu. Explore our entire collection of personal care and home products to keep your entire home clean during flu season, as well as all year long!
Shop this article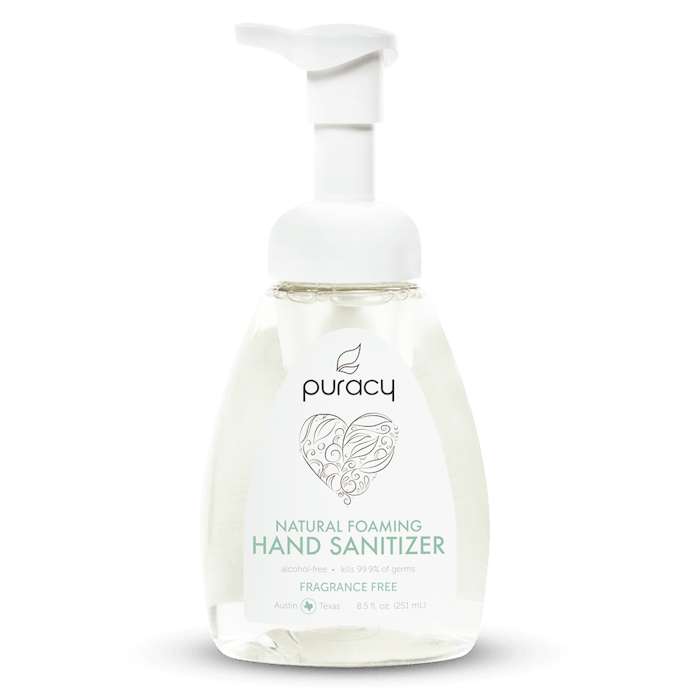 Natural Foaming Hand Sanitizer
Instantly kill 99.9% of germs with this alcohol-free, fragrance-free, cruelty-free, and germ-free formula that's gentle on hands.
Shop now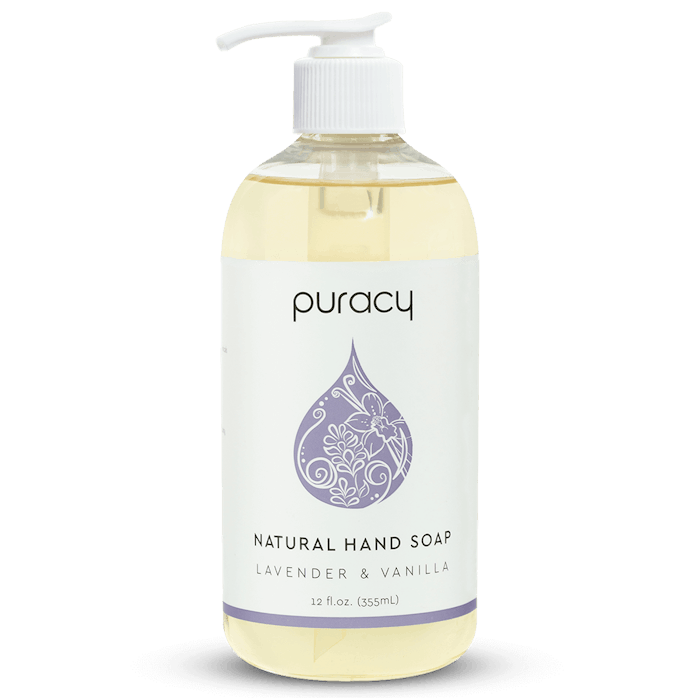 Natural Gel Hand Soap
Plants, minerals, and water combine to produce a surprisingly natural clean you can instantly feel.
Shop now