Medically reviewed by board-certified pediatrician Dr. Ryan Blackman DO, FAAP.
---
Tips on Preventing the Flu This Season 
As if rising cases of the Coronavirus strain (COVID-19) weren't enough to worry about, it's flu season once again. And it isn't just inconvenient and unpleasant – the flu can be downright dangerous for pregnant women, senior citizens, and people with compromised immune systems. 
To avoid contracting respiratory illnesses this season, these helpful prevention tips may boost your immune system, limit your exposure, and help others stay healthy. 
Flu Symptoms 
Early flu symptoms often seem like a common cold:
Chills and sweats
Dry cough
Fever above 100.4ºF
Headache
Muscle aches
Sore throat
Weakness and fatigue 
If you have underlying health conditions, a weakened immune system, or if you're at risk of developing serious health complications, early medical care may help shorten the duration of the flu and prevent more serious health problems (like pneumonia and bronchitis). 
"Influenza can be a devastating disease, especially for those who are at higher risk of complications. If you think you have the flu, be sure to notify your primary care physician early in the course of the illness as treatment options may be available." 
-Dr. Ryan Blackman DO, FAAP
Since social distancing measures have taken place, you've probably had less exposure to other people than in years past. That means your immune system likely hasn't worked as hard as usual – and isn't as strong when it's not regularly exposed to other illnesses. 
Why You Should Take Flu Symptoms Seriously 
As it stands, the odds of getting the flu are between 5 and 20% every year. Most people are mildly affected for about 5-7 days, but for others, flu complications can be especially dangerous. Children under 5, adults over 65, pregnant women (and recent mothers), and individuals with chronic illness should take extra precautions to avoid contracting the flu. 
Get the best tips from the cleaning obsessed.
Puracy crafts cleaning & care items that work really well. Our obsession with natural cleaning performance is our profession, and we're here to share it with you.
"Is It the Flu or COVID-19?"
Some flu and COVID-19 symptoms may present in much the same way, so it can be difficult to tell the difference without testing. Because COVID-19 is much more infectious, do not go to a hospital or doctor's office. If you suspect that you are ill, contact your doctor or call a COVID-19 hotline to determine how to proceed. 
Because experts believe that it's possible to get the flu and COVID-19 at the same time. Having both infections simultaneously could greatly impact your immune system and create a host of serious symptoms. Hospitals are typically overrun with serious influenza cases every year, and a "twindemic" would undoubtedly overwhelm their capacity. 
How the Flu Spreads 
When an infected person coughs, talks, or sneezes, the flu virus spreads via microscopic droplets. In addition to traveling through the air (where we breathe them in), they land anywhere from door handles to keyboards to phones. Whenever we transfer those droplets to our nose or mouth, the flu virus (as well as COVID-19) can enter our system. 
Why Viruses Spread Faster During Colder Months 
Our immune systems handle a lot, from adapting to the harmless germs we come into contact with to attacking the not-so-friendly bacteria and viruses. When your immune system is compromised, your body is less able to fight off these bad germs. 
Cold winter weather is just one reason why your immune system might be compromised. Others include: 
Tips to Avoid Influenza 
Though it's not 100% effective, the Mayo Clinic recommends the influenza vaccine as one of the best defenses. Additionally, to stay healthy this winter, there are a number of recommendations: 
Wash your hands thoroughly and frequently throughout the day.
Use hand sanitizer correctly (if soap and water aren't available). 
Cover your mouth when you cough or sneeze.
Practice social distancing. 
Stay home if you believe you're sick. 
Avoid touching your eyes, mouth, and nose without first washing your hands. 
Do I Need to Wear a Mask?
While certain face masks can offer protection, most are better suited for preventing the spread of your infected respiratory droplets to others. If everyone is compliant indoors, the virus is far less likely to spread. 
According to Dr. Michael J. Ryan, Executive Director of the Health Emergency Program at the World Health Organization:
"There are limits to how a mask can protect you from being infected. The most important thing everyone can do is wash your hands, keep your hands away from your face, and observe very precise hygiene."
Stop the Spread of Germs in Your Home 
Keeping your home clean is an essential part of preventing the spread of viruses. Puracy's plant-based cleaners kill germs, bacteria, and viruses – all without the use of toxic chemicals. 
Natural Hand Soap is a "must" for every sink in your home. Our gentle-yet-effective soap formulas wash away dirt and germs without stripping away your skin's natural moisture. Remember: You should be washing your hands for 20 seconds – about the same amount of time it takes to say the alphabet. 
Does Puracy Hand Sanitizer Work? 
When it comes to Puracy hand sanitizer, coronavirus doesn't stand a chance. Alcohol-free and fragrance-free, our Natural Foaming Hand Sanitizer is CDC-approved to kill 99.9% of common household germs in just 15 seconds. 
Families, hospitals, and businesses can also purchase our Gel Hand Sanitizer in gallon sizes to last throughout flu season. No stickiness or "stinkiness": This 70% alcohol sanitizer kills 99.9% of germs while leaving skin soft. 
Whichever products you use routinely, they won't strip skin of essential moisture or good bacteria: Our hand sanitizers kill nasty germs while leaving hands moisturized. 
Introducing Puracy Disinfectant
We understand the need for trustworthy, effective disinfectants that can be safely used around families and pets. That's why we created Puracy Disinfecting Surface Cleaner. Not only can this hydrogen peroxide disinfectant be used to clean non-porous surfaces, but it also kills more than 99.9% of germs, bacteria, and viruses – no toxic chemicals needed. 
Fight Germs All Year Long with Puracy Products 
During these uncertain times, our homes and hands will certainly require a bit more cleaning. With Puracy's effective, safe ingredients, you've got one less thing for you to worry about.
Shop this article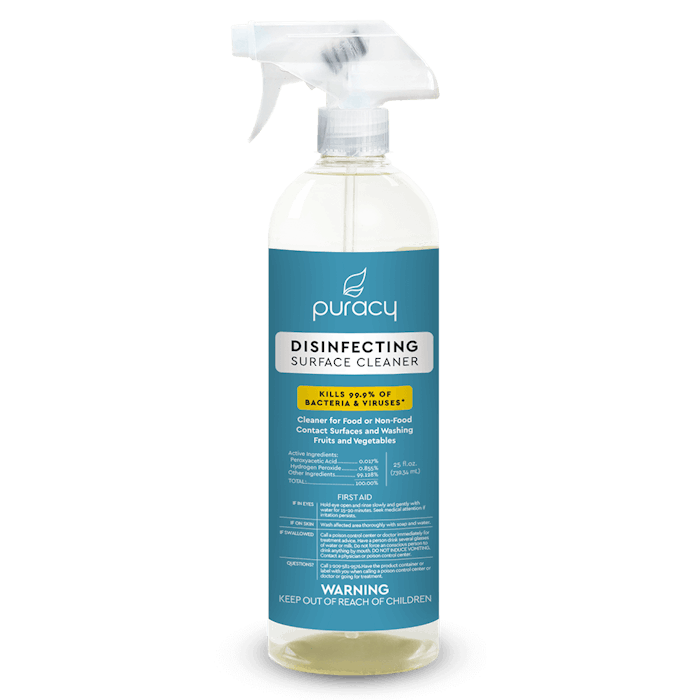 Disinfecting Surface Cleaner
Cleans, deodorizes, sanitizes, and disinfects household surfaces. Kills 99.9%+ of germs with hydrogen peroxide.
Shop now