What to Purchase Before Your Baby Arrives
Designing and decorating a nursery is one of the most exciting parts of planning for your newborn's arrival. With so many harsh (potentially serious) chemicals contained in paints, furniture, and even diapers, you'll need plenty of practical eco baby products.
Keep reading for recommendations about green products included in our newborn arrival checklist.
Decorate with the Right Eco Nursery Products
Creating a cozy, comfortable nursery space typically starts with the walls and furniture. Look for products paints and stains that are free of:
Biocides and Fungicides
Biocides and fungicides might be used to kill microorganisms and prevent mildew in paint and finished surfaces, but they also may contain harmful chemicals that have been linked to asthma and other respiratory illnesses. 
Volatile Organic Compounds (VOCs)
VOCs are often found in paints, varnishes, and waxes, as well as certain air fresheners, particle board, and dryer sheets. At a certain temperature, VOCs evaporate (known as "off-gassing"), even when the product isn't in use. 
VOC exposure has been connected to respiratory irritation, loss of coordination, nervous system and liver damage, skin reactions, and nausea. 
Inorganic Pigments
Paints tinted with inorganic pigments may contain questionable ingredients like calcium carbonate which can irritate the nose, throat, and lungs when inhaled. Titanium dioxide is also a common additive and is considered a possible carcinogen by the International Agency for Research on Cancer. 
For natural hues in every color of the rainbow, opt for paints and wall coverings made with mineral and plant-based pigments. 
Puracy Pick
Sherwin Williams Harmony Interior Acrylic Latex isn't just zero-VOC and Greenguard Certified for Children and Schools: This innovative product helps remove organic household odors like pets and cooking while providing an easy-to-clean finish.
Get the best tips from the cleaning obsessed.
Puracy crafts cleaning & care items that work really well. Our obsession with natural cleaning performance is our profession, and we're here to share it with you.
Choose Eco-Friendly Baby Furniture 
Like nursery paint, you want furniture that won't impact the quality of the air your baby breathes in. Choose pieces constructed using real wood (and other eco-friendly materials) that both meet consumer safety standards and stand up to regular wear and tear.
Look for the Right Certifications
The "gold standard for baby mattresses and furniture, Greenguard GOLD-certified products meet stringent standards for low-VOC emissions. They're approved especially for schools, care facilities, and other places where children and seniors spend time.
The US Consumer Product Safety Commission's Cribs and Infant Product Page is another great starting point. You'll discover the latest safety guidelines for everything from cribs to bassinets to play areas. 
Check for Product Recalls 
It's important to check for children product recalls on baby furniture, bedding, and toys. Retailers are generally compliant about pulling dangerous products off store shelves, but if you're using vintage or second-hand furniture, always check if they've been recalled. 
Puracy Pick
This 4-in-1 Convertible Crib by Carter's will work from infancy through childhood. It's GOLD-certified and finished with non-toxic paints for any stylish nursery. 
3 Steps to Picking Your Baby's Bed
The average newborn sleeps around 8 hours during the day and about 8 more hours at night. As most exhausted parents know, that's not always continuous which is why it's important to create a soothing and safe crib. 
1. Choose an Eco Mattress
Look for the following features when choosing an eco-friendly baby mattress:
Puracy Pick 
Made of GOTS Certified Organic coconut, cotton, and wool, the Emily Crib Mattress is budget-friendly and handmade in the USA. 
2. Select Organic Bedding
The safest way for newborns to sleep is on their backs in a designated sleep area that's free of loose blankets, bumper pads, toys, and other objects. The only thing you'll need in your newborn baby's crib is a mattress cover and/or fitted crib sheet. 
Natural Bedding Materials 
Not only do natural fibers reduce the chances of overheating, but they also allow your baby's skin to breathe. As your baby gets older – and it's safe to introduce sheets and blankets – continue to choose organic fabrics that are produced without harsh chemicals, dyes, flame retardants, and additives like wrinkle releasers. 
You might pay a bit more for high-quality organic baby bedding, but natural fibers that haven't been chemically processed are often more durable and stand up to frequent washing. 
Puracy Pick
We love Crate and Barrel's 100% Organic Bunny Crib Sheet. The cotton material is grown in a way that's safe for consumers, workers, and the environment alike. 
3. Eco-Friendly Sleepsacks and Swaddles
Sleepsacks, wearable blankets, and swaddles are designed to keep babies warm and cozy while encouraging safe sleeping. Some allow infants' arms to move freely while others are designed to keep their arms close to the body.
According to AAP guidelines, it's safe to use swaddle blankets while the baby sleeps on their back and until they start trying to roll over. Select breathable, organic cotton products that don't contain dyes or chemical softeners. 
Puracy Pick
The 100% cotton Halo Organic SleepSack Swaddle transitions from a traditional swaddle to a wearable blanket to adjust to your baby's sleep needs. 
How to Buy the Right Car Seat & Carrier
In a 2018 study on car seat chemicals, researchers at Indiana University tested a variety of newer-model products and found that almost all contained hazardous flame retardant chemicals in the foam and fabric. 
Children may breathe in these chemicals as they leach off car seat surfaces, especially in poor-ventilated vehicles or during warmer months when materials start to heat up. Some flame retardant chemicals pose serious health risks including:
Hormone disruption
Adverse effects on development 
Impaired neurological function 
Reproductive problems 
Fortunately, many car seats are available which meet the government's flammability standard – without the use of harmful flame retardants. 
Buying an Eco-Friendly Car Seat & Carrier 
To help you narrow down your travel system options, check the following information: 
The National Highway Traffic Safety Administration (NHTSA) is the definitive resource for choosing and using car seats throughout infancy and childhood. 
NHTSA also provides a current, searchable list of recalled child restraint seats with an email sign-up for product recall updates. 
Consumer Reports named their top baby travel systems based on ease of use and performance in crash tests (among other factors). 
For real-life feedback from parents who have actually used various car seats, check out reviews left on online retailer pages. 
Puracy Pick
The Doona Car Seat & Stroller Travel System is a win for its convenience. In just seconds, you can transition from the car to the stroller without disturbing your sleeping newborn. 
Baby Feeding Products
If your newborn isn't sleeping, they're probably eating. Whether they're breastfeeding, bottle-feeding, or a combination of the two, consider adding these eco-friendly baby products to your routine.
Eco-Friendly Baby Bottles 
From cans to containers to bottles, bisphenol A (BPA) is used in countless plastic baby goods. BPA is then potentially leaked into our foods and drinks, and that risk increases when these containers are heated. 
This is concerning because of BPA's links to serious health problems including: 
Male and female infertility 
Early puberty
Reproductive system tumors 
Metabolic disorders 
To limit your baby's exposure, choose BPA-free plastic bottles and glass bottles. You might find it takes some trial and error, but a wide variety of sizes and shapes will help find the right fit
Puracy Pick
Dr. Brown's BPA-Free Glass Bottles help to reduce gas and belly discomfort, making mealtime happier for parents and babies alike. 
Natural Dish Soaps & Surface Cleaners 
If you're going to invest in eco-friendly baby bottles, make sure your dishwashing methods are just as green. You'll never have to worry about unsafe soap residue left behind on bottles or sippy cups, since Puracy Natural Dish Soap is free of:
Eco Baby Clothing
While dressing your newborn in adorable clothes is darling, keep their wardrobe simple for the first few weeks. Clothing that is easy to put on and simple to take off will make life much easier – especially during midnight feedings. 
Select Sustainable Clothing Materials 
Eco-friendly baby clothing has evolved considerably over the past decade: Fabrics are softer, more durable, and more affordable than ever. 
Look for organic fabrics like cotton, hemp, bamboo, and wool that are also grown without pesticides and fertilizers. Synthetic fibers are often made with PVC and petrochemicals (which can cause overheating and skin irritation). 
Choose Eco-Conscious Brands
Consider how and where your baby clothing is produced, then choose brands that offer fair wages while practicing ethical labor practices. Visit the Global Organic Textile Standard public database to find brands that meet these standards. 
Consider Secondhand Clothes 
If you're a first-time parent, you'll be surprised at how quickly your baby outgrows their clothes. In fact, you might only get one or two wears out of that super-cute onesie. Incredible hand-me-downs can be found from friends, neighbors, online marketplaces, and local thrift stores. 
Reusing baby clothes saves on resources, and when you're done, pass on any clothes to friends, family, or parents in need (just be sure to thoroughly wash baby clothes first). 
Use Natural Stain Remover and Laundry Detergent
Between spit-ups and diaper duty, you need a powerful natural stain remover to keep clothes and blankets looking bright and clean. Luckily, our Puracy Baby Stain Remover is up to the challenge. 
Milk, formula, and other messes are no match for Puracy's powerful plant-based enzymes. After spot-treating clothing blankets, car seat cushions, and other porous surfaces, wash items in warm water using a natural, baby-safe detergent. 
Conserve energy and water by washing full loads whenever possible, skipping the extra rinse, and using less hot water. To dry baby clothes and blankets more efficiently, avoid overfilling the dryer and over-drying items. Consider line-drying items when the weather is nice – it can save up to 4% on your electric bill!
Eco Diapers
There are pros and cons to using both cloth and disposable diapers – a lot depends on your lifestyle and budget. Consider that babies need between 2,500 and 3,000 diaper changes in their first year alone: What makes sense for you and your growing family?
Cloth Diapers
Cloth diapers reduce substantial landfill waste and you don't have to worry about phthalates, dioxins, and dyes found in many well-known brands. 
There's a flipside, however: Cloth diapers are initially more costly and far less convenient than disposable diapers. Cleaning them can be labor-intensive, though many come with pad inserts that are removable for the washing machine.
Biodegradable Diapers 
Even if you choose cloth diapering, there will inevitably be a time where it's inconvenient or even impossible. If you're away from home or don't have access to a washing machine,  single-use, biodegradable diapers are an excellent option. 
Natural Baby Skincare 
Newborn babies' skin is extremely sensitive, and they're prone to certain common conditions like acne and cradle cap. While these aren't usually serious and tend to go away over time, gentle baby body products will help reduce irritation and keep your little one's skin healthy. 
Baby Lotion
If your newborn's skin is dry or irritated, use a small amount of lotion after bath time if your newborn's skin is dry or irritated. Baby lotion should be soothing, hydrating, and free of harmful ingredients. Reach for products – like Puracy Organic Baby Lotion – that contain naturally-derived oils and clinical-grade vitamins to soften and protect skin. 
Diaper Cream & Wipes 
With frequent diaper changes, your baby's bottom can quickly become red and irritated. Prevent diaper-area discomfort by using fragrance-free diapers and changing soiled diapers as quickly as possible. 
Avoid creams and wipes that contain dyes or perfumes. Instead, reach for eco baby products that naturally-derived oils and extracts that help heal and protect skin.
Puracy Pick
Earth Mama Organic Diaper Balm uses beeswax and organic herbs and oils to comfort skin and retain its natural moisture. $11
Natural Baby Shampoo & Body Wash
Sulfates are used in many commercial soaps and bubble baths to create suds and foam, but those bubbles can actually be more irritating than soothing. Our Natural Baby Shampoo and Body Wash is clinically proven to cleanse without over-drying your baby's skin (or further irritating cradle cap). 
Safe, Natural Cleaning Products 
From ammonia to sulfuric acid, many surface cleaners have the potential to cause negative effects on your growing family. 
From removing spit-up on rockers to messes on changing tables, Puracy Baby Multi-Surface Cleaner has been tried and tested for safe use on non-porous surfaces around your home. Since the ingredients are cruelty-free and biodegradable, this baby-safe cleaner is a good choice for families, homes, and the planet. 
From Our Family to Yours
Yes, your newborn needs a lot of "stuff" but creating a green nursery can be fun, easy, and even affordable! Use our newborn checklist as a starting point to explore new and innovative sustainable baby products.
Shop this article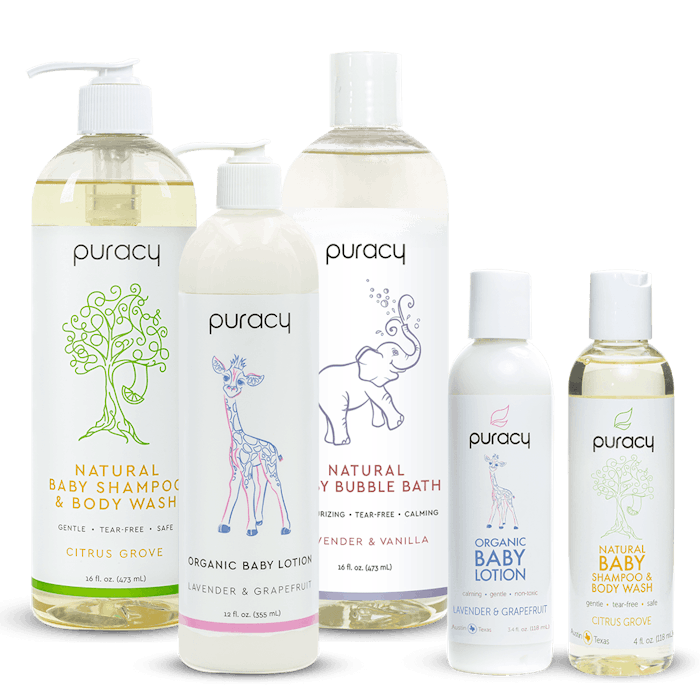 Natural Baby Body & Hair
Gentle & safe for even the most sensitive, new skin. Plant-powered, with a gentle clean & scent.
Shop now