Written by Stacey Kelleher. Reviewed by cleaning expert Sean Busch.
---
In the first year of life, your baby will use somewhere between 2,500 and 3,000 diapers. And when it comes to choosing the right cloth diaper for your little one, there are so many options, it can be pretty confusing. If you're curious about cloth diapering – but don't know where to start – let us help!
We'll explain how different types of cloth diapers work, how to clean them, and which supplies will make the process more convenient. 
What May Be Hiding in Your Disposable Diaper 
Parents and caregivers choose cloth diapers over disposable diapers for a variety of reasons. For many, it's about having control over the chemicals their baby may be exposed to. While every disposable diaper brand is different, some ingredients found in well-known brands are concerning. 
Dioxins 
Dioxins are chemicals emitted during the chlorine bleaching process. According to the Environmental Protection Agency (EPA),
dioxins are highly toxic carcinogens
that can damage the immune system and interfere with hormones. Although the
EPA states
dioxins in diapers aren't high enough to cause harm, there's no reason to risk exposure to known carcinogens.
Dyes 
Dyes can be found in the colored patterns on disposable diapers' outer shells and on the elastic bands around the waist and legs. While these bright colors add visual appeal, they can also irritate babies' gentle skin,
causing contact dermatitis
and other skin reactions. Manufacturers also refer to dyes as "pigments", "colorants", and "inks" – be sure to look out for those words on labels.
Artificial Fragrances
It's fairly obvious why manufacturers would include fragrances in many disposable diapers. Because fragrance is considered a "
trade secret
", however, they're not required to disclose these ingredients. That means there's no way to know what you're exposing your baby to. Play it safe by choosing "fragrance-free" diapers.
Phthalates
Phthalates are commonly added to plastics to make them flexible and durable. In some brands of disposable diapers, they're used to create outer waterproof layers. Phthalates can also be found in certain synthetic fragrances.
These chemicals have been linked to a range of health concerns, including neurodevelopmental problems, altered reproductive development, asthma, and breast cancer. 
Disclosure of phthalates is not required by law, so to ensure they're not in your children's diapers, toys, or personal care products, look for the words "phthalate-free" on the label. 
The Environmental Impact of Disposable Diapers 
Many parents also choose cloth diapers to reduce their environmental impact. Disposable diapers require more raw materials to produce and take a very long time to decompose (
hundreds of years
, in fact)
.
The Environmental Impact of Cloth Diapers 
As with most parenting choices, there is no right or wrong answer: Cloth diapers have an impact on the environment, too. Between harvesting the cotton, manufacturing the cloth, and the frequent washing and drying, reusable diapers require more water and electricity than disposable alternatives.
But you can take steps to conserve and offset water you're using to wash cloth diapers. Investing in low-flow showerheads and toilets – as well as running dishwashers and washing machines at full capacity – are great ways to start. For more advanced energy efficiency, consider rainwater collection and filtration systems.
Different Types of Cloth Diapers 
Back in the late 1800s, parents had to fold small scraps of cotton or linen into rectangular shapes and fasten them to pants with safety pins. Luckily for your little ones, cloth diapers have evolved tremendously. They are softer, more absorbent, and more sanitary than ever before – and there are so many to choose from!
Flats 
Flat diapers are a good budget-friendly option; they are nothing more than large sections of cotton cloth
folded in any number of ways
. You can use old t-shirts, burp cloths, and even old dish towels. However, because they can shift and unfold as your baby moves, flat diapers aren't always the most comfortable option. 
Prefolds
Prefold cloth diapers are similar to flats but come pre-folded into three sections, with the middle being the thickest. They're thicker than flats, so you don't need to fold more than once for more absorbency. Prefolds are either placed inside, or fastened to, an outer cover with safety pins or diaper clips. 
Fitteds
Fitted cloth diapers come in a variety of fabrics including cotton, bamboo, and fleece. They're pre-folded to fit your baby, have snaps or velcro closures, and are generally used with a cloth diaper cover (a separate waterproof layer that goes over the fabric.) When used with a cover, fitteds are very absorbent and good for nighttime.
Contours
Contours are a cross between fitted cloth diapers and prefolds. They're shaped for the body, but still require safety pins or clips to fasten. Some versions have elastic legs and tabs to go over the belly. Contour cloth diapers are great for newborns but can be harder to find in bigger sizes for growing babies.
Pockets  
Pocket diapers are perhaps most similar to disposable diapers (in how easy they are to apply). They're excellent for grandparents and babysitters because they're so user-friendly. With a pocket to place an insertable pre-folded absorbent pad, these are usually made of more water-resistant fabrics to keep your baby dry and comfortable. 
Get the best tips from the cleaning obsessed.
Puracy crafts cleaning & care items that work really well. Our obsession with natural cleaning performance is our profession, and we're here to share it with you.
Sleeves
Sleeve cloth diapers are nearly the same as pocket cloth diapers, except there are openings on both ends of the pocket. This way, you don't have to pull the pad out when it's dirty – just dispose of waste in the toilet and throw the whole diaper in the laundry. The pad falls out in the wash and you can reinsert it again when it's dry. 
Hybrids 
Hybrids are a combination of cloth diapers and disposables. Most have a washable and reusable outer cover. You can insert a reusable fabric pad or a composable insert. They offer the best of both worlds, but can often be more costly than other options.
Eco-friendly flushable inserts
work well for hybrid cloth diapers, too. 
All-in-twos 
All-in-two cloth diapers are similar to pockets except instead of inserting an absorbent pad, you snap it into place. You can usually wash everything together (so you don't have to remove a wet insert before doing the laundry), but make sure waste goes into the toilet before washing. They usually require less drying time than our next option: all-in-one cloth diapers. 
All-in-ones 
All-in-one cloth diapers tend to be costlier because they are the most convenient. They are the most similar to disposable diapers in that there's no folding, covers, or inserts. You can find them in different sizes to fit your growing baby. Because all-in-ones are thicker, they may take longer to dry.
Puracy's Cloth Diaper Recommendations
With so many options available, choosing the right cloth diaper can be overwhelming. Here are a few of our favorites to point you in the right direction: 
Bambo Nature Eco Friendly Baby Diapers: We also wanted to include one of our top disposable options for those times when cloth isn't practical. We like these because they don't have any harsh chemicals or perfumes and they are super absorbent. $64.08 for pack of 6
How to Wash Cloth Diapers
Washing cloth diapers doesn't have to be unpleasant or time-consuming. There's not much more to cleaning diapers than washing any other type of laundry:  
After removing a soiled diaper, dispose of solid waste in the toilet.
Pretreat stains with Puracy Natural Baby Stain Remover. Gently massage the area with a soft brush before letting it soak for anywhere from 15 minutes to eight or more hours (for especially stubborn spots). 
Wash a load of soiled cloth diapers in warm water (hot water will destroy the powerful, plant-based enzymes in Puracy Natural Baby Laundry Detergent). Follow the washing instructions on the bottle: It only takes ¼ of an ounce per load to get clothes clean and fresh! 
If you're using Puracy Stain Remover, we recommend adding an extra rinse cycle. 
Drying instructions vary from diaper to diaper. Some require air-drying and others can go in the dryer on medium-to-low heat. Check manufacturer recommendations to keep your cloth diapers looking fresh and effective. 
When Cloth Diapers Aren't an Option 
Even if you're committed to using reusable cloth diapers whenever possible, you may have to go the single-use route at times. If you're traveling (and don't have time or access to a washing machine) you'll need a disposable option.
Also, many daycares don't accept cloth diapers, so finding another option is a must. And we find many grandparents and babysitters prefer the convenience of a disposable diaper. If there are times when you need to go disposable – but still want to be environmentally mindful – there are plenty of
biodegradable single-use diaper
choices on the market. 
Tips for Switching to Cloth Diapering 
Now that you've chosen to incorporate cloth diapers into your routine, here are a few FAQs (and answers) to get you started. 
How Many Cloth Diapers Do I Need? 
We recommend starting with at least a dozen cloth diapers, though two dozen is ideal because it leaves plenty of backups on laundry days. Consider that newborns go through around 10-12 diapers every day, infants use around 8-10, and toddlers go through about 6-8.   
How Often Should I Wash Cloth Diapers? 
That really depends on how much time you have for laundry. Some parents try to throw a load in at least once a day. We wouldn't recommend waiting any longer than 3-4 days – it's best to keep odors to a minimum and avoid running out of clean diapers. 
What Accessories Do I Need for Cloth Diapers? 
To make cloth diapers a breeze, we recommend the following products:
Puracy Natural Baby Care Products Are Gentle on Sensitive Skin
When it comes to choosing the right cloth or disposable diaper, there is no one-size-fits-all approach. With so many convenient and effective options available, experiment until you find what works for best you and your family.
Puracy products are specially formulated with gentle, natural ingredients that won't irritate or strip moisture from your baby's skin. From bathtime to bedtime, you never have to worry about exposing your little one to harmful irritants, dyes, or perfumes. 
For more information about natural products that are safe for your baby, check out these earlier posts: 
Best Natural Baby Products and Tips to Protect Sensitive Skin
7 Tips for a Happy, Stress-Free Baby Bath Time
How to Keep Your House Clean with a New Baby
Shop this article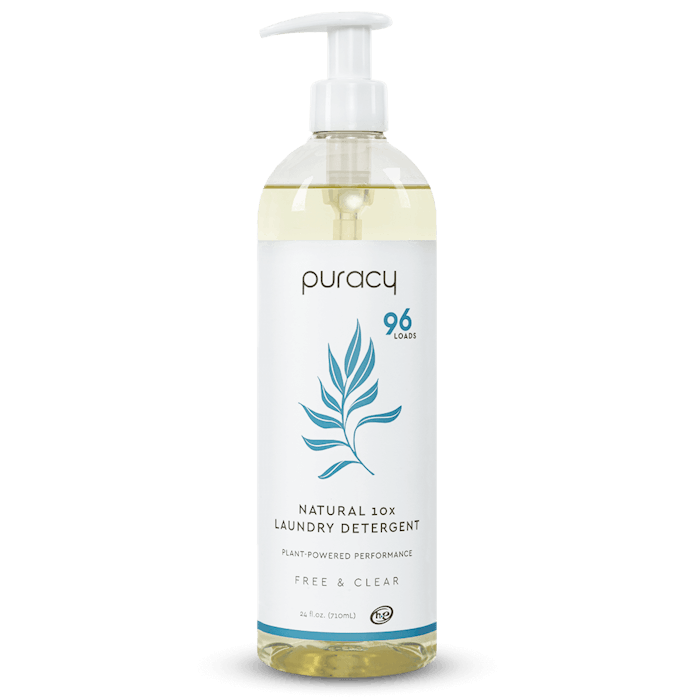 Natural Laundry Detergent
Plant-based formula uses enzymes to safely vanish dirt, grime, food, stains, & odor while preserving color & materials. 👚
Shop now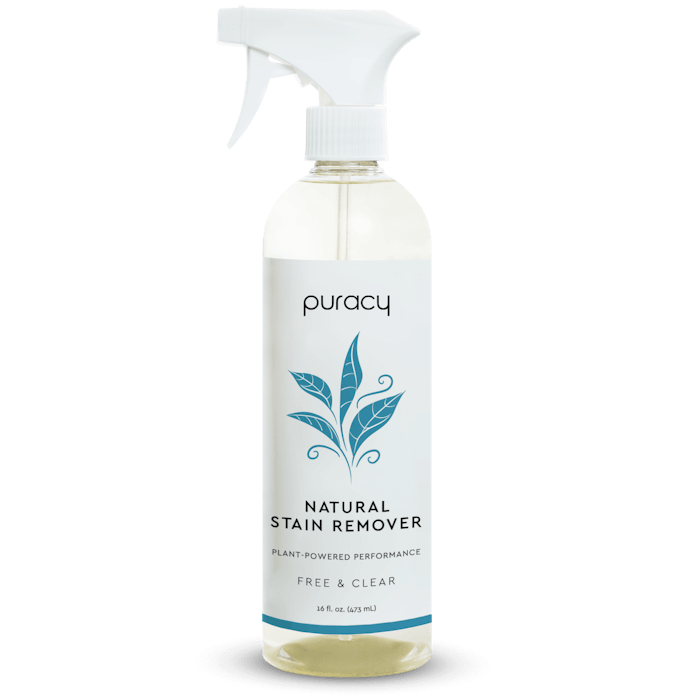 Natural Stain Remover
Completely & carefully eliminates all traces of food, stains, messes, accidents, & dirt from clothes, bedding, sheets, car seats, and more.
Shop now