Written by Tenley Haraldson. Medically reviewed by board-certified dermatologist Dr. Julie Jackson.
---
For dry and damaged skin, there's a massive market of healing salves and replenishing body butters to choose from. However, many products contain ingredients like parabens, synthetic perfumes, and even formaldehyde.
In addition to being more environmentally-friendly, discover why organic body lotion is a fantastic way to leave skin softer, smoother, and more radiant. 
1. Organic Lotion Ingredients Encourage Healthy Skin
"Organic" skincare products must contain at least 70% organic ingredients (not including water or salt). That's why you'll spot the following natural ingredients in our Organic Baby Lotion:
Shea butter (Butyrospermum parkii) has intensive moisturizing properties and improves dryness, flakiness, and redness.
Sunflower seed oil (Helianthus annuus) is packed with vitamin E, highly absorbent, and non-comedogenic (doesn't clog pores). 
Vegetable glycerin keeps skin soft and supple while locking in product moisture. 
Aloe vera (Aloe barbadensis) fights bacteria and soothes inflammation, redness, and itchy skin.
Vitamin E (often sourced from tocopheryl acetate) is an antioxidant and intensive moisturizer.
2. Organic Lotions Avoid Endocrine Disruptors
In clinical studies on mice and human tissue, endocrine disruptors show clear signs of either mimicking or inhibiting hormone function. These disruptors can be found in all sorts of everyday products, including cosmetics, personal care, plastic, and even processed food products.  
Parabens 
These cheap and effective preservatives are found in a variety of beauty products.
In a 2005 study, short-term butylparaben use was determined to have adverse effects on male rats' reproductive systems. Other topical side effects of paraben use include pain and itchiness. 
Phthalates
Phthalates are typically found in plastic bottles, synthetic fragrances, household cleaners, personal care products, medical devices, and PVC materials. Phthalates have been linked to certain types of cancers, early-onset puberty, obesity, and development in male infants. 
BPA 
Used in the production of certain plastics, various bisphenol A studies have linked exposure to brain, behavior, and prostate gland issues in infants and children.
3. Organic Lotions Don't Contain Artificial Fragrances or Perfumes
Get the best tips from the cleaning obsessed.
Puracy crafts cleaning & care items that work really well. Our obsession with natural cleaning performance is our profession, and we're here to share it with you.
Artificial fragrances are found in the majority of personal care products. Due to an FDA loophole, companies aren't required to list chemicals used in fragrances in an effort to protect signature scents. That makes it difficult to understand exactly what chemicals are included in your lotion – there could be hundreds that are unlisted!
Puracy products are delicately scented with organic essential oils. For example, our Organic Baby Lotion is delicately scented with lavender and pink grapefruit. 
4. Natural Body Lotions Support Natural Moisturizing Properties
The right balance of natural oils and vitamins support the healthy functioning of your skin, promote wound healing, and help restore the stratum corneum (the outermost layer of skin).
But not all natural or organic lotions are created equally: The stratum corneum has a high content of longer chain free fatty acids and C-18 unsaturated free fatty acids (e.g. linoleic acid). Based on its higher proportion of linoleic acid, organic sunflower seed oil functions better to repair the outer layer of skin than, say, olive oil.
5. Organic Lotions Don't Contain Synthetic Materials or Contaminants
Many mainstream lotions and personal care products commonly contain the following chemicals:
Butylated Compounds/Preservatives
Preservatives like BHA and BHT are found in creams and personal products with synthetic fragrances. Studies have linked them with organ toxicity, reproductive toxicity, and skin irritation.
Formaldehyde
Small doses of formaldehyde (a known carcinogen and severe respiratory irritant that can cause central nervous system damage) is occasionally used as a preservative in skin care products.
Though these low concentrations aren't considered hazardous by regulatory bodies, we don't believe they belong anywhere near skin. That's why Puracy uses natural, plant-based preservatives (like ethylhexylglycerin and phenoxyethanol) which are just as effective and remove unnecessary health risks. 
Choose Puracy Organic Baby Lotion for Radiant Skin
We've worked with dermatologists, pediatricians, and PhD chemists to formulate the most moisturizing body lotion for the most sensitive skin. Made from organic ingredients like aloe vera, shea butter, and jojoba oil, this organic body lotion naturally soothes skin while restoring balance and comfort.
Shop this article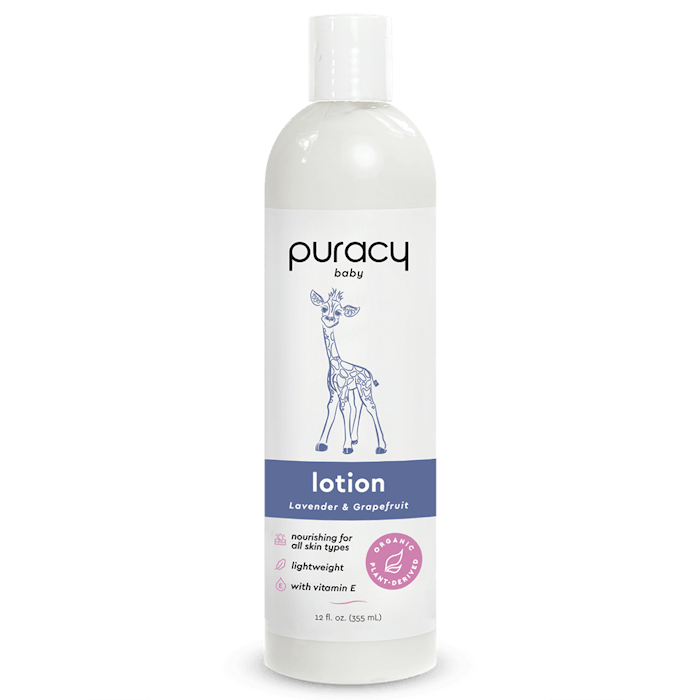 Organic Baby Lotion
Natural, plant-based, hydrating, & calming lotion with vitamin E. Nourishes & protects the most sensitive of new skin. 👶
Shop now