We're here to answer these questions and help you and your family stay healthy now – and all year long.  
To Wash or Sanitize? That Is the Question.
The CDC recommends cleaning your hands: 
Before eating 
When preparing food
When caring for someone who is ill 
When treating a cut or wound
After using the restroom 
After changing a diapers/helping a child use the restroom 
After touching an animal, their food, or their waste
After handling garbage
After coughing, sneezing, or blowing your nose
During this time of hyper-vigilance, it's also smart to wash or sanitize your hands anytime you come into contact with public surfaces, like door handles and shopping carts.
How Often Should I Use Hand Sanitizer?
While Puracy Hand Sanitizer is extremely effective, the CDC states that washing your hands with soap and water is still the best way to remove germs from your hands. 
Hand sanitizer is made for those times when you just can't get to soap and water (like at the gas pump or the park). And because our products are gentle on skin, you don't have to worry about using it too much or too often. 
How to Use Puracy Hand Sanitizer 
Just like washing your hands, it's all about the technique: 
Pump a small amount into the palm of your hand. 

Next, spread the product thoroughly over both hands (front and back). 

Rub your hands together quickly for at least 15 seconds or until they are dry. 
From start to finish, using hand sanitizer should take about as long as it does to wash your hands (as recommended by the CDC).
How Long Does It Take Hand Sanitizer to Kill Germs? 
If done correctly, Puracy Foaming Hand Sanitizer kills 99.9% of common household germs within 15 seconds. 
Created by a team of Ph.D. chemists, our non-toxic, non-drying hand sanitizer is designed to kill germs while leaving skin feeling smooth. This is good news when we're washing and sanitizing our hands more than ever. 
Can I Make My Own Hand Sanitizer? 
You've probably seen recipes for homemade hand sanitizer, but do they work? There are a few reasons why homemade hand sanitizer is not good for fighting COVID-19.
Get the best tips from the cleaning obsessed.
Puracy crafts cleaning & care items that work really well. Our obsession with natural cleaning performance is our profession, and we're here to share it with you.
Some homemade hand sanitizer recipes may reduce the amount of germs, but not kill them entirely. This is especially true if they contain less than 60% ethanol alcohol or 70% isopropanol. Next, recipes that aren't mixed correctly can be unpredictable and end up irritating or burning the skin. That's especially concerning for sanitizers used by children and people with sensitive skin. 
The best way to prevent infection or the spread of viruses is always to wash your hands with soap and water. When you can't do that, you should always choose a commercial product that's been tested and proven to kill germs.
Can I Use Hand Sanitizer to Clean Electronics?
With all of this talk about disinfecting household surfaces, you might be wondering how to clean your screens and electronics.  
Your cell phone is one of the dirtiest surfaces you regularly come in contact with, so it's important to clean your electronics on a regular basis. While it may seem convenient to use hand sanitizer, it shouldn't be your go-to method. 
Kill germs on your mobile phone, gaming devices, screens, and remote controls with these simple steps:
Turn off electronic device.
Remove dirt and debris with Puracy Disinfecting Surface Cleaner sprayed on a clean microfiber cloth (which won't leave streaks or scratch surfaces).   
Once dry, use an alcohol based-wipe or spray containing at least 70% isopropyl alcohol. Ensure that the product is safe for electronics.
Allow electronics to dry completely.
Is Hand Sanitizer Safe for Children?
Hand sanitizer is safe for external use, but we know that younger children tend to explore their world by putting things in their mouths. Because many commercial hand sanitizers are available in bright colors and appealing scents, kids may think they are meant to drink. 
In fact, between 2011 and 2015, US poison control centers received nearly 85,000 calls about children and hand sanitizer exposure. 
Tips for Using Hand Sanitizer Safely Around Children
Store hand sanitizer out of your child's reach. 
Only put the recommended amount on a child's hands and watch to make sure they don't put it in their mouths. 
Teach children how to use hand sanitizer correctly. 
Consider non-alcohol-based hand sanitizers.
If you suspect your child has ingested hand sanitizer, contact your local poison control center immediately.
Puracy Foaming Hand Sanitizer Is a Safer Option for Small Children 
Puracy Foaming Hand Sanitizer isn't just free of alcohol, but it's also free of parabens, synthetic perfumes, sulfates, phthalates, phosphates, and dyes. It's safe for every member of the family, yet still FDA-approved to fight the spread of germs and viruses. 
Should I Buy Alcohol-Based Hand Sanitizer? 
There is no disputing that alcohol-based hand sanitizer is effective at killing germs. But with frequent use – especially during the COVID-19 pandemic – alcohol in many of these products can actually compromise the skin's outermost layer, leaving it dry, cracked, and more prone to infection.
At Puracy, our goal was to create a hand sanitizer that was just as effective as leading alcohol-based alternatives – but far less drying to the skin. 
Why Puracy Gel Hand Sanitizer Is Different
In March 2020, we launched a 70% IPA Gel Hand Sanitizer. IPA is a gold-standard skin antiseptic (the same solution used whenever you give blood or receive an injection), but like other Puracy products, we've loaded this formula with plant-based moisturizers to provide a silky-smooth, non-drying feeling – even after repeated use. 
Despite the accelerated research and development process, this hand sanitizer meets Puracy standards for performance. When used correctly (for at least 15 seconds), this product is FDA-approved to kill 99.9% of germs. 
Why We Developed an Alcohol-Based Hand Sanitizer
Due to the COVID-19 pandemic, we simply weren't able to source our regular components (especially our foaming pump mechanism) fast enough to serve our current customers. When we saw that stores were selling out – and prices for hand sanitizers started skyrocketing on the internet – we knew we had to step in to provide safe, affordable products to every customer.
Benzalkonium Chloride vs. Alcohol-Based Hand Sanitizers
So if Puracy Foaming Hand Sanitizer doesn't contain alcohol, how does it kill so many germs? Our germ-fighting ingredient, benzalkonium chloride (BAC), is an ingredient commonly used in hand sanitizers and household disinfectants to destroy bacteria and viruses. 
There seems to be some misconceptions about our BAC-based foaming hand sanitizer and how it compares to alcohol-based versions. We're happy to clear those up here:
1. The FDA Regulates Hand Sanitizers, Not the CDC
The CDC and the U.S. Food and Drug Administration (FDA) are two entirely different government entities, each responsible for regulating different consumer products. 
Puracy follows the governing body that regulates the specific product(s) we offer. Since the FDA is the governing agency for hand sanitizers, we focus on their specific standards and policies. In this case, the FDA has approved the statement on our hand sanitizer which reads, "Kills 99.9% of germs in 15 seconds." The FDA bases their endorsement on rigorous clinical data with Level 1 studies. 
2. Only 3 Ingredients Are FDA-Approved for Hand Sanitizers
In 2019, the FDA banned 28 different ingredients for hand sanitizers, approving the following three: 
3. No Hand Sanitizer Is Clinically Proven to Kill Coronavirus
At the date of publication, no hand sanitizer has been clinically proven to kill COVID-19. This strain of virus is new, which means there hasn't been enough work done to determine what works to kill it. As per the FDA, there haven't been any Level 1 clinical studies completed on specific brands of hand sanitizers and SARS-CoV-2 (the cause of COVID-19). 
4. Your Alcohol-Based Hand Sanitizer Might Be Ineffective – Even Harmful
While we all want a product guaranteed to prevent the spread of coronavirus and other pathogens, we need to wait until the FDA can conduct Level 1 clinical studies. Until then, stick to using hand sanitizers that are legally prepared under the FDA's temporary policies, like Puracy Gel Hand Sanitizer. 
Be sure to avoid homemade formulas, those which contain spirits as the alcohol base, and methanol alcohol (which has been linked to adverse events in adults and children, including blindness, hospitalizations, and death). If you use an alcohol-based formula, only use those formulated with ethanol and isopropyl alcohol (IPA). 
Stay Healthy During These Unprecedented Times
At Puracy, our primary goal has always been to keep your family healthy with safe, natural household cleaners and personal care products. And like every Puracy product, both our Gel Hand Sanitizer and Foaming Hand Sanitizer are gentle on skin yet tough on germs. 
Unlike other companies, we don't see the spread of COVID-19 as an opportunity to earn a profit: You'll always be able to order our FDA-approved hand sanitizers (and other Puracy products) for the same fair prices.
We're in this together. 
 
Shop this article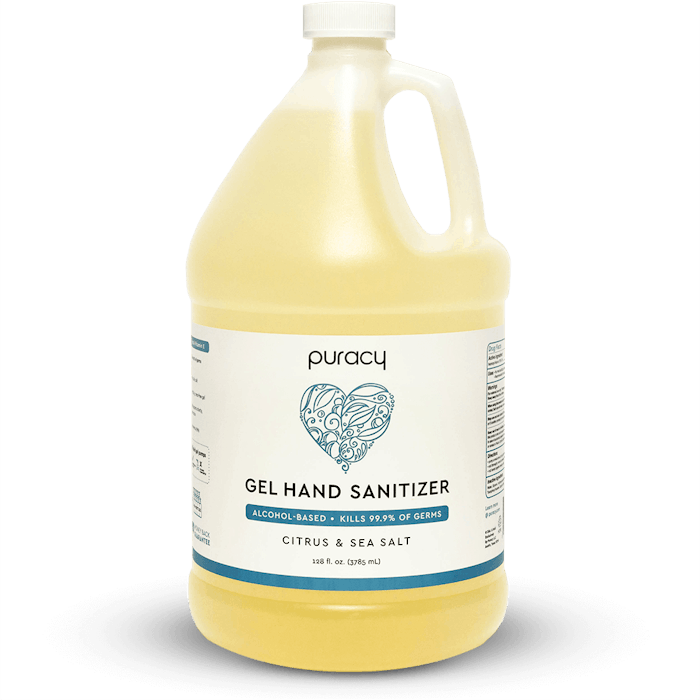 70% Alcohol Gel Hand Sanitizer
One gallon. 70% alcohol, kills 99.9% of germs. Sized to be used often, and formulated to keep your hands moisturized with heavy use.
Shop now