Written by Stacey Kelleher. Reviewed by Sean Busch.
---
Since the start of 2020, we've received a number of questions regarding the effectiveness and proper use of Puracy Hand Sanitizer. Since it's never been more important to keep your hands clean, we're here to clear up some common misconceptions. 
Should I Wash or Sanitize My Hands?
The CDC recommends cleaning your hands:
Before eating and preparing food
When caring for someone who is ill 
When treating a cut or wound
After using the restroom 
After changing diapers/helping a child use the restroom 
After touching an animal, their food, or their waste
After handling garbage
After coughing, sneezing, or blowing your nose
It's also smart to wash or sanitize your hands anytime you come into contact with high-touch surfaces like door handles, elevator buttons, and shopping carts.
How to Use Hand Sanitizer 
Using hand sanitizer should take about as long as it does to wash your hands (as recommended by the CDC). And just like washing your hands, the technique is what matters here:
Pump a small amount of hand sanitizer into the palm of your hand. 
Next, spread the product thoroughly over both hands (front and back). 
Rub your hands together quickly for at least 15 seconds or until they're dry. 
How Long Does It Take Hand Sanitizer to Kill Germs? 
When used correctly, our Gel Hand Sanitizer kills more than 99.9% of common household germs within 15 seconds. 
How Often to Use Hand Sanitizer
Puracy Hand Sanitizer was made for those times when you just can't get to soap and water – like at the gas pump or local park.
Note: No matter how effective your hand sanitizer is, the CDC still states that washing your hands with soap and water is still the best way to remove germs from your hands.
The Science Behind Puracy Hand Sanitizer 
In early 2020, we saw stores selling out and prices skyrocketing online. We knew we had to step in to provide safe, affordable products. Based on conversations with nurses (and other professionals who use hand sanitizer throughout their working day), we tasked our PhD chemists to create an alcohol-based hand sanitizer that:
Killed 99.9+% of Germs 
Our Gel Hand Sanitizer needed to meet crucial FDA and medical requirements for use as an antimicrobial against viruses, bacteria, and fungi. We chose isopropyl alcohol (IPA) because hospitals and clinics rely on its antiseptic properties. When used correctly – for at least 15 seconds – this product is FDA-approved to kill 99.9+% of germs. 
Get the best tips from the cleaning obsessed.
Puracy crafts cleaning & care items that work really well. Our obsession with natural cleaning performance is our profession, and we're here to share it with you.
Left Soft, Silky Hands 
Alcohol-based hand sanitizer might be incredible at killing germs, but frequent use can compromise the skin's outermost layer. This leaves it dry, cracked, and more prone to infection (obviously, that's bad).
Our 70% IPA Gel Hand Sanitizer is loaded with plant-based moisturizers to provide a silky-smooth, non-sticky, non-drying feeling.
We've actually tested this product to be used over 50 times per day. An overwhelming number of participants told us that it left their hands more moisturized (obviously, that's great). 
Not All Hand Sanitizers Are Created Equally 
When it comes to hand sanitizer effectiveness, there are three important things to remember:
1. The FDA Regulates Hand Sanitizers (Not the CDC)
The FDA and CDC are two distinct government entities that are responsible for regulating different consumer products.
When it comes to specific products that we offer, Puracy always follows the standards and policies of the appropriate agency. In this case, the FDA is the governing agency for hand sanitizers and bases their endorsements on rigorous clinical data with Level 1 studies.
Note: Puracy has received FDA approval for our hand sanitizer which reads: "Kills 99.9% of germs in 15 seconds."
2. Your Alcohol-Based Hand Sanitizer Could Be Ineffective or Harmful
The literal purpose of hand sanitizers is to stop the spread of pathogens. That's why it's vital to choose products that are legally prepared under strict FDA policies, like our Gel Hand Sanitizer (and not like the DIY sanitizer someone gave you).
If you use an alcohol-based formula, only use those formulated with ethanol and isopropyl alcohol (IPA). Avoid formulas that contain spirits as the alcohol base, as well as methanol alcohol (which has been linked to adverse events in adults and children). 
3. Only 3 Ingredients Are FDA-Approved for Hand Sanitizers
In 2019, the FDA banned 28 different ingredients for hand sanitizers, approving the following three: 
When purchasing your hand sanitizing products, make sure that your product utilizes one of these ingredients. 
So I Shouldn't Make My Own Hand Sanitizer? 
Homemade hand sanitizer isn't good for fighting germs and viruses. First off, DIY sanitizer recipes might reduce the amount of germs, but they probably won't kill them completely. This is true if they contain less than 60% ethanol alcohol or less than 70% isopropyl alcohol.
Secondly, recipes that aren't mixed correctly can end up irritating or burning the skin, and especially if they're used by children and people with sensitive skin. Leave hand sanitizers to the experts. 
Stay Safe, Stay Healthy
Puracy's primary goal has always been to keep families healthy with our household cleaners and personal care products. And just like every Puracy product, you can count on our Gel Hand Sanitizer to be gentle on skin and tough on germs.
Here's to keeping you and your family healthy all year long. We're in this together.
Shop this article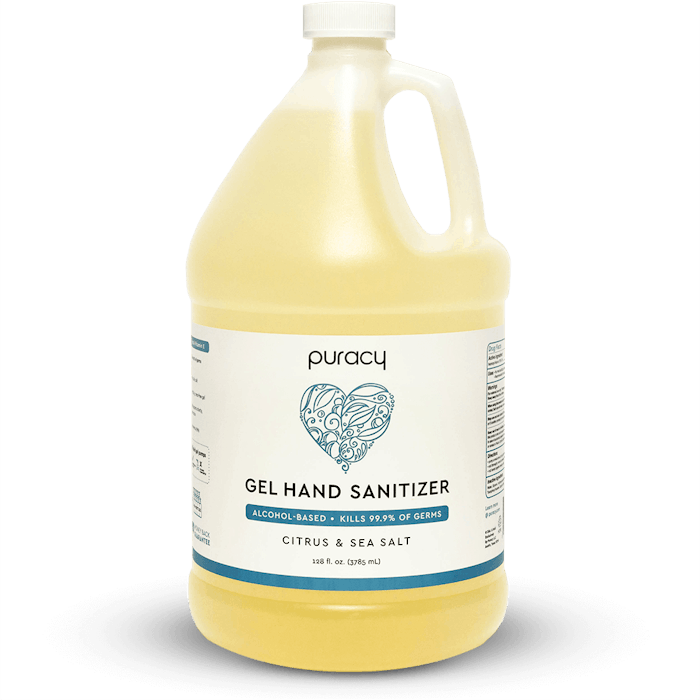 70% Alcohol Gel Hand Sanitizer
One gallon. 70% alcohol, kills 99.9% of germs. Sized to be used often, and formulated to keep your hands moisturized with heavy use.
Shop now