When it comes to restocking supplies, your washroom probably tends to get overlooked. Whether you're buying for your home or giving a housewarming present, this bathroom essentials list outlines what you need to get it well-stocked and guest-ready
12 Absolute Bathroom Necessities
No matter how big or small the space is, the top items on your bathroom supplies list should include: 
Mirror
Wastebasket
Bath towels, hand towels, washcloths (2 each)
Non-skid bath mat 
Toothbrush holder 
Over-the-door and/or wall hooks
Extra toilet paper
Toilet paper storage
Toilet brush & container 
 Plunger (tucked out of sight)
These are just the basic things you need in your bathroom. Depending on your budget and size of the room, there are plenty of ways to add more personality. Why not try an essential oil diffuser, softer light bulbs, or a colorful shower curtain?
Master Bathroom Must Haves
Your bathroom is where you refresh yourself first thing in the morning and where you can relax at the end of the day. You'll want to make sure it's fully-stocked with everything you need to look and feel your best.
In addition to the 12 bathroom essentials above, you'll probably want to equip your master bath with the following: 
2 sets of organic cotton bath towels, hand towels, washcloths 
Non-skid tub mat
Soap dispenser or dish
Shower curtain, liner, and rings
Shower caddy/suction basket(s)
Cosmetics organizers
Wall-mounted shelving
Under-the-sink storage baskets and/or containers
Clothes hamper
Depending on your preferences and daily routine, your list of bathroom items may vary – but might include:
Personal Care Products
Skincare regimen (e.g. face wash, eye cream)
Bubble bath/bath salts
Shaving cream
Personal Care Tools 
Razors 
Hair brush
Hair styling tools (e.g. dryer, straightener, styler)
Nail clippers
Scale
Dental floss 
Comfort Items 
Bathrobe and slippers 
Space heater 
Candles/essential oil diffuser 
Bluetooth speaker for music
Guest Bathroom Supplies List
There's nothing more awkward than asking your host where the extra toilet paper is. Guests will feel far more welcome when your guest bathroom is well-stocked with the following: 
High-quality towels 
Travel-sized toiletries (e.g. toothpaste, disposable toothbrush, floss, mouthwash, disposable razor, comb)
Hair dryer
Pain reliever (e.g. Tylenol, Advil)
Extra toilet paper + storage
Tampons & pads 
Shelves or cupboards for extra toiletries
There are a few bathroom essentials you should always have on hand, but thoughtful touches – like toothbrushes and a hair dryer – will really make guests feel at home.
Puracy Cleaning Supplies Are Also Bathroom Must Haves
It's obviously essential to keep your bathroom clean. Thankfully, while you're cleaning, you don't have to worry about exposing yourself and loved ones to controversial cleaning chemicals.
With our step-by-step bathroom cleaning guide, you'll be able to effectively and safely clean your bathroom with a variety of Puracy cleaning supplies.
Get the best tips from the cleaning obsessed.
Puracy crafts cleaning & care items that work really well. Our obsession with natural cleaning performance is our profession, and we're here to share it with you.
Puracy Natural Stain Remover
If your bathroom's got discolored bath mats, towels, or fabric shower curtains, try our Natural Stain Remover. Its plant enzyme-based formula tackles hundreds of different stains, residues, odors, and spots – all without bleaching or discoloring fabrics. 
Puracy Disinfecting Surface Spray
In 2020, Puracy introduced its hydrogen peroxide disinfectant. Unique in that it first tackles grease, grime, and dirt, and after setting for 10 minutes, it kills more than 99.9% of viruses and bacteria on nearly every non-porous material (though we'd use caution on wood, soapstone, and marble). Spray it on toilets, sinks, tile, showers, and much more. 
Puracy Multi-Surface Cleaner
This effective, streak-free, and versatile surface cleaner can be used on any non-porous bathroom surface, including toilets, tubs, tiles, countertops, mirrors, shower doors, and more. The proprietary blend of renewable ingredients is safe to use around your family and is free of caustic chemicals and harsh fumes..
Even better: When you purchase our Puracy Multi-Surface Cleaner Concentrate, you'll be saving over 50% per fluid ounce!
Get Incredible Cleaning Power with Puracy Products 
When you combine bathroom necessities, a personal touch, and gentle (but effective) Puracy products, your bathroom will truly shine. And that's a thing of beauty. 
Shop this article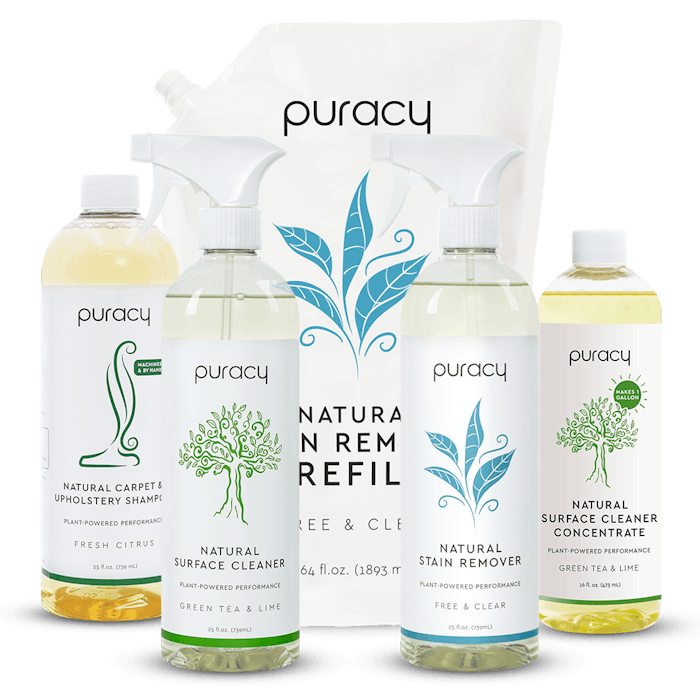 Home Cleaning Box
This is everything you need to transform a house into a clean, safe, and pure home.
Shop now