Written by Tenley Haraldson. Reviewed by Sean Busch.
---
Puracy takes eco-friendly cleaning products seriously. And going into 2022, we think more attention should be paid to eco-friendly cleaning products vs regular cleaning products – and for good reason. Seven major reasons, actually!
A Quick Note About Natural Cleaners vs. Chemical Cleaners 
There's a lot of talk about "chemical free cleaning products", but it's important to note that "chemicals" are simply a reaction between two or more substances. Even water can be considered a chemical substance!
That means that every natural cleaner will contain chemicals of some kind – and any claims of "chemical free household products" are erroneous. 
1. Biodegradable Cleaning Products Are Good for the Environment
From the seemingly innocuous sodium lauryl sulfate (which is toxic to aquatic life) to phthalates (which have been linked to reproductive health issues in animals and humans alike), many common cleaning chemicals are known to cause environmental damage.
The EPA recommends using eco friendly cleaning products that are biodegradable and low in volatile organic compounds like glycol esters, limonene, and hydrocarbons. 
Fun Fact: All Puracy cleaning products are biodegradable and safe for greywater systems.
2. Natural Home Products Tend to Conserve Resources
Rather than buying multiple products to clean your kitchen, bathroom, toilets, showers, sinks, and windows, a multi-use cleaner cuts down on unnecessary waste and space.
For example, our 99.96% Natural Multi-Surface Cleaner is available in a 7x concentrated formula. Simply add water to your original bottle and you've got something that quickly cuts through grease, gunk, and grime. 
Get the best tips from the cleaning obsessed.
Puracy crafts cleaning & care items that work really well. Our obsession with natural cleaning performance is our profession, and we're here to share it with you.
Our BPA-Refill Packs Save Resources and Money
By cutting about 90% of plastic, water, and energy output, Puracy refills are another fantastic way to save resources and money (over 20% per fluid ounce). In under seven years, these BPA-free refill packs have saved more than 5 million bottles from entering the environment. That's just one of the ways Puracy offsets its environmental impact. 
3. Natural Cleaning Agents Tend to Contain Fewer Allergens
Conventional cleaning products can cause respiratory or sinus irritation in certain individuals. We started Puracy to provide the safest cleaning products anywhere, so we pledge never to use common allergens and irritants like: 
Perfumes
Synthetic fragrances
Sulfates
Ammonia
Gluten
Caustics 
Formaldehyde
Phosphates
Chlorine
Bleach 
Dyes
4. Plant Based Cleaning Products Are Usually Cruelty-Free
Most natural cleaning companies strive to create sustainable, eco friendly cleaners. 
From the source to the bottle, Puracy is 100% cruelty-free and vegan. We applaud all our competitors who have taken a stand against animal testing. 
5. Eco Friendly Chemicals Tend to Be Gentler on Sensitive Skin
Exposure to certain ingredients in cleaning products can lead to skin irritation – and worse. Two popular additives include:
Formaldehyde
Not only is formaldehyde a known carcinogen, but this common household cleaner ingredient can also cause skin irritation and allergic responses. Formaldehyde may also be known as the following: 
Formalin

Formic aldehyde

Methanediol

Methanal

Methyl aldehyde

Methylene glycol

Methylene oxide
Pro Tip: Multiple ingredients can actually release formaldehyde.
Chlorine Bleach 
Often found in cleaners and disinfectants, exposure to chlorine bleach has been linked to chronic respiratory problems (like asthma). Some people suffer from extreme allergic reactions, chemical burns, and permanent tissue damage.
Is it possible to clean your bathroom and whiten clothes without using bleach? Absolutely. And we're happy to prove it to you. 
6. Natural Cleaning Products Avoid Caustic Chemicals
According to the EPA, many commercial cleaning products contain harsh and synthetic ingredients. Concentrated cleaners can be especially hazardous, causing burns, lung damage, or accidental poisoning (which is a major concern for households with small children).
Natural cleaning products typically harness the power of plants. Puracy is proud of creating products that are safe to use around every member of your family without fumes, residue, or "bad stuff." 
7. Green Cleaning Products Are Created for Homes
Puracy was founded to take care of what matters most: our loved ones and the environment. That's why our team of Ph.D. chemists and physicians carefully create eco-friendly, plant-based cleaning products with completely transparent ingredient lists – and highly effective formulas.
Cleaner products to clean your home – what could be more perfect than that? 
Discover the Benefits of Eco-Friendly Cleaning Products
There's no coincidence that our Natural Surface Cleaner has a 4.7-star rating and keeps landing on best-of lists. From windows to countertops to play equipment, this 99.96% natural formula can be used on any household material for easy, streak-free cleanup – all year round!
Shop this article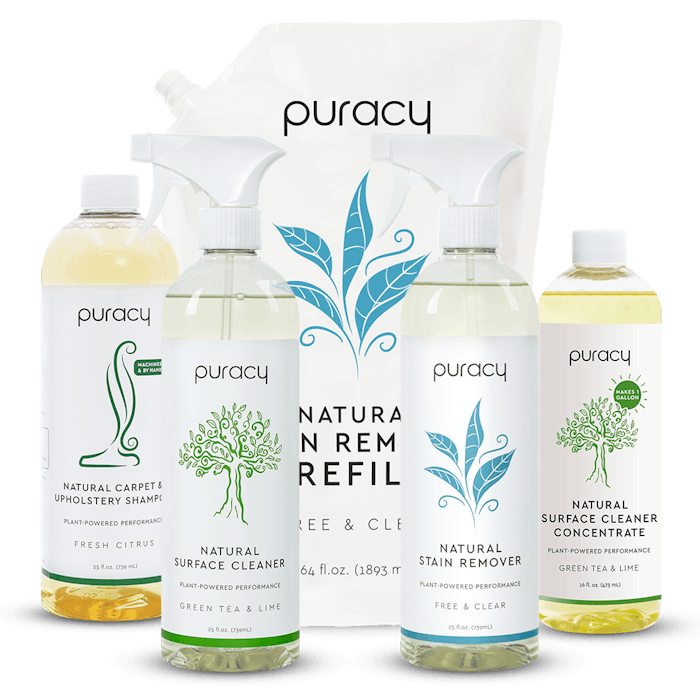 Home Cleaning Box
This is everything you need to transform a house into a clean, safe, and pure home.
Shop now