Nearly 70% of American households have at least one pet, and most of us treat those furry, feathered, or scaly residents as family members (which they absolutely are). We want the best for them, whether that's food, treats, toys, or personal care products. 
The pet shampoo market is laden with chemical-filled products that aren't healthy for pets, people, or the environment. After a year-long R&D process, we believe we've developed the best natural pet shampoo anywhere. 
Where Most Pet Shampoos Fall Short 
It's important to remember that a dog's skin can be just as sensitive as yours. Most harsh, chemical-based pet shampoos tend to struggle with the following:
Not Moisturizing Enough
Many conventional pet shampoos have a limited amount of emollients. That means they simply don't introduce enough moisture back into the skin. They might initially leave your pet's skin and coat looking and feeling soft, but that only lasts for a short time.
Includes Harsh and/orSynthetic Surfactants
Surfactants allow shampoos to foam up well and rinse clean. Harsh and/or synthetic surfactants like sodium lauryl sulfate (SLS) or phosphates are alkaline, which can cause skin irritation, dryness, and redness – and disrupt skin pH levels. 
Not pH-Balanced
Manufacturers rarely acknowledge that a dog's skin has an approximate pH level of 7 – far different than the pH of human skin (approximately 5.5). When skin is at the optimal level, it has better moisture retention, less scaling, and improved barrier function. What's good for your hair probably isn't designed for Spike or Felix. 
How We Developed the Best Natural Pet Shampoo
Though this product can absolutely be used safely to clean animals like rabbits and cats, it's no secret that dogs receive the most amount of bathing. That's why we focused on creating a natural dog shampoo for sensitive skin. 
We started by looking at our competitors' products, taking note of thousands of customer reviews to determine what they loved, expected, and didn't like about the shampoos they tried. And then we tested this product on ourselves – before we even considered using it on our four-legged pets (Puracy is cruelty-free, after all!). 
Human-Grade Formula 
Our animals deserve the same, plant-based ingredients that are used in our Puracy human lines – but with a few pet-specific additions. For instance, we added raw biotin, oatmeal (which contains extra biotin), and aloe for hair, skin, and nail health. The results? Long-lasting smoothness and shine.
Get the best tips from the cleaning obsessed.
Puracy crafts cleaning & care items that work really well. Our obsession with natural cleaning performance is our profession, and we're here to share it with you.
And just like our human-based cleansers, you'll never find the following in this product: 
Sulfates 
Phthalates 
Phosphates
Petroleum-based products 
Silicones
Perfumes or synthetic fragrances
Dyes
One-Step Cleaning 
Puracy Pet Shampoo involves a hassle-free, one-step cleansing routine: Just wash and rinse according to the label directions. Though it was created to be tough on grime, its 99.7% natural formula is incredibly gentle on sensitive areas. That means you don't have to worry if Rex licks suds or gets them in his eyes. 
More Than a Shampoo 
Not only does our 2-in-1 pet shampoo and conditioner remove the grime and moisturize the skin, but it also deodorizes with zinc-based odor eliminators. That means that this shampoo eradicates "dog smells" rather than temporarily covering them up. 
How to Use Puracy Natural Pet Shampoo
To wash your dog (or cat, if you're feeling brave) are as follows: 
Thoroughly rinse your dog from top to bottom. 
Apply the shampoo directly to their coat and massage thoroughly. 
If you need additional suds, add more water – not additional shampoo. 
Water + shampoo + agitation = foam. 
Thoroughly rinse the shampoo out.
Pro tip: Many dogs get nervous from the noise and pressure of a handheld shower nozzle. During every bath time, use a large, plastic cup. Treats are also helpful.  
From Our Family to Yours 
Puracy understands that our pets are beloved members of the family. So no matter if your dog needs a bath after a day at the lake – or from rolling around in what you hope is mud – Puracy Pet Shampoo is designed for shiny, healthy coats. 
Shop this article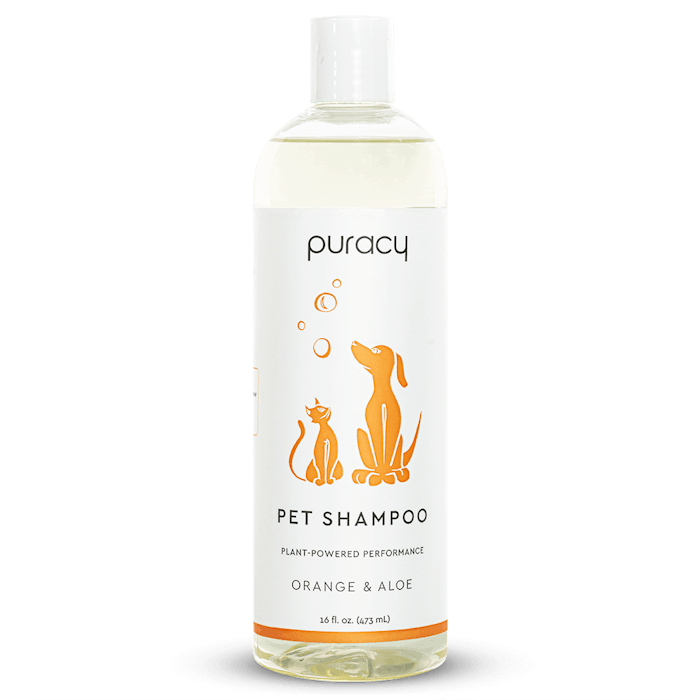 Natural Pet Shampoo
Great for humans, even better for your furry family. Gentle, won't irritate, cleans well & eliminates odors.
Shop now