Written by Tenley Haraldson. Reviewed by Sean Busch.
---
"A lot of people think that a clean hair care line can't perform, but that's not the case: People don't have to let go of things in the name of 'clean' – this shampoo and conditioner is proof of that."
- 
Martha Lynn Kale
At Puracy, we take customer feedback seriously. Whether it's received through social networking, direct messages, reviews, or even phone calls, we record everything to help guide our product development. 
Even after receiving a 3.9-star average rating on Amazon, we realized that there was room to improve Puracy Natural Shampoo and Conditioner. That's why we challenged our team to create the cleanest, most-effective duo on the market – for all hair types – and increase our rating above the 4-star mark. 
What Our Customer Feedback Told Us 
We take customer feedback seriously: You might even find one of the Puracy founders responding directly to messages on Amazon or Puracy.com. After poring over hundreds of reviews, we discovered the number one issue that some customers had: They wanted more time between washes. 
If people have to wash their hair more frequently – and this is especially true for longer and/or color-treated hair – that's a massive chore. Additionally, most people shouldn't have to wash their hair every day.
While many people didn't give our hair products the full two-week testing period to rebalance their scalp and sebum production, those that did helped us see that something was missing. And we were determined to figure out exactly how to create the perfect natural shampoo and conditioner.
Challenges of Creating the Best Natural Shampoo & Conditioner
Most companies understand the complexity of targeting the entire hair market which is why they tend to focus on single hair types (e.g. color-treated, thinning, curly). Puracy is different: We've always aimed to work for as many hair types as possible while providing a 99.3% naturally-sourced formula. 
Though we weren't fully convinced we could meet our own high standards, we had zero time or cost objectives. We knew that it was a goal worth pursuing. 
The Research Behind Our Natural Hair Care Products
The new-and-improved Puracy Citrus & Mint Natural Shampoo and Conditioner are the culmination of six months of formula trials, salon experts, and guidance from one of the most accomplished chemists in the business. Here's how we did it: 
Get the best tips from the cleaning obsessed.
Puracy crafts cleaning & care items that work really well. Our obsession with natural cleaning performance is our profession, and we're here to share it with you.
1. The Ingredients We Use Remained Natural
Dimethicone and silicone are in almost every single shampoo and conditioner on the market. These substances create silky, frictionless texture that's incredibly hard to replicate in a natural product. But we knew that we could produce something truly remarkable without questionable – even harmful – ingredients.
Are Dimethicone and Silicone Safe for Hair? 
Dimethicone and silicone are commonly added to hair products because they provide a barrier along hair follicles leaving it smooth and silky. While silicones can be effective and are FDA-approved for consumer use, they are still unnatural, synthetic ingredients. 
Because these substances aren't biodegradable, once you rinse them down the drain, they feed into waterways and impact both animal and plant life. Even though researchers are still determining the effects of dimethicone and silicone on the environment, Puracy wants to ensure that all of our products are biodegradable. 
Introducing LexFeel N5
Aside from rebalancing the ingredient concentrations, the biggest change to our formula was the key ingredient Lexfeel N-5.
"Before [this reformulation], the shampoo was too clarifying and made hair feel stripped of moisture. This clarifying shampoo and smoothing conditioner are ideal partners – they've actually been created to use together." -Martha Lynn Kale
The result? A 100% plant-based, brand-new texture enhancer that specifically replaced the effects of dimethicone and silicone. 
2. Real-World Testing Provides Real-World Insight
Mirror Mirror Salon in Austin, Texas.
Puracy formalized an agreement with Martha Lynn Kale, the award-winning senior stylist and owner of Austin's Mirror Mirror. Since her talented team of stylists and beauty experts use clean, eco-friendly hair products every day, we wanted their insights into what worked, what didn't, and what they needed from a natural shampoo and conditioner.
"I'm a picky mom, a high-maintenance woman, and a successful salon owner. If you can get me on board with this product, you've covered a lot of ground." -Martha Lynn Kale
Martha Lynn and her team were essential in our reformulation process, and she was determined to consult with us until there was no more feedback to give. 
From the start, we noticed two common requests: A sulfate-free shampoo that provided clients with more time between washing and a conditioner that offered a smooth and silky shine without dimethicone and silicone. Therefore, our goal was to create products that allowed a 3-day, non-washing window.
3. Industry Experts Gave Us the Edge on the Competition 
To gain greater insight, we extended our usual MIT-trained chemistry staff and consulted with a chemist from a confidential competitor with a higher price point. This competitor consistently ranks highly, customers are passionate about it, and while it doesn't have a 100% clean ingredient list, people are willing to make a sacrifice for performance. 
We wanted to understand how our competitor's products were formulated and how their ingredients were utilized – then aimed to provide an entirely plant-based product based on our research.
Finding the Right Balance
The addition of LexFeel N-5 wasn't the be-all, end-all solution: We still had to get the balance right. We began testing countless formations in the salon and didn't stop until our natural formulas achieved everything on our checklist. If the products didn't work – and weren't better than earlier formations – we simply weren't going to offer them.
The Results We'd Been Waiting for
After six months of altering and balancing our hair care ingredients, we discovered that our shampoo was a bit too clarifying. This triggered a scalp response to create more sebum, so we increased the foaming of shampoo. 
As soon as we made that change, we got feedback we were waiting for: Martha Lynn's salon was thrilled with the results and couldn't wait to start using our natural hair products. 
Why Our 3rd-Generation Hair Care Is So Exceptional
Safe and beneficial for dry, normal, and oily scalps.

Designed for all hair types: thin, thick, curly, straight, dyed, chemically-processed, etc. 

Gently cleanses without leaving oil, static, or frizz behind. 

Safe enough for daily use, our shampoo's cleansing power lasts up to three days between washes (even more for certain hair types). 

The best results happen after 2-4 weeks, once other hair product buildup is removed. 

Tested by hair care professionals specializing in "green" products. 

In addition to some of Puracy's most tried and true

ingredients

, we've added a new

plant-based emollient

to replicate the smoothing effect of  silicones. 

Our naturally-sourced Citrus scent has been reformulated as a lighter, more refreshing version.

Working with Martha Lynn and Austin-based artist Katie Ramsey, our recyclable packaging's colors, font, and image stand out on a retail shelf.

Every Day Is a Good Hair Day with Puracy
If you've tried our shampoo and conditioner in the past, we encourage you to give this new duo a try for at least 2-4 weeks. When used together, Puracy Natural Shampoo and Conditioner offer a deep and gentle clean, more time between washes, and a silky, smooth shine without residue.
We're so confident in our products that we offer a Pure Love Guarantee. If you aren't 100% pleased with the results, we're happy to provide a full refund.
For more tips on how to keep your mane healthy and beautiful, check out these previous articles: 
How to Get Rid of Oily, Greasy Hair Quickly
Tips to Keep Your Body, Hair, and Hands Healthy This Winter
How to Tell If You Should Use pH Balanced Shampoo, Conditioner, and Body Wash
Shop this article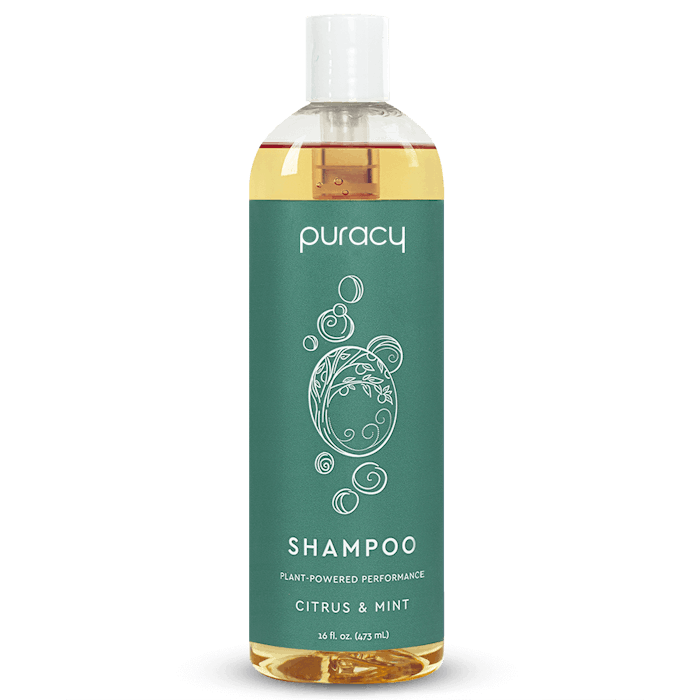 Natural Shampoo
Packed with gentle cleansers & fortified with vitamins, this plant-based shampoo is safe for daily use by all hair & skin types.
Shop now