Written by Stacey Kelleher. Reviewed by Puracy Founder & CEO Sean Busch.
---
We're often asked whether Puracy products are 100% cruelty-free and vegan. Since our team is made up of pet owners and animal lovers, we understand how important it is to provide answers with our usual transparency and honesty.
What Cruelty-Free Means to Puracy
Our goal has always been to create the best plant-based products that are safe for people, animals, and the planet. Committing to never test on animals is obviously the moral and ethical thing to do.
That's why Puracy products have received Leaping Bunny and PETA cruelty-free certification. This means that our products are 100% cruelty-free at every stage of the product development process.
Why Are So Many Products Still Tested on Animals? 
The Federal Food, Drug, and Cosmetic Act (FD&C) ensures that cosmetics are properly labeled and safe for consumer use. While the FD&C doesn't require animal testing for new products, it advises manufacturers to, "employ whatever testing is appropriate and effective for substantiating the safety of their products."
Even though consumers can choose from thousands of safe, effective ingredients already on the market, manufacturers are constantly introducing new formulas that often lead to animal testing.
Many Cruelty-Free Terms Aren't Regulated in the United States
Numerous home and personal care products brands claim that they don't test on animals. But even if a company claims their "finished" products haven't been tested on animals, it's possible that individual ingredients used in finished formulas were.
Some manufacturers use the distinction between "testing ingredients" and "testing finished products" to suggest their products have never been tested on animals.
Get the best tips from the cleaning obsessed.
Puracy crafts cleaning & care items that work really well. Our obsession with natural cleaning performance is our profession, and we're here to share it with you.
Pro Tip: If you spot "never tested on animals" or "cruelty-free" on a product label, we encourage you to dig a bit deeper. These terms are unregulated in the United States, and they also don't require verification processes that organizations (like PETA and Cruelty-Free International) call for before endorsing products and companies.
Who Owns Puracy?
Many well-known "natural" companies are owned by large global conglomerates. So while these smaller subsidiaries may not test on animals, their parent companies might.
Puracy is locally owned in Austin, Texas by two best friends, Sean Busch and Paul Tracy. Since our humble beginnings in 2013, we're proud of our plant-based, cruelty-free formulations across our entire product lineup.
Puracy Products Are Proudly Made in the United States
Because standards for animal testing vary from country to country, we keep our production process within the United States. This helps us ensure that every ingredient – throughout the entire supply chain process – is cruelty-free. 
Is Puracy Vegan?
Rather than relying on common animal-derived ingredients and by-products, our team of doctors and PhD chemists harness the power of plant-based ingredients.
We work closely alongside our manufacturing partners and maintain strict control over the quality of every ingredient that goes into every bottle. Our preferred suppliers offer the necessary checks and balances to ensure that Puracy ingredients are high quality, ethically produced, and never tested on animals. 
When choosing ingredient suppliers, we opted to work with large, public companies (like Dow, Dupont, BSAF, Solvay, and Lonza). Employing thousands of people, these public companies are required to provide transparency and accountability to both investors and federal regulations.
Note: Ingredient testing is done independently from Puracy. However, as part of our ongoing cruelty-free certification process, our contract manufacturers and ingredient suppliers are required to sign pledges that they don't test ingredients on animals at any stage of the process.
How Does Puracy Test Its Products? 
We like to joke that we're our own guinea pigs, but there's truth to this.Since almost all of our products are used by humans, they're tested on humans and surfaces. For example, Puracy employees tested our human-grade Natural Pet Shampoo prototypes for safety and efficacy – long before using it came anywhere near our pets. 
Puracy: Always Natural, Always Effective, 100% Cruelty Free
From our Natural Body Wash to our 99.96% natural Multi-Surface Cleaner, Puracy products are gentle yet incredibly effective without the use of: sulfates, phosphates, phthalates, parabens, artificial fragrance, perfume, dyes, animal by-products, triclosan, and much more.
Discover how to get a cleaner home with our cruelty free cleaning products.
Shop this article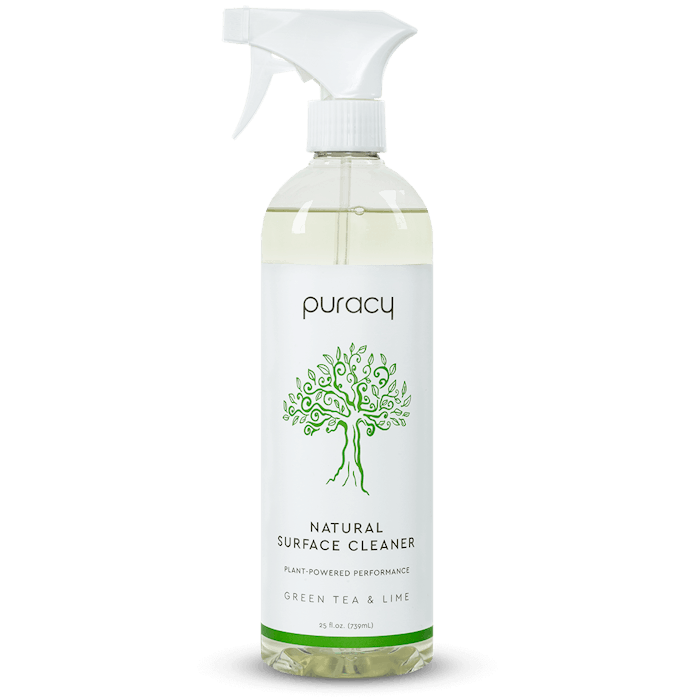 Natural Multi-Surface Cleaner
The natural, all-around-the-house, general-purpose cleaner. Engineered to be tough on dirt & grime, but gentle on skin & senses.
Shop now