Written by Lisa Truesdale. Reviewed by cleaning expert Sean Busch.
---
Whether they realize it or not, everyone pet owner has experienced numerous physical and mental benefits from their relationship. The Centers for Disease Control notes that caring for a pet can decrease blood pressure, cholesterol, and stress, ease loneliness, and increase "opportunities for exercise and outdoor activities."
Yet anyone who has a furry, four-legged family member also knows how those stress levels can spike right back up with a messy accident on the carpet*. Pet stains – from feces, vomit, blood, drool, and urine – aren't just annoying: If you don't remove the stain completely, then the odor never really goes away, either. In today's post we'll introduce you to a brand new product from Puracy that will help you eliminate both new and old pet stains, permanently.
Upgrading to a Natural Pet Stain Remover
Puracy Natural Stain Remover has been a best-seller since we first introduced it in 2014. It has unparalleled power to remove hundreds of types of stains, since it's formulated with all six plant-based enzymes (our closest competitor's formula only contains three).
 In fact, our
enzyme-based fabric cleaner
is the most powerful guaranteed stain remover on the market, and it works on all washable fabrics from clothing, bedding, carpets, and rugs.
How We Created the Best Pet Stain Remover
Although our Natural Stain Remover works extremely well on pet stains and odors, Puracy received a number of requests for a formula targeting pet-specific problems. We immediately started researching a product to add to our line of
natural cleaning products
and agreed that it was an excellent idea.
Our Natural Stain Remover was a good starting point, especially since we'd already done most of the necessary research regarding what works on stains and odors. We then spoke extensively with fellow pet lovers, read tens of thousands of reviews of our products, and thoroughly tested our competitors' formulas.
What Our Research Told Us About Pet Cleaners
During the research phase, we discovered that many of the pet-specific products on the market work fine, but they're extremely diluted, highly-perfumed, and filled with nasty chemicals like trichloroethylene (TCE). Our goal was to create a natural, pet-specific stain remover that worked great without harsh chemicals and unnecessary ingredients. 
Our incredible team of PhD chemists understood exactly what we were looking for, and we worked closely to find the right combination of enzymes and other natural ingredients to reach that goal.
How We Tested Our Pet-Safe Stain Cleaner
During the development process, we tested five different product versions in a variety of environments (e.g. humid, dry, warm, cold). We also tested them on all types of surfaces, from the thinnest throw rugs to the thickest textured carpeting, as well as on both new and very old pet accidents. With the assistance of our internal and external product testers, we continuously tweaked formulas to determine the right combination of ingredients that completely eradicate pet stains and odors.
We ended up using a combination of five plant-based enzymes that work together to combat all different types of pet-related messes, from vomit, urine, blood, slobbery drool, tracked-in mud, and anything in between.
The use of light, never-overpowering natural cucumber and mint essential oils ensures a fresh, clean scent. Plus, the perfect amount of oils help control the foaming level of the product during use.
Introducing: Puracy Natural Pet Stain & Odor Remover
After this exhaustive research process, we're finally ready to share our Natural Pet Stain & Odor Remover with loyal Puracy customers and future friends (especially when they find out how well this product works).
Get the best tips from the cleaning obsessed.
Puracy crafts cleaning & care items that work really well. Our obsession with natural cleaning performance is our profession, and we're here to share it with you.
Similar to the rest of our product lineup, our pet-specific formula is highly-concentrated, which was one of the main gripes we had with many competitor products. Not does this reduce plastic waste, but it also means that each bottle lasts longer, works better with fewer sprays, and doesn't require as much scrubbing. 
Best of all, when used according to the directions, it destroys stains and odors to the core – straight down to the carpet padding.
We Can't Wait for You to Try Our New Pet Products
The newest addition to our natural cleaning product lineup has already garnered an overwhelmingly positive response. One external product tester even exclaimed, "I can't live without this." 
Because the smells don't always live in your carpets, Puracy has also developed an incredible new Natural Pet Shampoo.  No matter the product, we take all of our customer feedback seriously – we're always happy to know what you think!
*Important note: There are a number of reasons why a dog might urinate on the carpet rather than asking to go outside, or why a cat would pee outside their litter box. In fact, there are too many medical and behavioral reasons to go into here, so unless you have a puppy who is still house-training, if your pet is using your carpet as a bathroom, please consult your veterinarian as soon as possible.
Shop this article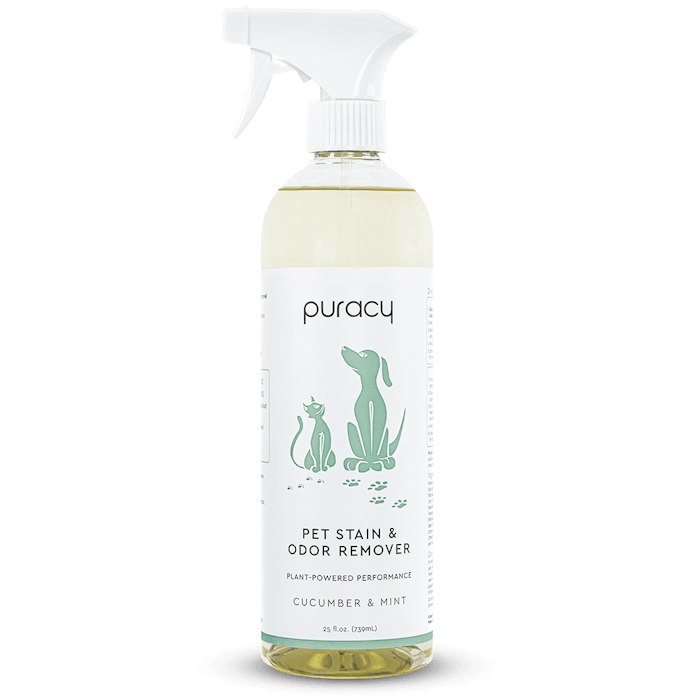 Natural Pet Stain & Odor Remover
Most powerful natural pet stain & odor remover. Concentrated enzymes specifically target pet messes to make them like they never happened.
Shop now