We get a lot of questions about how to use our dish soap and dishwasher detergent for baby bottles. As a family company, we understand how important it is to provide the best possible care for our littles ones. 
It can feel daunting to clean all of your baby's bottles, but it's important to find a natural solution since so many cleaning products contain harsh chemicals that can affect infants. With our straightforward guide – and Puracy products that were developed with a pediatrician– you'll discover the most effective, natural ways to clean baby bottles. 
How Often Should I Clean Baby Bottles? 
The American Academy of Pediatrics advises washing baby bottles after each feeding. We also recommend cleaning them immediately to prevent caked-on residue, then rinsing your soapy container and brush out (letting them air dry each time they're used). 
It's best to run baby bottle cleaner tools through a dishwashing cycle every few days or spray them with our hydrogen peroxide-based Disinfecting Surface Cleaner. Families with infants under three months old, premature babies, or babies with weakened immune systems should wash cleaning tools after each and every use.
When Should I Sterilize Baby Bottles?
If you have a newborn, premature baby, or a child with a weakened immune system, you may actually want to consider sterilizing bottles every day. We recommend the same before using new bottles. Simply boil the bottles in a clean pot of water for 5 minutes, remove with a clean pair of tongs, and lay them out to dry on a clean surface. 
Pro tip: Always check the bottle manufacturer's instructions to ensure that bottles and parts are safe to be sterilized with our technique. 
The Best Way to Clean Baby Bottles by Hand
After washing your hands, fill a small wash basin with hot water, adding enough Natural Dish Soap to make a thick foam. Milk can get caught in every part of the bottle, so be sure to separate each component (e.g. nipples, caps, rings). Rinse all parts with fresh water, then submerge them in the soapy water. Use a brush to scrub the insides until they're thoroughly clean, rinse with fresh water, shake off excess water, and dry upside-down on a baby bottle rack. 
A designated nylon-bristle brush should be used to wash bottle nipples. They're notoriously hard to get clean, so it's often helpful to squeeze water through them. 
Let Bottles Completely Dry Before Reassembling
Once you've rinsed the soap off of your baby bottles (or taken them out of the dishwasher), shake out any loose water droplets. Allow them to completely air dry on a clean towel or bottle drying rack that's in an area protected from dirt and dust.
Many parents reassemble and store baby bottles when moisture is still inside the bottle. Ensure they're totally dry to avoid mildew and mold growth. 
Get the best tips from the cleaning obsessed.
Puracy crafts cleaning & care items that work really well. Our obsession with natural cleaning performance is our profession, and we're here to share it with you.
How to Clean Baby Bottles While Traveling
If you're traveling with your baby, simply follow the same cleaning instructions above. Just make sure you have a clean container (we love this collapsible dish tub), dish soap, and a bottle brush with you. 
Washing Baby Bottles in the Dishwasher 
If your baby bottles are made of glass or dishwasher-safe plastic, then they can be run in the dishwasher instead. To load the dishwasher, use the internal basket to clip the nipples upright during the full cycle and place all remaining bottle parts on the top rack. We recommend a hot water cycle and a heated drying cycle. 
Pro tip: After having twins, our company's co-founder discovered that the Philips Avent Natural Glass Baby Bottles were particularly durable and easy-to-clean.
Can I Use Regular Dishwasher Detergent for Baby Bottles?
Puracy Natural Dishwasher Detergent Packs created with plant-based enzymes that safely break down milk and formula proteins, our 99.5% natural formula fully rinses away. Our baby-safe dishwasher detergent is also free of: 
Perfumes & Fragrance
Phosphates
Sulfates
Parabens
Chlorine bleach
Petrochemicals
Animal by-products
Dyes
Phthalates
Caustics
How to Get Rid of Baby Bottle Smells
As parents, we understand that immediately cleaning bottles isn't always possible. It's totally normal for bottles to have a residual smell, but there are a few natural remedies that work to eliminate them. 
Shake hot water and a tablespoon of white vinegar in the bottles before your normal cleaning process. Ensure that they're totally rinsed and then wash them with a gentle dish soap afterward. 
Puracy's baby-safe dishwashing pods offer the easiest way to remove baby bottle smells, thanks to the natural plant enzymes. Just like in our gentle Baby Laundry Detergent, we've incorporated mannanase to break down milk stains and smells. Protease does the same for baby formula. 
Keep Your Growing Family Healthy & Happy 
Having clean, ready-to-use bottles on-hand ensures better feeding. And since there's no risk of harsh chemicals being left behind on your baby's products, you can focus on bonding during your mealtimes. From our family to yours, we wish you (and your newest bundle of joy) all the best. 
Shop this article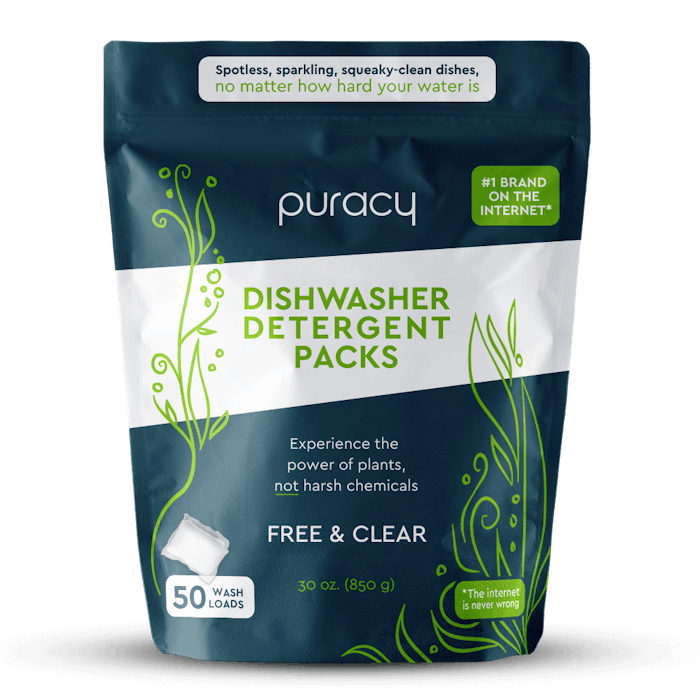 Natural Dishwasher Detergent Packs
Plant-based formula with enzymes safely break down the toughest caked-on food & leave dishes sparkling. Guaranteed.
Shop now