Written by Tenley Haraldson.
---
 January is the perfect time to think about creating a healthier, happier home environment. And it's amazing how much extra time you'll free up by following a regular weekly house cleaning schedule. 

Because frequent care is easy care, try to incorporate a few of the following cleaning tips into your daily routine. With less time for dirt, dust, and clutter to accumulate, each cleaning task will be that much easier.
Why Having a Weekly House Cleaning Routine Is Important
Having a cluttered and/or dirty home can have a major impact on your health – and science can prove it:
A 2010 study found that women who saw their homes as "cluttered" were more likely to suffer from depression, fatigue, and higher cortisol levels.
An Indiana University study found a strong correlation between domestic cleanliness and physical health, noting that cleaner homes tended to have healthier residents.
A Princeton University study discovered that people who were overwhelmed by disorganization were more likely to procrastinate. A clutter-free desk space yielded far better focus and productivity (obviously important with more of us working from home).
Your Daily Cleaning Plan 
Though it looks like a lot of chores, it becomes a lot easier once you integrate these tasks into your daily house cleaning routine. We obviously take out the garbage and do laundry on an as-needed basis, but "quick hands make light work" with the following:
Start with Food Messes
After meals and snacks, immediately tackle cleaning countertops and table tops, then move downward to chairs (where crumbs can collect). When you're done, simply sweep it all up.

Washing dishes right away avoids food gunk from sticking – and keeps your sink area free of smells, stains, and even insects.
Make Your Bed 
Don't overlook the importance of making your bed either: According to a survey, 71% of people who made their bed considered themselves happy (compared to 62% of those who didn't). They also tend to have better physical fitness routines and job satisfaction.
Handle Clutter
For parents or people working from home, it's no secret that messes pile up fast. Consider keeping "catch all" baskets in each room.

If you're making dinner and keep stepping on a dog's squeaky toy, you can quickly throw it in the basket and deal with it at a less chaotic point. The trick is keeping up with these baskets every day!
Get the best tips from the cleaning obsessed.
Puracy crafts cleaning & care items that work really well. Our obsession with natural cleaning performance is our profession, and we're here to share it with you.
Sunday: Living Room 
This is a pretty straightforward list, but it bears mentioning that you should always clean from top-to-bottom. If you happen to spot cobwebs in the top corners of your living room, either vacuum (carpets and rugs) or sweep and mop (hardwood floors) afterwards. To avoid dust marks, take care of windows last.
Monday: Kitchen 
Food stains, rotten produce, a sink full of dishes – these won't happen if you stick to a regular cleaning schedule. For more details on a top-to-bottom kitchen cleaning guide, click here.
Clean out Your Fridge
Mondays are the perfect time to throw away expired food and start drawing up your weekly shopping list. Not only does a less jam-packed refrigerator keep you from over-purchasing food, but it also keeps you from wasting it unnecessarily (we're looking at you, soggy lettuce crushed in the back of the fridge).

Before you hit the supermarket, do a quick clean of refrigerator and freezer shelves. Keep harsh chemicals away from food-safe surfaces: Reach for our Natural Multi Surface Cleaner and a clean microfiber cloth. 
Take Care of Cooked-on Food Stains
When you're scrubbing your microwave or oven for the first time in weeks, you'll undoubtedly regret not tackling baked-on food stains sooner. If there's a soup spatter or a pizza bubbles over, deal with it as soon as you can!
Sweep and Mop
Who really wants to feel crumbs or mystery stickiness under their feet? Even if you don't have time to mop, at minimum, run a broom across your kitchen floor a few times per week.
Tuesday: Bathrooms
Bathrooms get gross fast, but integrating a few of these cleaning tips into your weekly cleaning routine will help ensure a guest-ready washroom. 
Click here for the most thorough bathroom cleaning guide anywhere.
Clean Toilets, Showers, & Sinks
If your home is prone to hard water stains, you'll know just how important regular bathroom maintenance is. Scrub inside of your bathtub, and wipe down sinks to remove dust, hair, and soap scum. Spray our hydrogen peroxide-based Disinfecting Surface Spray on the outside of your toilet, let it sit for 10 minutes, and wipe away (then wield your toilet brush with abandon).
Replace Toiletries
This is the time to top-up soap pumps, make sure you have enough toilet paper, and check on shampoo levels. Do you have enough towels for unexpected guests?
Clean Bathroom Floors
First, vacuum any bath mats and consider throwing them in the washing machine. Next, wipe down baseboards and sweep floors. You get extra points if you pull the mop out, but we understand that you're a busy human.
Wednesday: Entry & Stairs 
Most entryways are where we kick off our shoes, backpacks explode, and pets track in mud so consider one – or all – of the following every week:
Wipe Down Windows & Mirrors
It's amazing how smudged mirrors and windows can get – and even more impressive at how clean ones elevate a space. Like most of our home-cleaning recommendations, you just need a microfiber towel and our multi-purpose spray for this task.
Dust Furniture
If guests come over, you don't want them staring at a thin layer of dust on everything. If you have a wardrobe, coat rack, or bench, run a cloth and multi-surface spray over it.
Clean the Stairs 
Run a vacuum (with a handheld attachment) over the stairs. This will cut down on deep-set stains from packed-in dirt. 
Disinfect High-Touch Areas 
To cut down on the spread of germs and viruses, we recommend hitting your high-traffic areas with a disinfectant at least once per day. This includes door knobs, light switches, cupboard handles, faucets, and stair railings. 
Thursday: Master Bedroom 
Our bedrooms should be the most relaxing place in our home, but messes quickly detract from that inner-sanctum vibe. Between bedroom deep-cleanings, focus on:
Getting Rid of Clutter
Your bedroom should be a place you feel your most comfortable. That's why you should remove all of the extraneous things that distract you from sleeping your best sleep. Invest in drawer inserts to improve organization, hang up your clothes, and maybe reconsider whether you need those 16 throw pillows.
Changing Your Sheets
Experts say you should wash your sheets every week. Not only does this cut down on dead skin cells and dust mites (which can be tough for allergy sufferers), but slipping into fresh sheets at night is also a luxurious feeling that makes sleep all the more inviting. Throw bedding into the wash with Natural Laundry Detergent that's tough on stains but gentle on skin.
Cleaning Surfaces & Floors
If you're dusting, you should be following up with a vacuum. Make sure you give yourself enough time to do both.
Friday: All Other Bedrooms 
It's important to introduce household chores to children from an early age – and there are plenty of ways to get them involved. Until they're old enough, however, you'll need to help out with certain tasks:
Change Bedding
Unless your child is taking a bath before bed every night, fresh sheets should be replaced once a week.
Put Toys Away
In the words of dads everywhere: "If it's not nailed down or furniture, it should be off the floor." When you're cleaning a child's bedroom, find homes for toys, books, and clothes. Take this time to hunt down any items that have no business being in your child's room, from broken toys to remote controls to sandwiches.
Dust Furniture & Baseboards
Parents might have to dust up high (e.g. bookshelves), but since they're already close to the ground, kids are ideal candidates for cleaning baseboards.
Do the Floors
Vacuuming carpets might be a little too hard for kids, but there are plenty of child-sized cleaning items that are made especially for small hands (we really like the Wet & Dry Mop)!
Saturday: Laundry Room 
Whether it's a laundry soap spill or filaments from the lint trap, laundry rooms get filthy pretty fast.
Wipe Down the Washer & Dryer
Using a microfiber towel and Multi-Surface Cleaner, first wipe down the outside of the washer and dryer, then pay attention to the soap dispenser.
How to Remove the Smell of Mildew
If you smell any mildew, pour a mixture of ¼ cup water and ¼ cup baking soda into the washing machine's detergent container. Next, add 2 cups of white vinegar into the drum. Run a hot cycle without clothes and scrub the inside of the basin immediately after it finishes.
One in, One out
Laundry rooms are often the place for errant socks and a variety of other pieces of clothing. Rather than let things pile up, on Saturdays, find homes for all of your washing.
Focus on Floors
After you remove the lint from the lint trap, dust your appliances, window sills, etc. Follow with a quick sweep and mop.
Save Time with the Right Cleaning Products 
You don't need an arsenal of cleaning products and you certainly don't need to use harsh chemicals to clean your home. Our biodegradable, hypoallergenic Natural Multi-Surface Cleaner can be used on 250 household surfaces, including glass, marble, porcelain, wood, plastic, and stainless steel. And since it's 99.96% naturally-derived, it's safe to be used around children and pets – and in any room of the house. 
Shop this article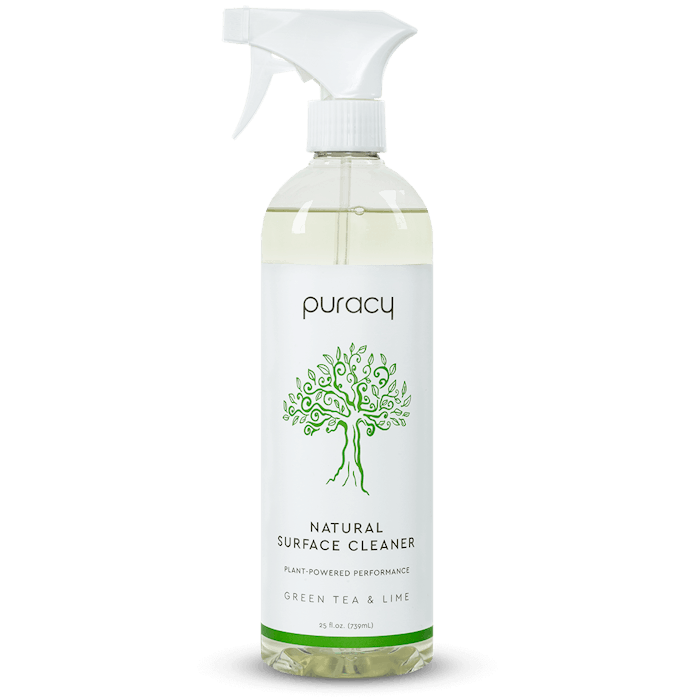 Natural Multi-Surface Cleaner
The natural, all-around-the-house, general-purpose cleaner. Engineered to be tough on dirt & grime, but gentle on skin & senses.
Shop now