With the COVID-19 pandemic in its early stages  – and retailers struggling to keep surface cleaners & disinfectants on the shelves – our customer service team was regularly being asked, "Does Puracy disinfect?" 

To meet consumer demand, we quickly focused on developing the best food-safe and baby-safe disinfectant spray. And we believe that we did precisely that.
What We Required from a Puracy Disinfectant Spray
Due to shortages around the country, we didn't have the luxury of time to respond to market demand. That's why – unlike our other product lines – Puracy licensed this particular formula. Otherwise, it would have taken at least one year to create, perfect, and test.

We started by taking a close look at formulas that met our stringent product evaluation, safety, and performance.
Disinfects and Cleans
Many competing products are only disinfectants, yet most customers prefer a single product to clean while disinfecting. We wanted our spray to clean surfaces first (no matter how dirty they were), then let the dwell time kill viruses and bacteria. 
Ingredient Safety 
After reviewing active ingredients in direct competitor products (and versions used in hospitals), we found that the majority were typically highly synthetic or citric acid-based.
You'll obviously want to keep any disinfectants out of the hands of children, but you don't need a harsh cleaning product that's harmful to you and your family. 
That's why you'll never find the following ingredients in any Puracy product:
Sulfates (e.g. SLS, SLES, SCS)
Animal byproducts
Dyes
Chlorine
Bleach
Biodegradable Formula
Harsh disinfectant ingredients like bleach aren't good for the environment. Since sustainability is incredibly important to Puracy, we required something that was safe for people, pets, and the world around us. 
The Verdict: Hydrogen Peroxide Is Great for Disinfecting 
Hydrogen peroxide is found in nearly every medicine cabinet. In addition to killing mold and disinfecting surfaces, the surfactants in this spray break down built-up gunk and grime.
Get the best tips from the cleaning obsessed.
Puracy crafts cleaning & care items that work really well. Our obsession with natural cleaning performance is our profession, and we're here to share it with you.
After poring over scientific case studies and test results, we firmly believed that a hydrogen peroxide-based formula checked all of our boxes to develop an unbelievable disinfecting spray.
Our Hydrogen Peroxide Cleaner Is Food-Safe
You wouldn't use a bleach on your strawberries, would you?
Our Disinfecting Surface Cleaner has been tested and approved to be used as a fruit & vegetable wash. From food to chairs to cutting boards, it's also approved for use in commercial organic kitchens. 
Hydrogen Peroxide Is Also Biodegradable 
Hydrogen peroxide breaks down into just oxygen and water. That means it's gentle on the environment and is safe for greywater and septic systems. 
Does Puracy Disinfecting Spray Cleaner Kill Germs?
In addition to being a highly-effective antiseptic, hydrogen peroxide is also a bactericidal, virucidal, germicidal, fungicidal, microbicidal, and mycobactericidal ingredient. 
When used correctly, our CDC-approved, EPA-listed Disinfectant Surface Cleaner kills 99.9+% of bacteria (in 1 minute) and 99.9% of viruses (in 10 minutes of soaking time), including: 
Salmonella Enterica Bacteria 
Staphylococcus aureus bacteria (ie. Staph)
Pseudomonas Aeruginosa Bacteria
Human Rhinovirus 42 (ie. the common cold)
Influenza A virus. 
H1N1 flu virus (ie. swine flu)
Listeria monocytogenes bacteria (ie. Listeria)
Escherichia coli (ie. E.coli)
Our product is currently being reviewed for the EPA's List N for COVID-19. Based on current research on how this product kills closely-related viruses, we're extremely confident that this disinfectant will be placed on this list soon. 
How to use Puracy Disinfectant Surface Spray 
Just like our best-selling Multi-Surface Cleaner, we've designed our hydrogen peroxide disinfectant to be used on nearly every non-porous material. Due to hydrogen peroxide's bleaching properties, however, we recommend using our Multi-Surface Spray on natural stone like limestone, soapstone, and marble. 
General Cleaning 
For the bulk of cleaning tasks, mist surfaces and wipe with a clean, dry microfiber towel using overlapping "Z" patterns. We haven't added any fragrance to this product so while you may initially detect a light vinegar scent, it will dissipate as it dries. 
For heavily-soiled surfaces, we recommend first using the Multi-Surface Cleaner on heavily-soiled surfaces, then following with our disinfectant. 
Disinfecting Surfaces 
Clean surfaces and spray until they're thoroughly saturated. In order to kill 99.9+% of viruses and bacteria, the formula must stand for at least 10 minutes. Optional: Wipe clean with a clean microfiber towel. 
Sanitizing (& Deodorizing) Non-Porous Kitchen Surfaces 
Spray surfaces until they're thoroughly saturated, otherwise directly apply the spray using a dry paper towel, sponge, or mop. Let stand for at least 1 minute, then wipe clean with a dry microfiber towel. A water rinse is not required. 
Washing Fruits & Vegetables
Spray raw fruits, vegetables, sprouts, and herbs with a liberal amount of this product, fully saturating them. Let stand for at least 1 minute, then rinse with clean water. 
Try Our Disinfecting Surface Cleaner – Risk-Free
We're so confident in the Puracy Disinfecting Surface Cleaner that it's backed by our Pure Love Guarantee. If you don't absolutely love it, we'll give you your money back: No returns, no hassles, no questions asked.
Shop this article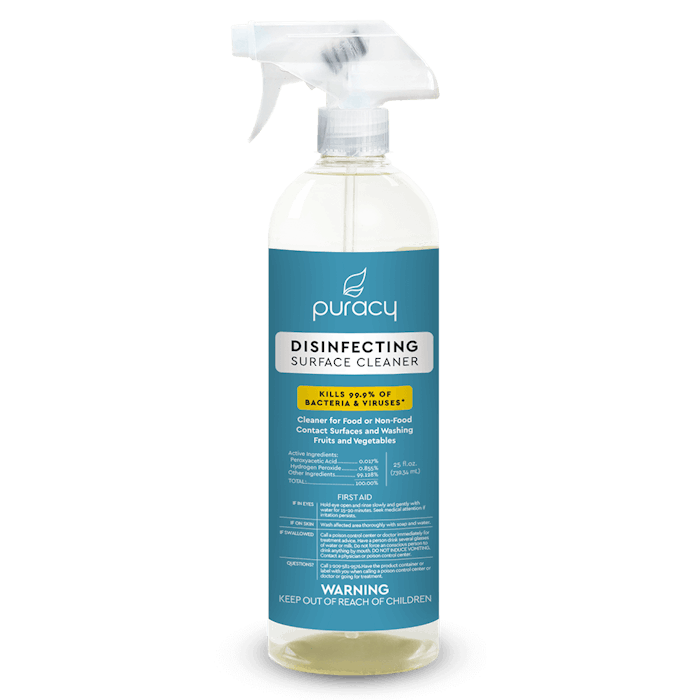 Disinfecting Surface Cleaner
Cleans, deodorizes, sanitizes, and disinfects household surfaces. Kills 99.9%+ of germs with hydrogen peroxide.
Shop now