Reviewed by cleaning expert Sean Busch.
---
Cold temperatures, bracing wind, and dry air from indoor heating create the perfect recipe for dry skin. And when you add static electricity to the mix, you may experience dry, brittle hair with plenty of split ends. 
Self-care doesn't have to be complicated: Follow our natural tips to learn how to keep skin and hair healthy in winter.
How to Take Care of Skin in Winter 
Wind-chapped hands, flaking nose, itchiness – we all dread the signs. Be sure to try these tried-and-true winter skin care home remedies.
1. Keep Yourself Covered
If you appreciate the great outdoors (or commutes to the office), wearing multiple layers is crucial for protecting skin against the elements. To combat snow glare, don't forget to keep mineral sunscreen on-hand to avoid winter sunburn. 
2. Avoid Hot Showers
After spending time in frigid temps, the idea of a hot shower might sound inviting – resist the temptation! Hot showers are one of the biggest culprits of transepidermal water loss, which strips the body's natural oils from the skin's outermost layer. 
For a healthier shower routine, turn down the tap during winter months.
3. Consider a Moisturizing Bath

For super-dry skin, a warm (not hot) bath may be exactly what you need. Because it's gentle on sensitive skin, dermatologists often recommend the anti-inflammatory properties of colloidal oatmeal or a spoonful of coconut oil in bathwater.
4. Choose a pH-Balanced Body Wash
Not only do many soaps and body washes have much higher pH ranges (upwards of 9 or 10), but synthetic perfumes, dyes, and harsh chemicals can cause irritation, dryness, and breakouts. This is especially true for skin that's compromised by winter weather.
Get the best tips from the cleaning obsessed.
Puracy crafts cleaning & care items that work really well. Our obsession with natural cleaning performance is our profession, and we're here to share it with you.
Healthy skin should fall somewhere between 5.4 and 5.9 on the pH scale. That's why Puracy's pH-balanced skin care products are formulated with gentle, plant-based cleansers and land between 5 and 6 on the pH scale. 
5. Buy a Humidifier 
When heating systems are turned on during dry, wintry months, the air in your home expands and loses moisture content. If moisture isn't added back into the air, then you're likely to wake up with parched skin.
A quick fix for this common winter issue is to run a humidifier while you sleep (with distilled water, of course). 
Easy Humidifier Hacks 
If you don't have a humidifier, don't worry. There are a few ways to increase the humidity in your home:  
After stepping out of a bath, allow the water to cool and evaporate. 
Leave your bathroom door open when you take a shower. 
Instead of using a tumble dryer, hang up damp clothes and bedsheets.
Place bowls of water next to your heat source(s). 
Run your essential oil diffuser with pure, distilled water. 
Let a full kettle or saucepan of water boil.  
6. Moisturize Immediately After Showers and Baths
This might be one of the most important parts of keeping skin hydrated. After patting yourself dry, apply a moisturizer while your skin is still slightly damp – preferably within the first 3 minutes of exiting the shower or bath.
Baby body lotion for winter – it provides hydration and moisture for even the most sensitive skin.
How to Avoid Dry Hands in Winter 
Hands take the brunt of inclement weather.  Luckily, there are easy tips to avoid cracked hands in winter. 
1. Wear Gloves 
Whether you're shoveling, ice skating, or taking the dog for a walk, be sure to wear thick gloves or mittens when you're outside. If you're someone who cooks and cleans regularly, dipping hands in and out of hot water can do a lot of damage! 
Puracy Natural Dish Soap isn't just effective on grime and grease – it's incredibly nourishing for your skin.
2. Avoid Hand Sanitizers That Cause Dryness
During flu season and the spike in COVID-19 cases, it's become standard practice to reach for hand sanitizers. However, many conventional products are loaded with harsh ingredients that instantly dry skin. Puracy Hand Sanitizer actually kills 99.9% of germs while leaving a delicate layer of moisture behind.
3. Keep a Great Organic Lotion On-Hand
Puracy Organic Lotion replenishes lost moisture, softens skin, and leaves zero residue behind., Consider keeping "emergency" bottles in easy-to-access locations (like bedside tables and your handbag) whenever your skin feels a little dry. 
How to Keep Hair Healthy in Winter
We've all dealt with frizzy flyaways in colder months, but it isn't impossible to stop winter hair fall and static. 
1. Wash Your Hair Less Often
Because shampoo tends to strip the scalp and follicles of necessary moisture, consider washing your hair less frequently – especially during the winter months. So how often should you your wash your hair? That depends on the person, but most dermatologists agree that you probably don't need to shampoo your hair every day.
2. Choose a Natural Shampoo and Conditioner
We developed our 3rd generation Natural Shampoo & Conditioner to increase the length of time between washes (3+ days). 
Our other goal was to cleanse all types of hair without using ingredients like dimethicone or sulfates. Not only are these additives known to remove the hair's protective sebum, but they can also cause scalp irritation. That's why we painstakingly formulated our hair care products to include Lexfeel N5, a plant-based texture enhancer that perfectly mimics the effects of dimethicone and silicone. 
3. Use Hair Masks to Infuse Moisture
For the ultimate in deep-conditioning, try applying coconut or avocado oil masks to your hair before bedtime. During the day, a drop or two of sustainably-sourced argan oil is great for smoothing flyaways (without weighing hair down). 
4. Avoid Blow-Dryers (if Possible)
We understand the need for blow-drying hair – especially when it's freezing outside. If you're suffering from breakage and split ends, opt to towel-dry your locks as much as possible before breaking the styling tools out.
Keep Skin and Hair Healthy with Puracy Products 
This winter (and all year round) a little TLC goes a long way. Puracy offers everything you need to naturally replenish hydration – naturally.
Shop this article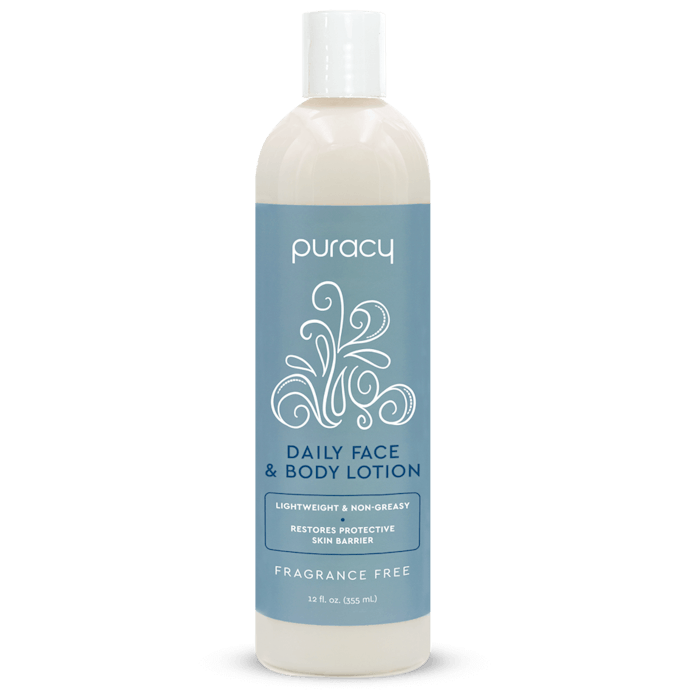 Daily Face & Body Lotion
Rich hydration enriched with plant-based hydrators to restore skin balance and comfort without grease, residue, or any bad stuff.
Shop now