Written by Tenley Haraldson. Medically reviewed by board-certified dermatologist Dr. Julie Jackson, MD, FAAD.
---
There's nothing like a refreshing shower to wake you up in the morning or an indulgent bubble bath to help you unwind after a long day. But that awesomeness can quickly evaporate if your skin turns red and starts to itch afterward. 
Is it the body wash you used? Is your
eczema acting up
? It's hard to know for sure, so our dermatologist-approved article explains how a gentle body wash and skin care routine can work wonders.
Am I Allergic to My Body Wash?
If you're experiencing itchy skin after using a certain body wash, you might be allergic to some of the ingredients in that formula. It could possibly contain harsh chemicals that can cause irritation, even if you're not allergic to anything specifically.
Puracy's resident dermatology expert, Dr. Julie Jackson, MD, FAAD says that the most common contact allergens in personal care products are from preservatives like parabens, isothiazolinones, and formaldehyde-releasers. 
"People who experience redness, itching, and scaling after using products should be evaluated by a dermatologist," she says. "A dermatologist can perform patch testing to find out which allergen is the problem, in order to help the patient know how to avoid the culprit."
What Are Hypoallergenic Body Washes?
The term "hypoallergenic" is
not regulated by the FDA
. As a result, some companies plaster this word all over their product labels – regardless of whether their products contain any known allergens.
The "Top 8" Allergens
At Puracy, our definition of hypoallergenic means products developed without any of the eight most common food and plant allergens. According to the FDA, the following 8 allergens account for 90% of all food-allergic reactions:
Milk
Eggs
Fish (e.g. flounder, cod)
Crustaceans/shellfish (e.g. crab, lobster, shrimp)
Tree nuts (e.g. almonds, walnuts, pecans)*
Peanuts
Wheat
Soybeans 
*On the advice of the scientists and doctors who help us formulate our products, we consider coconuts to be fruits, not tree nuts. If you're concerned about coconut-based ingredients, our
Organic Hand & Body Lotion
and our
Organic Baby Lotion
are the only Puracy products that contain coconut in its raw form. All other Puracy products that contain coconut derivatives use the oil (which is further removed from the raw ingredient).
What's in Puracy Body Wash?
In addition to being truly hypoallergenic, our 99.3% natural body wash is gentle for a baby's sensitive skin yet tough on post-workout odors. Our Ph.D. chemists and team of medical doctors carefully balanced moisturizing coconut cleansers, clinical-grade moisturizers, purifying Himalayan pink sea salt, and refreshing essential oils. 
The result? A pH-balanced,
cruelty-free
, 99.3% natural body wash that leaves skin gently exfoliated, moisturized, and balanced. 
The Puracy Personal Care Ingredient Pledge
Creating the best natural body wash requires hypervigilance to ensure the safety of our clients and the environment. That's why you'll never find the following ingredients in any of our personal care products: 
Sulfates (e.g. SLS, SLES)
Formaldehyde 
Chlorine
Triclosan 
Phthalates
Boric acid
Phosphates 
Petroleum-based ingredients 
Animal by-products 

Dyes or perfumes 

Get the best tips from the cleaning obsessed.

Puracy crafts cleaning & care items that work really well. Our obsession with natural cleaning performance is our profession, and we're here to share it with you.
4 Easy Tips to Avoid Dry Skin
Your skin's dryness level can depend on where you live, the humidity level in your home, the season, and which body care products you use. Here are 4 simple tips to infuse moisture back into your skin: 
1. Turn Down the Shower Temp 
Steaming hot showers and baths might  feel great (and can help to soothe sore muscles), but bathing in hot water increases the loss of natural oils and worsens dryness. For the relief of dry, irritated skin, change the temperature from hot to lukewarm.
2. Rinse Your Body Wash off More Quickly 
Though you've taken baths and showers your entire life, you may not actually be
using body wash
as well as you should. Unlike lotion, body wash doesn't need to sit on your skin to work. Even if you're using a gentle, pH-balanced formula like ours, create a lather, scrub down, and rinse it off. 
3. Pat Yourself Dry
Gently pat your skin dry; never irritate the skin by rubbing vigorously. And put down your towel while your skin is still slightly damp.
4. Moisturize, Moisturize, Moisturize!
Within 3 minutes after your shower or bath (when your skin is slightly damp), apply a soothing, hydrating lotion like
Puracy Hand & Body Lotion
. Our lightweight, fragrance-free formula is enriched with vitamin E, organic aloe vera, organic shea butter, and other naturally-derived ingredients to ensure all-over hydration.
Choose Puracy for a Clean You Can Count on
We believe that our naturally-derived body wash provides the balanced, healthy skin that everyone deserves. In fact, we believe this so strongly we guarantee it. In the unlikely chance you're not a fan, we'll give you your money back: No returns necessary, no hassles, no questions asked.
Shop this article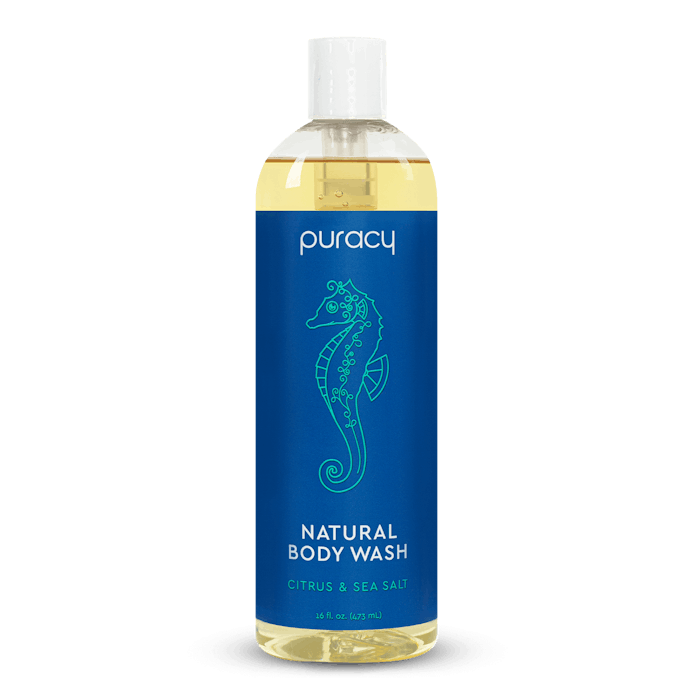 Natural Body Wash
Gentle, plant-based cleansers provide a rich, hydrating, & purifying bathing experience for even the most sensitive skin.
Shop now