Written by Sean Busch, Puracy Co-Founder
---
The FDA predicts that the COVID-19 pandemic will cause shortages of drugs, food, and medical supplies – things that we tend to take for granted. Аt Puracy, we're experiencing unbelievable demand during this strange time, but everyone in our industry is facing similar supply chain issues. 
We care deeply about our customers' health and satisfaction, so we wanted to take this opportunity to explain what a shortage in plastic pumps and sprayers means for you – and how we're pivoting to ensure the same access to quality Puracy products. 
Shortage of Pumps and Sprayers to Affect All Brands in 2020 
Since late February, we've been filling far more orders than previously planned. While we're incredibly grateful to our loyal customers, that increase means that plastic component manufacturers around the world are feeling the strain, as are recycled material processors.
Typically, it takes anywhere from 6-12 weeks to produce, ship, and receive pumps and sprayers used in Puracy body care and home cleaning products. Currently, these domestic lead times can be anywhere from 12-40 weeks! Rather than the normal 3-6 month window, manufacturers have started requesting orders for 2021. During this time, it's unavoidable that most companies will run out. In some areas, we already have. 
This is why Puracy has started adjusting its forecasts every day. Through our meticulous planning, we've gained a greater understanding of consumer demand. As a company that prides itself on sourcing components made entirely in the United States, we've had to look elsewhere to serve our customers – even if it's only for backup. There are still, however, a few uncertain elements that we're facing proactively.
Planning for the Future with Sustainability
Since February, we've pivoted to dramatically increase our refill pouches and concentrates, which is something we were already planning to roll out later this year. Our current goal? To phase out multi-packs of ready-to-use bottles for most of our product lines. We hope that this encourages customers to reuse their Puracy bottles, pumps, and sprayers (which are incredibly resilient and built to last) while embracing a more eco-friendly way of living. 
Changing Our Ordering Options
From the foreseeable future, our first default ordering option will be one (1) ready-to-use bottle paired with either a refill pouch or concentrate. Not only are these packages priced at 10% off (at least a 20% savings in price per ounce), but people with subscriptions receive 15% off. 
The second option is to purchase a refill pouch or concentrate bottle. Compared to ready-to-use bottles, this saves at least 20% per ounce, and a regular subscription will save 15%. 
Get the best tips from the cleaning obsessed.
Puracy crafts cleaning & care items that work really well. Our obsession with natural cleaning performance is our profession, and we're here to share it with you.
Still want to purchase one or more ready-to-use bottles? We're happy to provide those, but you'll miss out on discounts and a money-saving subscription option (unless refills or concentrates aren't offered at that time).
How to Reuse Your Puracy Pumps and Sprayers
Whether you're using our glass bottles or the bottles your products come in, the concept is the same: Clean out your pump and/or sprayer by removing it from the bottle, scrub all exterior surfaces with dish soap and a bristled brush, then pump/spray clean warm water through the nozzle until it's flushed clean. Rinse the entire mechanism, shake off excess water, and reconnect it to the bottle. Refill the bottle as desired.
Our pumps and sprayers have been thoroughly tested and built to last. In fact, my family has been using the same hand soap bottle and pump for almost 5 years. 
Take Note of the Products You Currently Have 
If the pump or sprayer fits on a Puracy bottle, it almost certainly works with whatever product is inside. This applies to everything from Puracy Organic Lotion, Natural Dish Soap, and Natural Multi-Purpose spray.
The exceptions are pumps unique to foaming products, as well as laundry detergent and hair care (which dispense more solution than smaller versions). If that's the case hang onto the bottles, pumps, and sprayers for your favorite products to refill later.
Reduce Plastic Use with Puracy Products 
Over the past few months, we've all seen a shift in how we live. With advance notice, however, we hope that our customers will save money while reducing their use of plastic. 
Our refill pouches utilize 90% less plastic, water, and energy. What's more, our efforts have saved more than 200 tons of plastic from entering the environment – let's keep that going!
Shop this article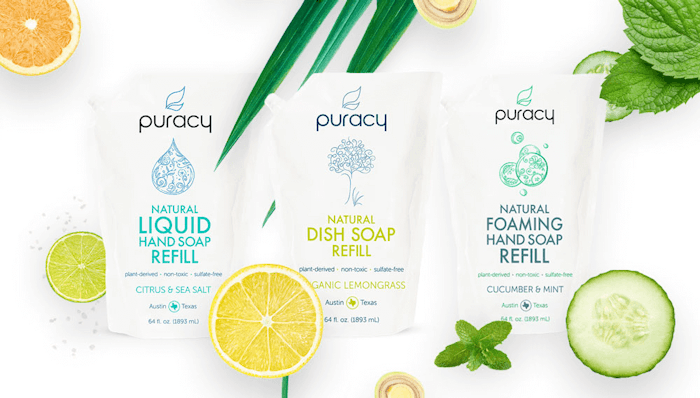 Eco-friendly Refills At Huge Savings
Puracy refills help you save over 20% per ounce, plus they save 90% more plastic, water, and energy compared to bottles.
Shop now