Learn the best routine to clean your home top to bottom using natural cleaning products.
Whether you're going all in for a deep cleaning extravaganza or simply spending a Sunday knee-deep in tidying up, cleaning your home can be an exhausting process with results that often don't last that long. We're going to simplify it for you, with tips on how to clean your house room by room with natural cleaning products for a simple, long-lasting clean.
Why Green Cleaning?
From the air you breathe to the four-legged friends who walk on your floors to the babies who sit at your high chairs, it's no secret that the less toxic products you use, the better for everyone involved. In most instances, green cleaning -- the process of cleaning with natural products like Puracy's in your home -- offers the same results as cleaning with heavy chemicals does, just without toxic residues.
By using products that are also gentle on the environment through plant-based formulas and recyclable packaging, you're helping both your wallet and the world you live in.
Kitchen
The kitchen is the heart of the home, and is often the center of a lot of mess. From the counters to the oven to the refrigerator, here are the easiest and safest ways to get your kitchen clean:
Counters
When you do everything from handling raw chicken breasts to chopping vegetables on your counters, it's important for them to be clean. We recommend spraying Puracy Natural Multi-Surface Cleaner over your counters and wiping away with a clean towel. You can also add a 2:1 mixture of white vinegar and water to a spray bottle (add some essential oils for a better smell), shake it up, and spray it over your counters before wiping it away.
Oven
Oven doors get sticky and messy quickly, and cleaning them can be a huge pain. An easy and natural fix? Mix together baking soda and water to make a paste, rub it throughout the inside of your oven door, let sit, and then wipe away with a clean cloth. Ta-da!
Refrigerator
We all know the feeling of having well-intentioned lettuce rot in the produce drawer and the frustration of a leaky condiment bottle. If your shelves are removable, then take them out and soak and scrub them in a solution of hot water and natural dish soap. Spray the remaining surfaces in the fridge with a natural multi-surface cleaner, and then wipe clean.
Bathroom
From the showers to the toilets and sinks, bathrooms can be a germ and mildew magnet. However, they're pretty simple to get clean with these tricks:Toilets: For general cleaning and wipedowns, spray the outside of your toilet (don't forget the bottom!) with a gentle yet effective multi-surface cleaner. If you're dealing with a dirty toilet bowl, sprinkle baking soda in the bowl, scrub with a toilet brush, and flush. Pro tip -- keep a bottle of Puracy Natural Washroom Spray nearby for odor neutralizing at all times.
Drain
When shower and sink drains get clogged with hair and product, you don't have to reach for toxic drain cleaner. Pour a half-cup of baking soda down the drain followed by a half-cup of lemon juice, let sit for an hour or so, and then follow with boiling hot water.
Bathtub/Shower
Mildew grows quickly, but regular wipedowns with a natural multi-surface cleaner can keep it under control. For mildew that you didn't catch in time, a spray of vinegar does wonders. If you have more set-in spots, like in the grout of your shower or the corner of your bathtub shelf, make a baking soda and water paste, scrub out, and follow with vinegar spray.
Get the best tips from the cleaning obsessed.
Puracy crafts cleaning & care items that work really well. Our obsession with natural cleaning performance is our profession, and we're here to share it with you.
Floors
Whens track in dirt or sticky drinks get spilled, floors are the first to get dirty. Whether you have hardwood, carpet, or tile, we've compiled some of the easiest green cleaning techniques to get them sparkling again:
Hardwood
For a hardwood cleaner that does the job while still retaining shine, mix together a 1:1 solution of vegetable oil with vinegar in a spray bottle, spray directly on the surface, and mop up. To avoid a vinegar scent on the floors, you can also add several drops of your favorite essential oil to the mix. If you're looking for a ready-made alternative that smells great and is good to go right out of the bottle, then Puracy Natural Multi-Surface Cleaner is another great option for cleaning any type of hardwood flooring.
Tile
A mixture of vinegar and water with 2 tablespoons of natural dish soap sprayed directly on the tile and then mopped up will leave your tile shiny and free of any sticky residue.
Carpet
If you're dealing with a pesky stain or dirty carpets, Puracy Natural 4x Carpet & Upholstery Shampoo can be used with a carpet cleaning machine or by hand. Our low-foaming formula is guaranteed to safely clean any carpet, rug, or washable fabric you put in its path, and it's the only natural carpet and upholstery shampoo on the market. For an easy natural carpet freshener, sprinkle baking soda over your carpet and rugs, let sit, and vacuum up. Make sure you vacuum every 1 to 2 weeks to pick up regular dust, dirt, skin cells, and hair.
Bedrooms
From great-smelling sheets to ridding the dust that seems to accumulate everywhere, clean bedrooms are the key to a relaxing environment. Here are some simple tips to make your bedroom a clean and cozy oasis:
Bedding
Strip your bed, wash sheets in a gentle natural laundry detergent, and throw your pillows in the dryer on low heat or air fluff to puff them back up and get rid of dust mites. While your bedding is washing, attack any stains on things like duvet covers with Puracy Natural Stain Remover, and then throw them in the washing machine. As a final touch, sprinkle baking soda on your mattress to freshen it up, let it sit, and then vacuum it up.
Shelves, Fan, and Baseboards
Dust seems to accumulate everywhere in the bedroom, but there's a simple way to dust quickly. Dampen a clean sock or rag with a natural multi-surface cleaner and run it along all dusty surfaces and fan blades. The key is to start high, at the fans and top of shelves, and move down to the floor in order to prevent dust from falling where you've already cleaned. Run a vacuum over the floor when you're done to remove any remaining dust particles.
--
There you have it! From the kitchen to the bedroom and every room in between, you're now equipped with all the tools and information necessary to clean your home in a safe and natural way. For products that will clean your home and be gentle on your family's health and the environment, visit our website to browse natural home products made of plants, minerals, and natural fragrances and packed with cleaning power.
Shop this article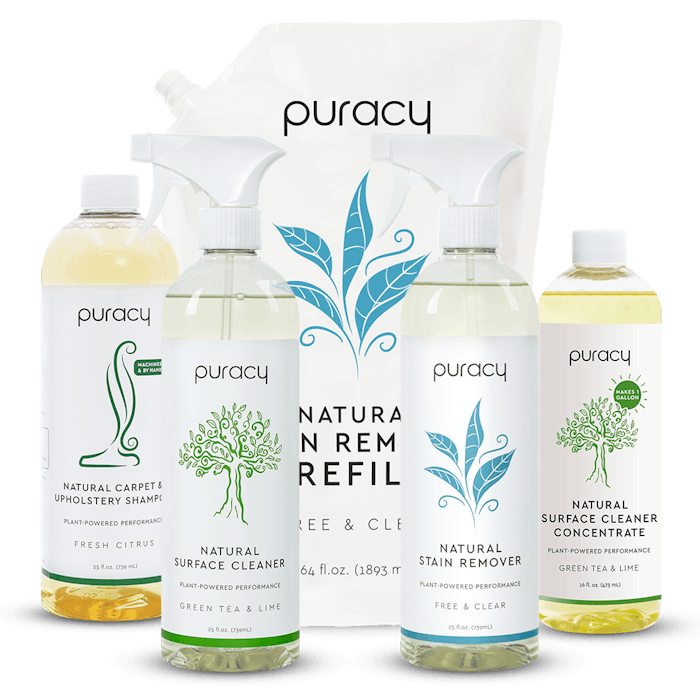 Home Cleaning Box
This is everything you need to transform a house into a clean, safe, and pure home.
Shop now