Written by Tenley Haraldson.
---
At Puracy, we take cleaning very seriously. In addition to developing and producing the best plant-based cleaners on the market, we also provide natural house cleaning tips that'll make any home sparkle. 
We've compiled a room-by-room guide that outlines all the tricks you need to clean your house from top to bottom. 
Cleaning Room-by-Room 
Before you break out the mop bucket, it's important to know what you're up against – and how to create a plan of attack. 
First, learn where the germiest places in your home are and learn how to remove viruses in your kitchen, bathroom, and other areas. Determine how you'd like to clean and/or disinfect certain areas. 
Remember: Frequent care is easy care. To make things a bit easier, our weekly cleaning checklist walks you through manageable, daily chores that'll make deep cleaning a snap. We've also put together a kid-friendly cleaning checklist – it's never too early to start!
Bathroom
When you clean a bathroom, you don't need a caddy full of harsh chemicals to zap stains and germs. Follow our powder room tips on making your own hard water stain remover, tackling rust and shower scum, and disinfecting surfaces without bleach (it can be done). You might even learn something new, like the best way to clean a bathtub. There really is one, by the way. 
Get the best tips from the cleaning obsessed.
Puracy crafts cleaning & care items that work really well. Our obsession with natural cleaning performance is our profession, and we're here to share it with you.
Note: Disinfectants only work if you remove gunk and grime first. That's a major reason that our Disinfecting Surface Cleaner is so great – it does both!
Bedroom
It's where we unwind after a long day. It's where clothes piles take on lives of their own. Cleaning your bedroom doesn't have to take hours if you do cursory sweeps every few days. To prolong the life of your mattress – and eradicate dust mites and other allergens – we've got all the tips for cleaning a mattress that you need. And to let a little more light in, check out our guide to cleaning windows.
Kitchen
It's where family and friends congregate – and where food messes can quickly get out of hand. Deep cleaning a kitchen requires quite a few techniques, but you only need a few great natural cleaning products to get them done. 
For more targeted, natural ways to clean, check out our straightforward guides on: 
How to Correctly Load a Dishwasher
How to Clean a Microwave (and Remove Smells)
How to Clean All Types of Countertops
5 Tips to Keep Your Kitchen Sink Germ-Free
Living Room

The living room should be for relaxing and socializing – not worrying about how to get stains out of the carpet. It's no secret that your furniture collects major crumbs, so we've got you covered with fabric shampoo and stain removal tips – even for coated leather furniture.
And don't forget about wiping down your living room's biggest reflective surface: the television screen.  
Cleaning Tips for Parents
There are many tasks that can feel overwhelming as a new parent, like cleaning the house with a new baby. After a full year of lockdown measures, it's important to understand how to clean your children's toys and play equipment after playdates. 
If you've got a toddler, tween, or teenager, you've got firsthand experience with tackling messes in your child's bedroom – just follow our tips!
Cleaning Tips for Pet Owners
Our four-legged friends are family members, but it's easy to lose your cool when pet stains find their way into your home. Instead of reaching for harsh chemicals, choose pet-safe cleaners that eradicate everything from urine to vomit, poop, dirt, and drool, but also go deep within a fabric or carpeted surface to remove 'dog smell'.
Should I Switch to Natural Cleaners? 
From environmental concerns to allergic reactions to pet and child safety, there are plenty of basic reasons for choosing natural, plant-based cleaners in your home: 
Avoiding Accidental Poisoning from Cleaning Chemicals
Why Your Pet Deserves Safe Cleaners  
Allergy Sufferers & Common Cleaning Products 
Why You Should Use Natural Cleaning Products in Your Home
Cleaning Ingredients We Never Use 
In order to provide the safest, most effective natural cleaning products, we promise that our products will never the following potentially harmful ingredients:
Ammonia
Chlorine
Sulfates (e.g. SLS, SLES)
Caustics
Phosphates
Synthetic Perfumes, Fragrances, & Dyes 
The Puracy Guarantee
We stand by our incredible natural body, baby, and cleaning products. In fact, we're so confident that if you don't absolutely love them, we pledge to give you your money back: No returns, hassles, or questions asked. 
Shop this article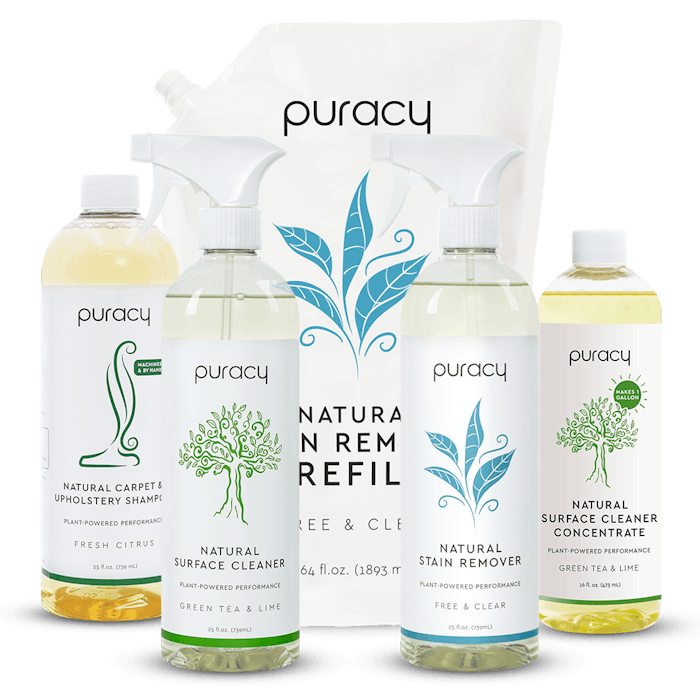 Home Cleaning Box
This is everything you need to transform a house into a clean, safe, and pure home.
Shop now